Billie Eilish is certainly an outspoken and unique individual, but is she spiritually grounded by some form of religion behind the scenes?
While some of Billie Eilish's fashion and artistic choices can open the door to thinking she's religious in some aspect, she has never gone on record as saying she is religious at all. The satanic music videos and clothing combined with stark white outfits and the neck-worn crucifix may paint a different picture, however.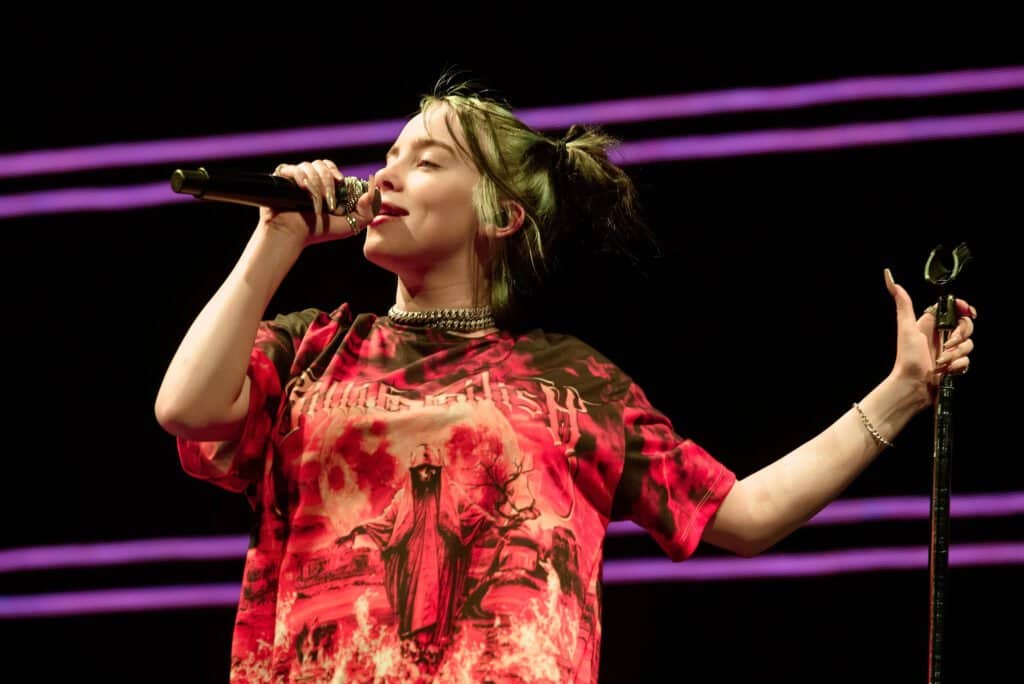 Back To The Early Years
Billie Eilish was lucky enough to receive a loving and nurturing upbringing, with her parents opting to homeschool their children. They did this as an effort to permit the children to do what they loved, as opposed to burdening them with a heavy academic responsibility. It seems that was definitely the best choice for the family, owing to the breathtaking success of Eilish in recent years.
Eilish's mother, Maggie Baird, has gone on record as being of the Christian faith, potentially Presbyterian. It's no secret that Los Angeles (Elish's birthplace) has an enormous contingent of those worshipping Christianity, with LA county being home to the largest Catholic population in the entire United States. These local and home-based influences may have passed on to Eilish as she was growing up.
However, it is altogether possible that these parental influences weren't imposed on Billie and her siblings, as her brother Finneas claimed in an interview that although they visited churches and sung in them, they were raised 'areligious' and agnostic.
The Image Of Eilish
Billie Eilish has certainly had her fair share of the media spotlight, owing primarily to her rapid climb to success and extremely unique appearance and fashion choices. It's often hard to see any religious reference in her choices of clothing, but they are there on sporadic occasions. She has been known to wear crucifixes (both standard and upside-down) with some outfits, either around her neck or on a bracelet.
It's unknown whether this is a mere fashion choice or a spiritual one, however.
By contrast, there have been many instances in which Eilish has donned dark and ominous clothing, suggesting a pull towards the Satanic. When combined with some of her artistic choices, this may seem the more likely religious foundation. This impression peaked in late-2019, with the premiere of Eilish's song 'all the good girls go to hell'. This track and its video are littered with demonic and Satanic references, as you can see here.
In The Eyes Of The Believers
It's an unfortunate truth that when you put yourself in the eyes of the world as Billie Eilish has done, there will be those that come to judge you harshly for whatever reasons possible. As previously stated, her music video for 'all the good girls go to hell' came under fire for the controversial lyrics and demonic depictions, but it doesn't end there.
In a talk, a Christian Right activist named Dave Daubenmire sent out a dark accusation, claiming that Billie Eilish was an envoy from Satan, sent to steal everyone's children. In a dramatic video posted in September 2019, Daubenmire slams Eilish, claiming there was no way she could have reached the level of success she has 'on her own'.
In a (now-removed) response to Eilish posting graphic imagery from her music video, one fan posted that they would 'Pray for Billie'. This was followed up defensively by Eilish's fans with the statement 'nobody asked for your prayers Tina'.
Ultimately Unconfirmed
As it stands, you cannot truly confirm or deny whether Billie Eilish conforms to one religion or another. There are definitely instances of imagery and reference throughout her fashion or artistic choices, but it isn't enough to say for definite what she feels and believes.
Perhaps one day in the depths of some interview, Eilish may offer some kind of confirmation herself.