Billie Eilish seems to have those huge round eyes and flawless skin that are the envy of the world. What makeup does the 'Bad Guy' singer use to look so good?
Billie Eilish mostly uses the makeup brand Milk Makeup. She uses their primer, concealer, foundation, bronzer, highlighter, eye pigment, mascara, lip glaze, and brow gel. Her makeup Artist is Robert Rumsey with the A-Frame Agency.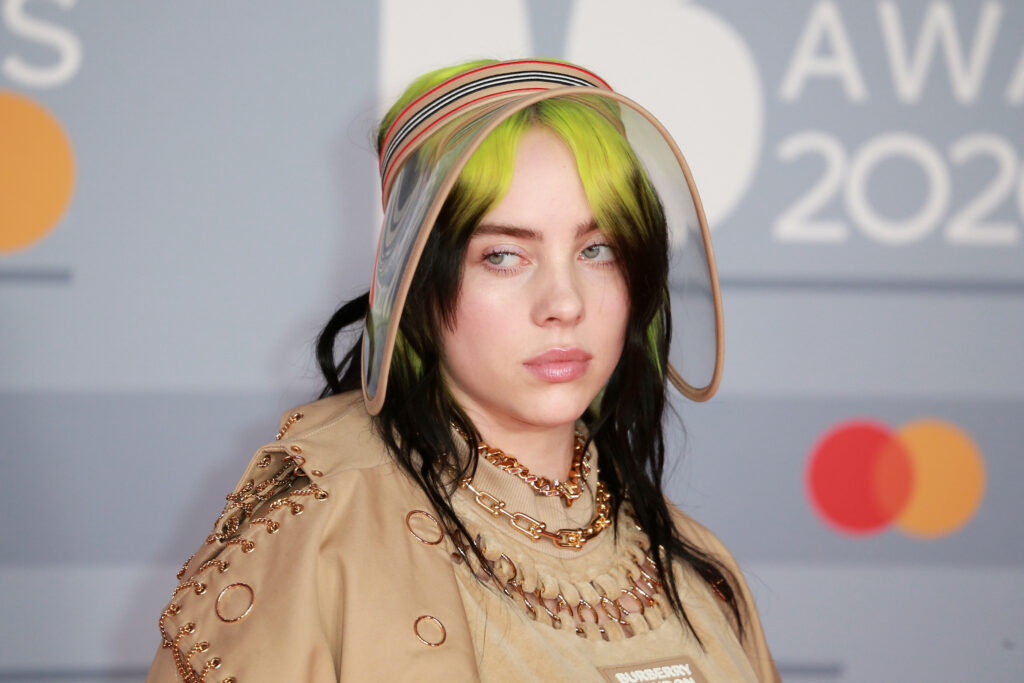 You can read more below about the exact makeup products Billie Eilish uses and some of the tricks her makeup artist uses to create her signature look.
Billie Eilish Loves Milk Makeup
Anytime you see Billie Eilish wearing makeup it is probably by the brand Milk Makeup. This is a brand that you may not be super familiar with either.
Milk Makeup was co-founded in 2014 by Mazdack Rassi who is also a founder of Milk Studios, Dianna Ruth, Georgie Greville, and Zanna Roberts Rassi. The brand is based out of New York.
As for their products, they describe them as "cruelty-free, paraben-free, and 100% vegan." This is probably one of the main reasons why Eilish is interested in the brand since she is a vegan.
A lot of people forget that there are animal byproducts in a lot of beauty products as well as everyday items. It takes a lot of conscious decisions for Billie Eilish to follow a vegan lifestyle.
While it is becoming easier to find vegan products, it's also easier to just stick with one brand if you love their products and they follow the same code as you. That's exactly with Billie Eilish has done.
Eilish's Go-To Milk Products
While Billie doesn't dish on her makeup a whole lot, her makeup artist Robert Rumsey happens to consistently show off his finest work. That work, of course, is Billie Eilish's face.
Eilish and Rumsey have worked to create her signature look that basically revolves around the Milk Makeup products she uses. So what exactly are these products? We'll start with the skin products that she uses since her skin always looks so clean and flawless.
To get that flawless skin, they start with Milk's Hydro Grip Primer. The primer does not only work to help the makeup put on top of it to stay on, but it also helps hydrate her skin.
On top of the primer, she uses Milk's Flex Foundation Stick and Flex Concealer. Of these two products, she uses the colors snow and porcelain which tells us that she has a skin tone that is very susceptible to sun damage and burning.
The important feature of Milk's Flex line is that these covering products are supposed to flex with your skin and not create creases or cake in spots.
You can watch Billie Eilish answering increasingly personal questions with Vanity Fair in the below video.
Final touches on her face use Milk's Matte Bronzer and Flex Highlighter in Lit. As you can see here, not only does she not use blush, but they also don't do much contouring on her face to make it look different.
For Billie Eilish's eyes, it is a fairly simple routine. First, they use Milk's Eye Pigment in the color Hotel Lobby followed by some more of the Flex Highlighter but this time in the color flex.
This is the combination that gives Eilish's eyes that glow. Then they top off her eye look with some of Milk's High Volume Mascara.
Billie Eilish's brows are then shaped using the Kush Clear Brow Gel. We won't lie by saying that we're not jealous that Eilish doesn't have to use any brow filler.
Then her lips are made glossy with the Kush Clear Glaze. Eilish doesn't wear lip liner or cake on the lipstick; her big lips look like that naturally. Okay, now we're super jealous.
Billie Eilish's MUA's Tricks
Like any professional makeup artist, Robert Rumsey has some tricks up his sleeve when making Billie look flawless. One of his biggest ones is surrounding mascara.
He took to Instagram and told followers that when applying mascara "I wipe excess product off with a tissue and do 2 coats for a natural look."
Rumsey also revealed that Billie Eilish preps her skin for makeup using Milk's Vegan Milk Moisturizer and Melatonin Overnight Lip Mask. Other tips include recommending the mini bronzer for precise contouring and using his ring finger to apply concealer.
With such a specific routine, no wonder Billie Eilish always looks so good!