Cardi B is a multilingual rap star with a mixed ethnic background. Fans often wonder exactly what her heritage is, and whether she is Hispanic.
Cardi B is Hispanic. Her father is Dominican and Cardi embraces her Hispanic culture.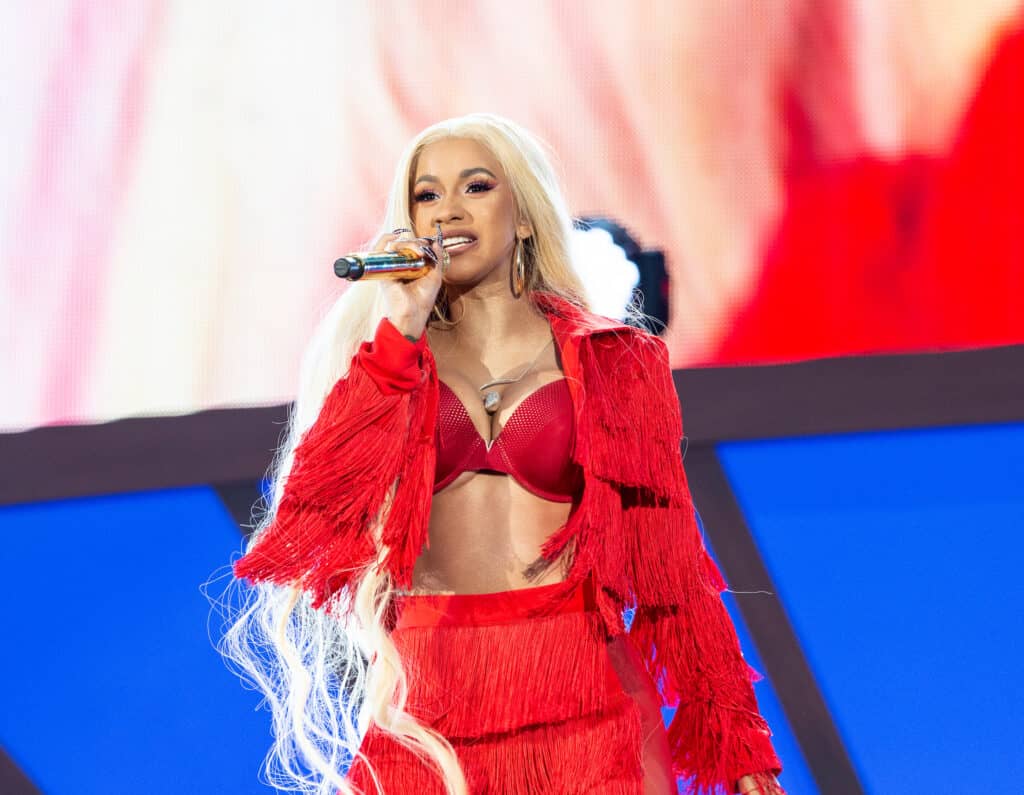 Cardi B has been very vocal about her background and made a point to shut down any misconceptions about her race. Keep reading to learn about her Hispanic heritage.
Cardi B's Hispanic Heritage
"Hispanic" refers to people and culture that descended from Spain. This encompasses all Spanish-speaking countries that were once colonized by Spain.
Cardi B is Hispanic because her father is Dominican. The Dominican Republic was colonized by Spain during its history, and today Dominicans speak Spanish as a result.
Cardi B's first language was Spanish. She spoke Spanish with her family as she grew up, and learned English second.
Cardi B Embraces Hispanic Culture
Although Cardi B travels the world and enjoys learning about different cultures and languages, the rap star still stays true to her roots. In 2017 she appeared in the NYC Dominican Parade and danced on a float.
Cardi B also showed off her Hispanic dance moves during a trip to the Dominican Republic. The star visited her grandmother and danced some Merengue with her family.
Cardi B defended the Dominican diet in a brief callout video in 2015. She exclaimed that it was "crazy" how Dominicans eat whatever they want, none of it organic so-called health food, and still live long healthy lives compared to their white American health-obsessed neighbors.
Cardi B Joins the Latin Music Scene
Cardi B may have reached her fame through rapping English songs in America, but she quickly transitioned to work with other Hispanic artists. She teamed up with Latin music superstars for collaborations such as "Ahora Dice," "La Modelo," and "Taki Taki."
Cardi B also created her own songs in Spanish. After her breakout track "Bodak Yellow" became a huge hit, she released a Latin trap remix featuring her fellow Dominican American rapper Messiah.
Cardi B's "Bodak Yellow" Latin trap remix has many of the lyrics translated to Spanish. Cardi B kept some of the iconic lines in English, but rewrote her bars to fit in Spanish and still carry the same meaning.
Cardi B reached massive Latin music success with her hit "I Like It." The song samples an old Latin boogaloo song, effectively taking Hispanic culture and reviving it for the present.
"I Like It" features Puerto Rican rapper Bad Bunny and Colombian singer J Balvin. The track became a massive Latin music hit, and won Song of the Year from the ASCAP Latin Music Awards.
Cardi B Addresses Her Race
Cardi B has stepped up to explain to her fans that race is not the same as ethnicity. While ethnicity is usually cultural, race is the "grouping of humans based on shared physical or social qualities into categories generally viewed as distinct by society."
Cardi B came forward to explain that while her heritage is Hispanic, her race is Black. Cardi B shut down any speculation that she is not black based on the fact that she is Latina.
Cardi B did not blame her fans for not understanding the difference between race and heritage because these distinctions are not commonly taught in school. She gave an important lesson that her ancestors of African ethnicity immigrated to the Carribean, so she is both Black and Hispanic.
Cardi B Gives Other Hispanic Americans Hope
Beyond embracing Hispanic culture and educating fans on the meaning of one's race, Cardi B sparked hope in many other Hispanic Americans. The rapper frequently says she's "just another degular shmegular girl from the Bronx," proving to so many people that they too can live their dreams.
Dominicans have expressed their adoration for Cardi B as a positive role model. One writer, Madeline Familia, said that she respected how Cardi B defied the odds and rose to fame while always staying true to her Dominican roots.
In El Paso Times, Dave Acosta wrote that Cardi B's rise to success was particularly poignant at a time when Hispanics in America faced discrimination and limited opportunities. He explained that her heavy Dominican and New York accent is unmistakable on "Bodak Yellow" and gives an anthem to many Hispanic immigrants.
Cardi B is Hispanic and unashamed. She embraces her Hispanic identity and culture, all while educating others about her heritage and serving as a positive role model.