Ellen Degeneres has a complicated history with veganism, making it easy to wonder how her preferences have changed throughout the years and where they put her today.
Though the famed comedian and talk show host has spent many years of her life as a vegan, she no longer follows the diet. She continues to support anyone who chooses the plant-based lifestyle and even weaves it into her stand-up routines, indicating that she still finds it important.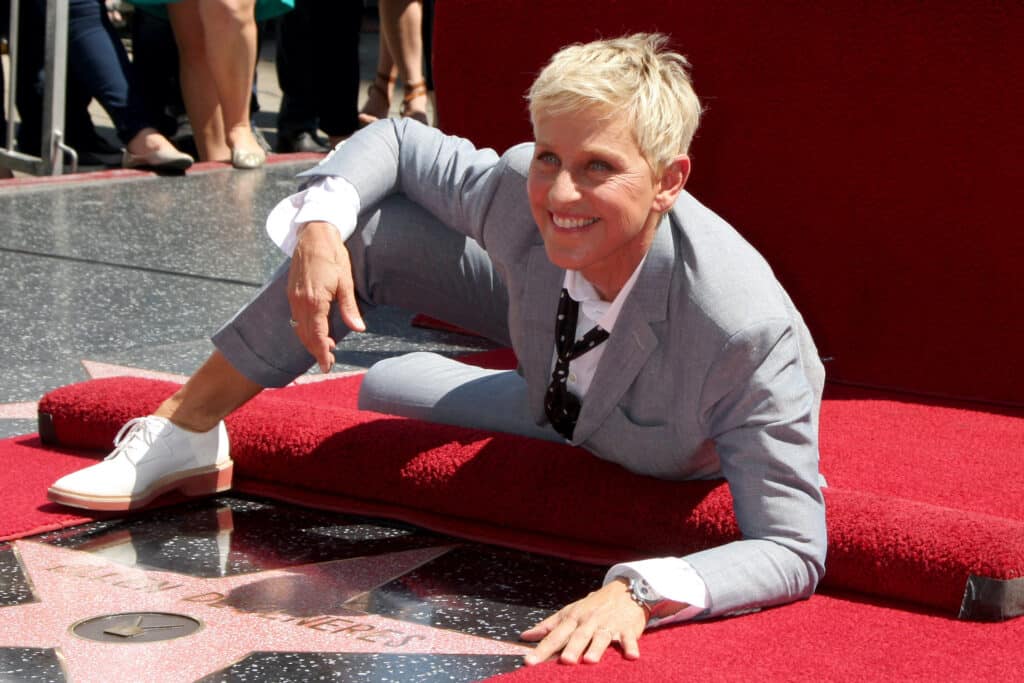 Continue reading to learn more about Ellen's relationship with veganism and her current stance on the lifestyle.
The Back-and-Forth Battle
It's widely known that Ellen spent a portion of her life committed to veganism – eight years, to be exact – so what were these years like, and why did she do it?
In fact, Ellen actually spent some time as only a vegetarian before making the leap to veganism. After reading Diet for a New America, a book by John Robbins, she knew she wanted to take part in the meat-free movement. But it was only about eight months until she started eating meat again.
Why did she opt out? She explains this in an interview with Katie Couric saying, "I just did what most people do – I just had a disconnect. I decided that it's more important for me to taste a cheeseburger or have a steak…and it's easier, and I just put it out of my mind."
You can watch the interview between the two in the YouTube video below.
After a while, Ellen came back and decided to fully engage with the plant-based community. The flame that reignited her interest? She watched Earthlings, a documentary shedding light on the way humans take advantage of animals when it comes to our diets, and in more subtle ways like the clothes we wear and the research we conduct.
In reaction to the film, Ellen is quoted saying, "You just see that, and you go, 'I can't participate in that. I can't be a part of something that is suffering.'" She continues to share what she learned about the meat industry, saying that "I think we all fool ourselves that there's some kind of happy cow, and that it's a quick death. It's a very disturbing reality that happens every minute of the day."
After her conversion, she consistently spoke on the positive impacts the lifestyle had on her physical, mental, and emotional health. However, the plant-based road didn't last forever.
Leaving It All Behind
The time came when Ellen began to venture away from her long-held vegan ideals. In her 2018 stand-up special Relatable, she shares, "I was healthier than I'd ever been. I loved being vegan."
So what caused her to stray? The answer is a bit more nonchalant than you would expect. She continues, "In the last year or two for no reason, I just started eating a piece of fish once in a while and I'll eat eggs from chickens that I know. You know what I mean – if they're in someone's backyard and they're wandering around and they're happy." She makes it clear that she subscribes to the meat-inclusive diet in a responsible way.
Her Stance Today
Though Ellen no longer participates in any plant-based diet, she continues to regard the community with admiration and support.
In 2019, long after Ellen had returned to omnivore territory, she posted a video for her Instagram followers encouraging them to consider cutting meat from their diet. Among her supportive words, she says, "It's a great idea for the planet. It's a great idea for your health. It's a great idea for the animals' health." She even speaks to those who may not be ready to make the jump to full veganism, saying that they can simply "eat less meat," an action that still touts many benefits.
https://twitter.com/veganuary/status/1174785909981663243
Ellen has been in many boats when it comes to the controversial issue of ethical eating. She may no longer be vegan, but there's no question that she respects and encourages the plant-based lifestyle.