Jennifer Hudson is well-known for her incredible and powerful voice. From singing at a very young age in a Chicago church choir to performing at wedding receptions and even performing at American Idol, where she reached the final rounds, this Grammy-winning artist has excelled through her talents. It is no wonder fans are curious about what her vocal range is.
Jennifer Hudson is a spinto soprano with a three-octave range, although she's most often classified as mezzo-soprano. Her powerful voice makes it hard to label what her vocal type is.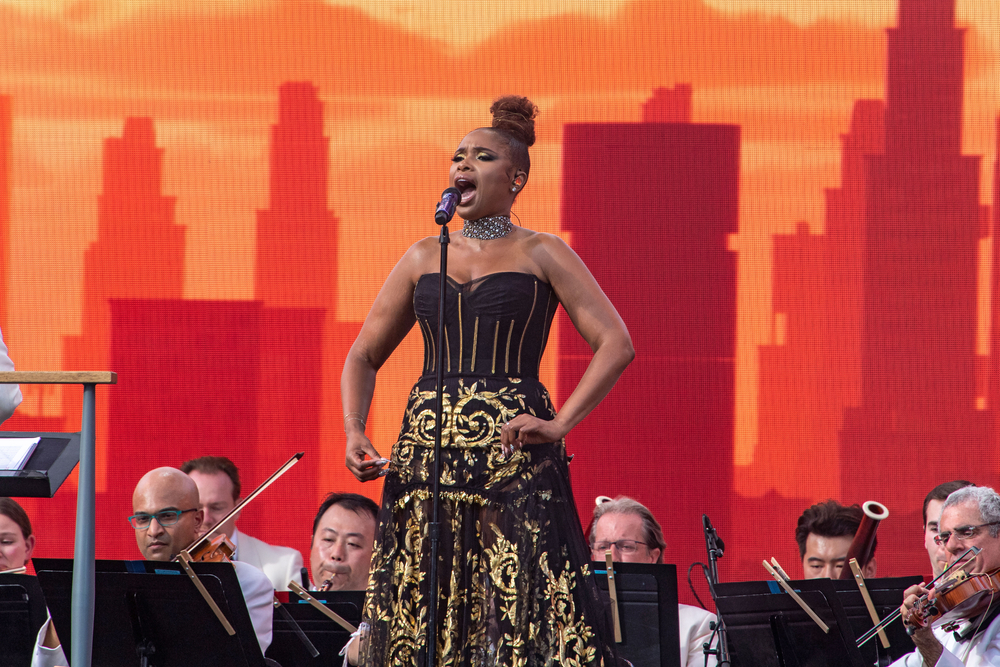 Here are more details about the incredible singer and actress:
Who Is Jennifer Hudson?
Jennifer Kate Hudson is an American actress and singer. She was born on Sept. 12, 1981 and rose to fame after becoming a finalist in the third season of American Idol, placing seventh place. She was given an Academy Award as best supporting actress for her role in Dreamgirls.
The amazing singer began her singing journey at the age of seven when she became a part of her Chicago church choir. In her teen years, she sang in local talent shows, musical theatre, and wedding receptions.
Jennifer Hudson enrolled at Langston University and eventually quit, returning home after feeling homesick. She got her first singing job on the Disney Cruise Line, playing a role as one of the muses in the Hercules production.
In 2004, Jennifer Hudson was Top 7 in the third season of American Idol. After the competition, however, she surpassed many, including the third season American Idol winner, Fantasia Barrino, to get a role in the movie Dreamgirls, a musical set that depicts the rise and fall of a girl group.
Despite not winning American Idol, MTV named her the sixth greatest contestant to ever appear on the show. In 2010, Jennifer Hudson was named the third greatest Idol contestant ever by Los Angeles Times.
This outstanding singer and actress has received a Golden Globe award, a Davis Jr. award for Entertainer of the Year, and even a British Academy of Film and Television Art award.
What Happened to Jennifer Hudson's Parents?
Not many fans knew of the tragedy that befell Hudson's family. Jennifer Hudson's family was shot by someone they least expected. Sadly, she had to cope with the grief and trauma that came after.
On Oct. 24, 2008, William Balfour, her former brother-in-law, shot Jennifer Hudson's mother, Danell Donerson, and her brother, Jason Hudson in the living room. He then kidnapped her nephew, aged seven, Julian King, with Jason's SUV.
After two days, the police found her nephew dead in the back of the SUV. Julian was killed by multiple gunshots on his body and head.
William Balfour was arrested and charged with triple murder. The police had found a gun on his clothing and Jason's SUV keys in his pockets. All evidence was connected to him, and he was found guilty of three counts of first-degree murder, biliary, and kidnapping. There was no possibility of parole for him.
Who Was Jennifer Hudson Engaged To?
Jennifer Hudson got engaged to the former WWE wrestler and Harvard Law graduate David Otunga in 2008. They had welcomed their son in 2009.
However, in 2017, the couple split after 10 years together. In a statement released by Hudson's rep, Jennifer had requested a protective order.
"Today, Jennifer requested and received a protective order against her ex-fiancé. Jennifer's actions are solely taken in the best interest of their son," said the statement. 
What Is Her Skin Care Routine?
Aside from her melodious voice, this iconic celebrity is blessed with radiant skin. Ever wondered about the tricks to her glowing skin? Here are some details:
Embracing the skin she's in is one of her ways of being confident. Wearing makeup is part of being a celebrity, but aside from that, she loves to keep it simple. Minimalism is the key to good skin.
You may wonder what skin care products she uses. Jennifer Hudson uses her favorite product, the Olay Regenerist Retinol 24 Max Night Facial Serum. It keeps her skin rejuvenated and moisturized.
Sunscreen is a compulsory product for Jennifer Hudson as well. Her skin can't be damaged by the sun's rays, after all. She also uses cocoa butter to help in softening and brightening her skin.
What Is Jennifer Hudson's Net Worth?
Jennifer Hudon has an estimated net worth of $30 million. She earned most of her income from her TV entertainment and music career.