Starting in the 1970s, John Travolta became one of the most recognizable faces in film and television through his roles in the television series Welcome Back, Kotter, and the films Saturday Night Fever, Grease, and Pulp Fiction. Many facets of his career and personal life have appeared in the news, including the numerous awards and nominations he has received, his adherence to the Scientology movement, and his fondness for owning and flying aircraft, but is John Travolta bald?
After years of rumors about him wearing wigs and hairpieces, John Travolta finally debuted his completely shaved head in January 2019. Throughout his career, Travolta has sported a wide variety of hairstyles, some of which have appeared in multiple films, while others have only appeared once.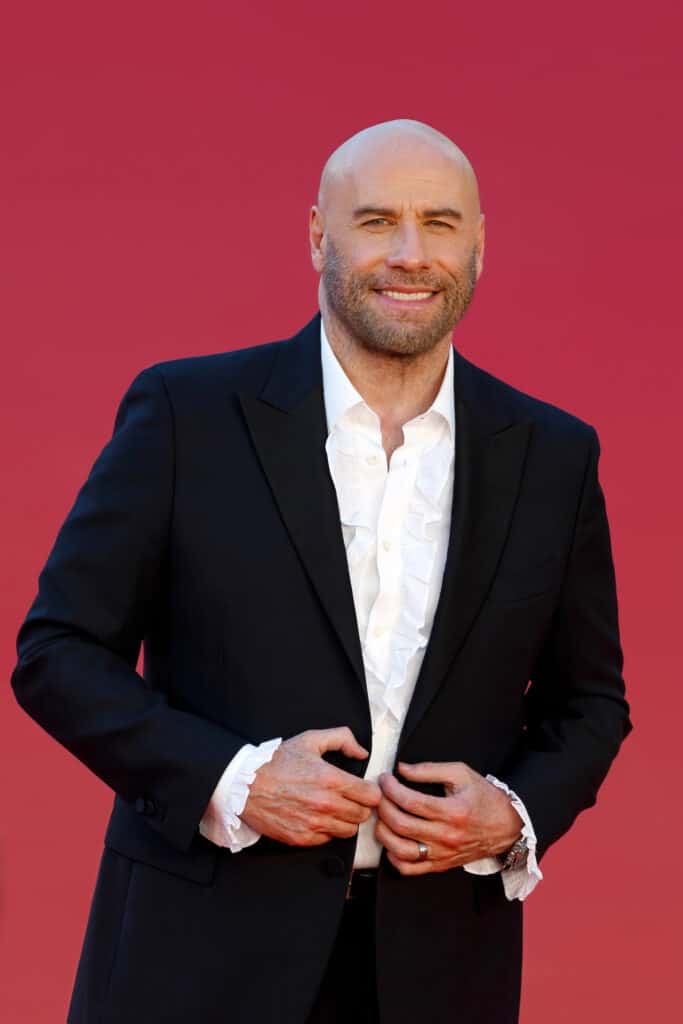 John Travolta's Hairstyles Over The Years
In his early film and television appearances, John Travolta had long, wavy hair that went down to his shoulders. He sported this hairstyle in his breakout role as Vinnie Barbarino in the television sitcom Welcome Back, Kotter, which premiered in 1975.
That same year, Travolta made his feature film debut as Danny in The Devil's Rain. However, he only had a minor role in this lesser-known horror film, which starred Ernest Borgnine and William Shatner.
However, he would become quite famous just three years later for playing another character named Danny.
Travolta can also be seen with his wavy hair in the 1976 television film The Boy in the Plastic Bubble, in which he played a teenager born with a severely deficient immune system. That same year, he had his first major role in a theatrical film in Brian De Palma's adaptation of the Stephen King horror novel Carrie.
For his 1977 film Saturday Night Fever, Travolta had his long hair trimmed into a much shorter look. Ironically, his character in the film, Tony Manero, is obsessed with maintaining his hairstyle.
In 1978, Travolta played Danny Zuko in the movie musical Grease, in which he sported a pompadour. Elvis Presley had popularized this hairstyle in the 1960s.
However, his long hair would return later that year for the romantic drama Moment by Moment, in which he starred with Lily Tomlin.
For much of the 1980s, Travolta went back to a shorter hairstyle akin to his look in Saturday Night Fever and Grease. This can be seen in films like Urban Cowboy, Blow Out, and Look Who's Talking.
In 1989, John Travolta starred alongside his future wife, actress Kelly Preston, in the Cold War film The Experts. The film may not have been much of a success, but it is notable for featuring Travolta in a mullet.
For his role in the 1994 Quentin Tarantino film Pulp Fiction, which earned him an Academy Award nomination, John Travolta changed his hairstyle again. This time, it was a long, slicked-back style that he occasionally wore as a ponytail throughout the film.
In 2001, Travolta donned one of the most outrageous hairstyles of his career. As the alien security chief Terl, he starred in the science fiction film Battlefield Earth.
As Terl, Travolta had long dreadlocks and a goatee. It may not have been his most fashionable look, but it is certainly one of his most memorable.
The film is based on the novel Battlefield Earth: A Saga of the Year 3000 by L. Ron Hubbard, the founder of Scientology. The film received notoriously bad reviews and failed to be a success at the box office.
Because of its poor reception, it has become one of Travolta's most infamous films.
John Travolta Debuts His Bald Look
As John Travolta has aged, there has been considerable speculation in the press about whether he wears a wig. In early 2019, Travolta finally cleared this up by debuting his new bald look.
Apparently, he had been wearing wigs and hairpieces since the early 2000s. This certainly explains the variety of hairstyles he has been seen with since the turn of the 21st century.
In an Instagram selfie with his daughter Ella, Travolta showed off his fully bald head for the first time. Check it out below:
Travolta's fans wasted no time in expressing their enthusiasm for his new look. In the days following his post, multiple social media accounts shared their compliments.
Regardless of whether he is bald or has a full head of hair, Travolta is truly an icon. While his career has had its ups and downs, he clearly has a large and loyal following.