He's a Hollywood legend with many titles to his name including actor, film director, producer, country musician, baseball team owner, business owner, NASCAR Grand Marshal, and philanthropist. Seven people also call him 'dad.' But can Kevin Costner add 'husband' to his list of titles? Is Kevin Costner married or is he still one of Hollywood's most eligible bachelors?
Kevin Costner is currently married to Christine Baumgartner. The pair wed in 2004 after four years of dating and have three children together. Before Christine, Kevin was married to a woman named Cindy Silva who was his college girlfriend and the mother to three of his seven children.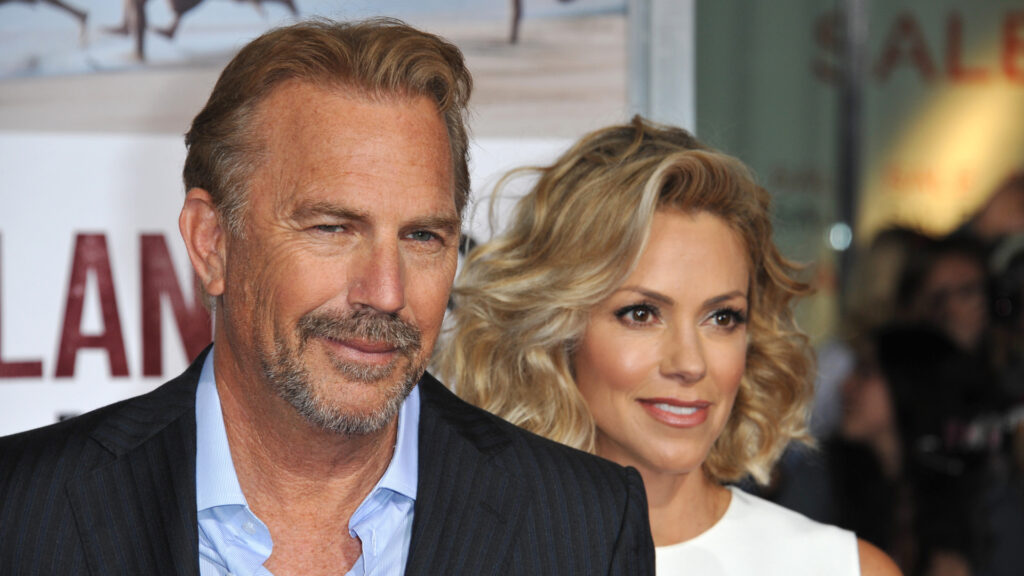 How many times has Kevin Costner been married? Who is he married to now? Who has he dated in between? Does the silver fox have any relationship advice to offer his fans and followers? For the answers to all of these questions, keep reading.
Who Is Kevin Costner's Wife?
Kevin has been married to Christine Baumgartner since September 2004 when the happy couple tied the knot at Kevin's 165-acre ranch in Aspen, Colorado. The pair first met on a golf course more than a decade before saying "I do" but only started dating in 1998 after rekindling their friendship.
The pair wed after four years of dating. Kevin arrived at the private ceremony, which took place next to a stream on the ranch, in a horse-drawn carriage while a vintage pickup truck dropped Christine off. Their wedding ceremony was witnessed by their closest family and friends including Don Johnson, Tim Allen, and Mary McDonnell.
Christine, who is nineteen years younger than Kevin, was a successful model before she found her true passion; designing handbags! Three years after becoming a wife, Christine became a mother when the couple welcomed their son Cayden to the world on 6 May 2007.
In 2009, Kevin had a son once more when Christine gave birth to Hayes on 12 February 2009. On 2 June 2010, Kevin became a father for the seventh and final time when Christine gave birth to their daughter Grace.
Kevin credits "The ability to say you're sorry" as one of the keys to making a marriage work. He told Good Housekeeping, "I know that sounds so simple. If you're willing to tell somebody that you love them, are you also willing to say you're sorry? You need to, even when you think you're in the right."
How Many Times Has Kevin Costner Been Married?
Like many celebrities, including Ryan Reynolds, Jennifer Aniston, Madonna, Reese Witherspoon, Russel Brand, Scarlett Johansson, and Ashton Kutcher, Kevin has been married twice. Before he married Christine, he was married to Cindy Silva.
Kevin met Cindy while studying at California State University. In 1975, when they were both 22 years old, they got married in an intimate ceremony. In 1984, Kevin and Cindy welcomed their first child into the world; a daughter named Annie.
In 1986, the Costner-Silva family went from three to four when Lily was born. Two years later, in 1988, Cindy gave birth to a son called Joe.
Though Cindy was also an actress, her career never reached the same heights as Kevin's did. In 1994, due to "strain from Kevin's busy movie schedule" Cindy and Kevin got divorced.
Who Has Kevin Costner Dated?
Two years after Kevin and Cindy's divorce was finalized, the actor took his relationship with small-time actress Bridget Rooney public, and on 15 November 1996, the new couple welcomed a baby boy called Liam Timothy. Their relationship was short-lived, and today Bridget is married to billionaire William Ingraham Koch.
When Bridget moved out, Elle Macpherson moved right on in! Kevin and Elle's relationship didn't last long at all, and after just a few months the couple called it quits and Elle moved out.
After his split with Elle, Kevin began dating Birgit Cunningham. Birgit is a British-American activist, events organizer, and campaigner for single mothers' rights. Kevin and Birgit dated for three years before the relationship ended. Birgit didn't take the break-up well and suffered a breakdown which led to her hospitalization and subsequent return to her native England.