Today, she is best known to audiences as a cast member on "The Real Housewives of Beverly Hills" but Kyle Richards has been on our screens for much longer than a decade. Is she really related to the Hiltons and, if so, how?
Kyle Richards is related to the Hiltons via her mother, Kathleen Dugan. Kathleen had previously been married to Lawrence Avanzino and had a daughter, Kathy, who married Richard Hilton. Kathy and Richard are the parents of Paris and Nicky Hilton.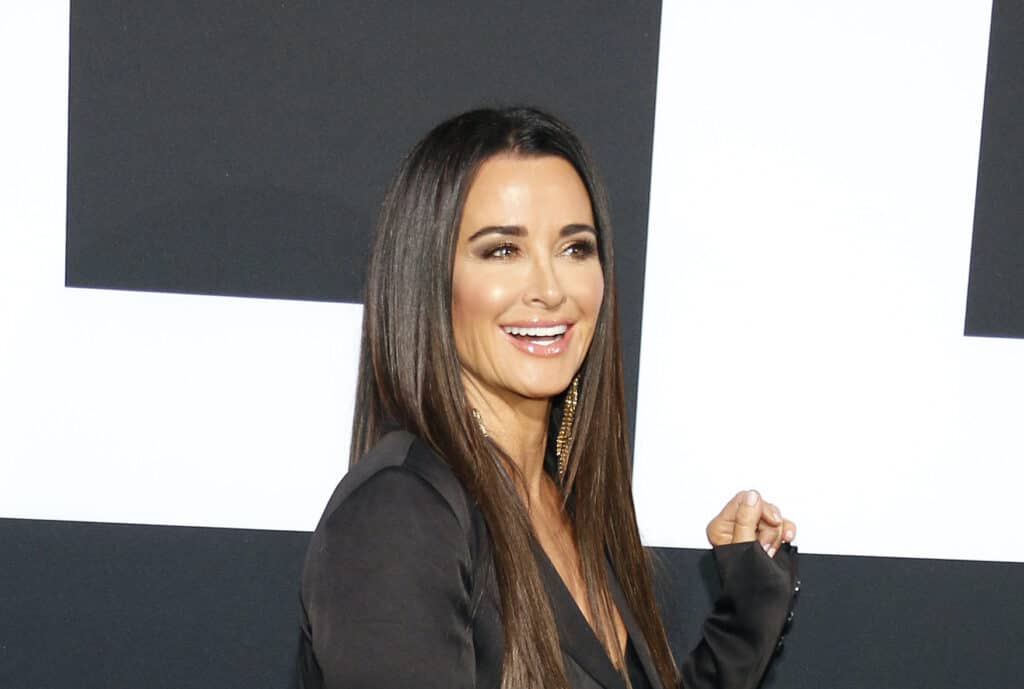 For more on Kyle Richards and how she is related to the Hilton family, read on.
Kyle Richards
Kyle Egan Richards was born in Hollywood, California on January 11, 1969, the daughter of Kenneth Edwin Richards and Kathleen Mary Dugan. She has one full sister, Kim Richards, who was born five years before Kyle.
Both of Kyle's parents had been married previously. Her father had three existing children from his first marriage, who were already adults when Kyle was born.
Kathleen had previously been married to Lawrence Avanzino and had a daughter, Kathleen Elizabeth Avanzino.
Kyle enjoyed a brief but successful spell as a child actor, debuting in "Little House on the Prairie" and, most famously, appearing as Lindsey Wallace in "Halloween" in 1978. With her profile greater than ever thanks to her appearances on "RHOBH", Richards returned to the role of Wallace, appearing as an adult in "Halloween Kills" in 2021.
She has been married twice, briefly to Guraish Aldjufrie between 1988 and 1992 and then to Mauricio Umansky, who she married in 1994. She has a daughter with Aldjufrie, Farrah, and three daughters with Umansky: Alexia, Sophia, and Portia.
Kathy Hilton
Kathleen Avanzino was born on March 13, 1959, in New York City. When her mother remarried, wedding Kenneth Richards, the family relocated to Los Angeles.
Kathy attended a private high school in LA, where she met and became close friends with Michael Jackson. She began acting in childhood in 1968, mostly having guest appearances in TV shows such as "Bewitched", "Happy Day" and "Nanny and the Professor".
While 15 years old and in high school, Kathy met Richard Hilton, grandson of Hilton Hotel founder Conrad Hilton. The pair quickly fell in love and married in 1979, with Kathy retiring from her screen career.
Kathy and Richard had four children together. Most famously, their daughters Paris and Nicky, were both in 1981 and 1983 respectively, before their sons Barron II and Conrad III were born in 1989 and 1994.
As such, Kyle Richards is a half-sister to Kathy Hilton and half-aunt to Paris and Nicky.
After retiring from acting, Hilton owned and operated an antiques and gift store on Sunset Plaza in Los Angeles. She has designed party dresses and sold her own skincare line, as well as having numerous philanthropic endeavors, such as raising money for the Make-A-Wish Foundation.
Real Housewives of Beverly Hills
Kyle and Kim Richards, both of whom were child actors, were founding members in the cast of "The Real Housewives of Beverly Hills", which began airing in 2010. Kim left the full-time cast after Season 5, infrequently appearing as a guest, but Kyle continued appearing in the show for a decade and becoming its longest-running star.
In 2012, a couple of years into the show's run, Kathy Hilton commented that she refused to watch her half-sisters' appearances on the show. Kathy said that she couldn't watch their lives falling apart on television, saying it made her "break down in tears".
In spite of this, Hilton has appeared on the show numerous times, due to her connection with two of the show's main cast members. There have frequent rumors that Hilton would be joining the show in an official capacity; her residence in Beverly Hills made these rumors all the more believable.
These rumors have varied from claims that Hilton would become a full cast member, to suggestions that she was going to be one of the "friends of". These figures are essentially extended cast members connected to the show by their relationship with one of its main cast.
Given her connection to two of the show's most familiar faces, as well as being a member of the Hilton family and linked to the Rothschilds by blood, Kathy seems a natural fit. Her daughter, Nicky, married James Rothschild in 2015, and they had two daughters together, Lily and Teddy.