Lisa Vanderpump is a woman of many different titles: restaurateur, bar owner, humanitarian, author, designer, actress, television personality, wife, and mother. But is the glamorous animal-lover also a grandmother?
Lisa Vanderpump became a grandma on 13 November 2021 when her daughter, Pandora Vanderpump Sabo, and her husband Jason Sabo, welcomed a son into the world. Lisa calls herself "Nanny Pinky" and is in love with her first grandchild, Theodore Vanderpump Sabo.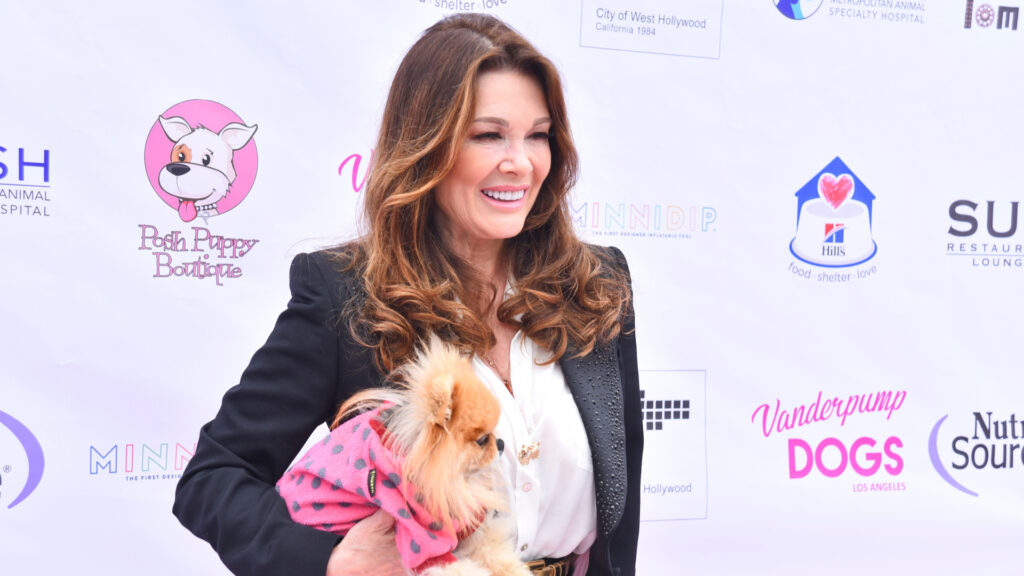 Let's find out all about Lisa Vanderpump's family and what she thinks of becoming a grandparent. Plus, let's find out which other 'Real Housewives of Beverly Hills' stars have joined Lisa in the glamorous grandmother club!
Does Lisa Vanderpump Have Grandchildren?
Lisa Vanderpump has one biological grandchild, a grandson called Theodore Vanderpump Sabo who was born on 13 November 2021. The reality TV star announced her entry to grandparenthood on Instagram with a black-and-white photo of her cradling the newborn.
She captioned the post, "Obsessively in love with baby Theodore. Thank you Pandy and Jason for making me a Nanny Pinky!!" along with a blue heart and golden teddy bear emoji, referencing his nickname, Teddy. Since then, Theodore has made regular appearances on his grandmother's Instagram page and Lisa loves sharing photos of him with her millions of fans and followers.
Lisa's daughter, Pandora Vanderpump Sabo, gave birth to Theodore on the morning of 13 November 2021. He weighed 6lb 7oz and Pandora said, "Your entrance into this world was the best day of our entire lives!" You are my everything. I love you so much, thank you for making me a mummy!"
What many don't realize, is that before she became a grandmother, Lisa was already a step-grandmother! Warren Todd, Lisa's husband's child from a previous marriage, has a child named Ryan Todd, but it's not clear how close Lisa and Ryan are – if at all.
How Many Kids Does Lisa Vanderpump Have?
Though Pandora is the first to make Lisa a grandmother, she may not be the last as Lisa has a total of three children. She has one biological child, Pandora, as well as an adopted son, Max, and a stepson, Warren (mentioned above) who came from her husband's first marriage.
When Lisa met her husband Ken Todd, he already had a son named Warren from his first marriage to Pamela Todd. Warren was born on 21 April 1966 and is now a successful property entrepreneur and Director of several property-related businesses in London and beyond.
Pandora was born on 7 May 1986 and grew up splitting her time between France and Monaco before the family settled in the Beverly Hills area. Pandora holds two degrees, one in English Literature and one in Film & Television Production, and worked on the film 'Black Swan' starring Natalie Portman. Today, she sells a range of alcoholic beverages and runs a luxury lifestyle blog called 'The Divine Addiction.'
Max Todd was born on 7 December 1991, to an unknown woman. He was placed into foster care at birth and was cared for by a foster family until he was 6 months old. When he was 6 months old, he was adopted by Ken and Lisa. According to The Sun, Max studied at The Musician's Institute and worked as a busser at SUR, but today he does his best to stay out of the public eye.
The Real Grandmothers Of Beverly Hills
Though Lisa is one of the most famous glammas from 'The Real Housewives Of Beverly Hills,' she's not the only grandparent in the group – and the rest show no signs of joining the glamorous grandmother club just yet. She and Kim Richards both have adorable grandsons whom they love and adore.
Thanks to her eldest daughter, Brooke, and her ex-husband Thayer Wiederhorn, Kim has two grandchildren named Hucksley Andrew Wiederhorn and Hunter Montgomery Wiederhorn. Her first grandson, Hucksley, was born on 28 September 2016 while Hunter entered the world on 18 April 2019. 
As for the rest of Lisa's former castmates, Adrienne Maloof, Camille Grammer, and Kyle Richards are yet to become grandparents. Given that Kyle has four children, Adrienne has three, and Camille has two, this could change in the near future for some of these women.