Today, Lisa Vanderpump is known for being a successful restaurateur, business owner, and one of the richest cast members of 'The Real Housewives of Beverly Hills'. The real question is: did she earn her money or was Lisa Vanderpump born rich?
Lisa Vanderpump was born rich and straight into a life of privilege that involved private education, ballet classes, and drama school. However, when she left home at 19 years old she had no financial support from her parents and was responsible for building her wealth.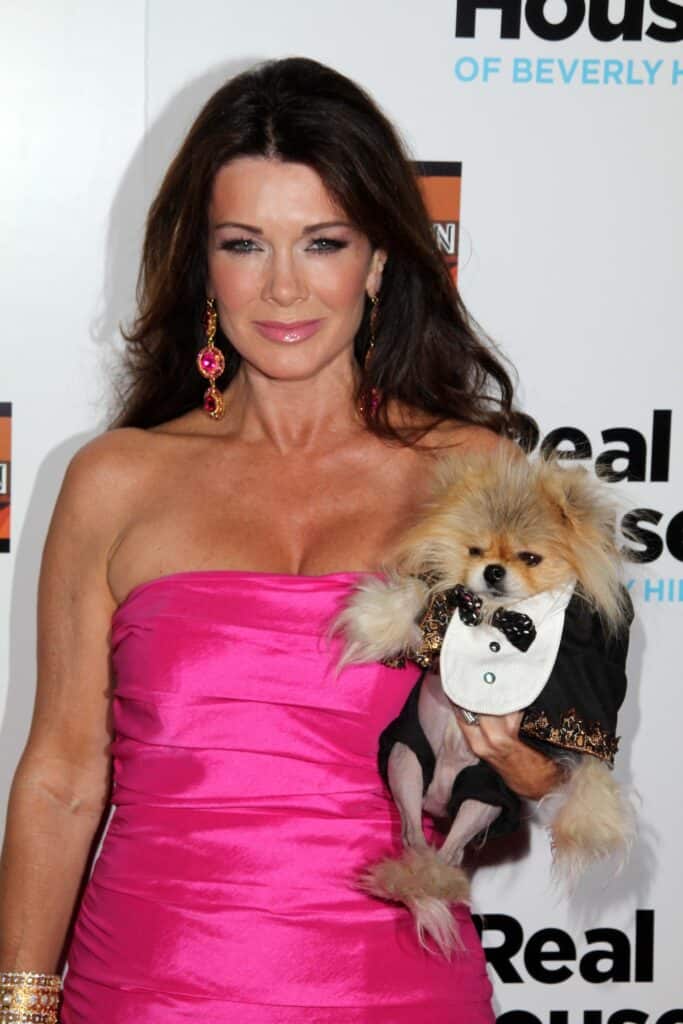 She's not shy to flaunt her wealth, and it's no secret that Lisa Vanderpump enjoys the finer things in life — and lots of it! Let's take a look at Lisa Vanderpump's upbringing, as well as how she makes and spends her fortune.
Lisa Vanderpump's Upbringing
Lisa was born in London on 15 September 1960 to parents Joan and John Vanderpump. While her parents were not stinking rich, they were more than able to financially provide for their growing family.
The star told Express, "I had a happy childhood. My father was an ad agency art director, and we lived comfortably. I started ballet lessons at three, and attended Riverston School in Lee Green, South London."
The school, which is a private preparatory school, costs between £2,500 – £10,589 per term, depending on the grade. When she was nine years old, she was placed in the Corona Academy Drama School and stayed at the school for eight years.
Lisa told In Style, "My parents never lavished gifts and money on us. God, I hope they don't read this. They were a bit stingy. I would get nice Christmas and birthday presents, but they were frugal. So I worked every school holiday."
At the age of 13, Lisa made her acting debut in 'A Touch of Class' and went on to star in an ITV series called Kids. Lisa decided that acting was where her passion lay, and she left home to pursue it.
She says, "I did over 100 commercials for brands like Maltesers, Lilt, Britvic 55, and Hamlet Cigars, so by 19 I'd bought myself a flat in Fulham. I never had any financial help after leaving home, just a good education and a kick in the arse."
How Did Lisa Vanderpump Get So Rich?
Today Lisa has an estimated net worth of USD $90 million, which leads many to wonder just how the star got so rich. If you're one of those people, wonder no more because you're about to find out exactly how Lisa makes her money.
Lisa and her husband Ken earned most of their fortune from their successful careers as restaurateurs. Together, the pair have owned upwards of 30 restaurants, and one of them — SUR — was making up to USD $2.5 million per year.
The star earns approximately USD $500,000 per season for starring in 'Vanderpump Rules'. For context, the second-highest earner on the show takes home a salary of USD $25,000 per episode.
And finally, Lisa earned a salary of USD $500,000 per season of 'The Real Housewives of Beverly Hills'. She was with the show for nine seasons, so she earned a pretty penny from the show, to say the least.
On top of everything else, Lisa has written a book called 'Simply Divine: A Guide to Easy, Elegant, and Affordable Entertaining', created a line of rose wines, launched a homeware line as well as a pet accessory line, and she often dips her toe in the pool of social media influencing.
How Does Lisa Vanderpump Spend Her Fortune?
Lisa has come a long way and there's no denying that she has an incredible work ethic that has made her the star she is today. She's as good at spending money as she is at making it, and the lavish lifestyle she leads is proof of this.
Lisa owns a 8,801 square foot mansion in Beverly Hills that is now worth more than USD $20 million, as well as a home in Montecito. She used to own properties in the English countryside, the South of France, Monaco, and Monte Carlo but has sold those over the years.
Lisa has a SetJet membership, buys hundreds of dollars worth of flowers each month, and she spends lots of money on clothing, accessories, and beauty treatments. When it comes to vehicles, Lisa owns a pink-wheeled Porsche and a Bentley Continental GTC.
Anyone who knows of Lisa will know that she is a huge animal lover. In addition to starting her own non-profit dog rescue organization, The Vanderpump Dog Foundation, Lisa has donated to Voice For The Animals Foundation, MuttNation Foundation, and the American Humane Association.
Of course, Lisa doesn't just spend her money on herself and animals as she considers herself to be something of a philanthropist. She's publicly supported Children's Miracle Network Hospitals, Race to Erase MS, GLSEN, The Trevor Project, the TJ Martell Foundation, Keep Memory Alive, and more.