Melania Trump is the Trump family matron-figure, serving as both Donald's wife and the First Lady of the United States during Donald's presidential reign. Although she holds the position at the head of the household along with Donald, is Melania Trump the mother to eldest Trump daughter Ivanka Trump?
Ivanka Trump is related to Melania Trump in name only, they are not mother and daughter. Ivanka's biological mother is Donald's first wife, who he first met in New York while she was still Ivana Zelníčková.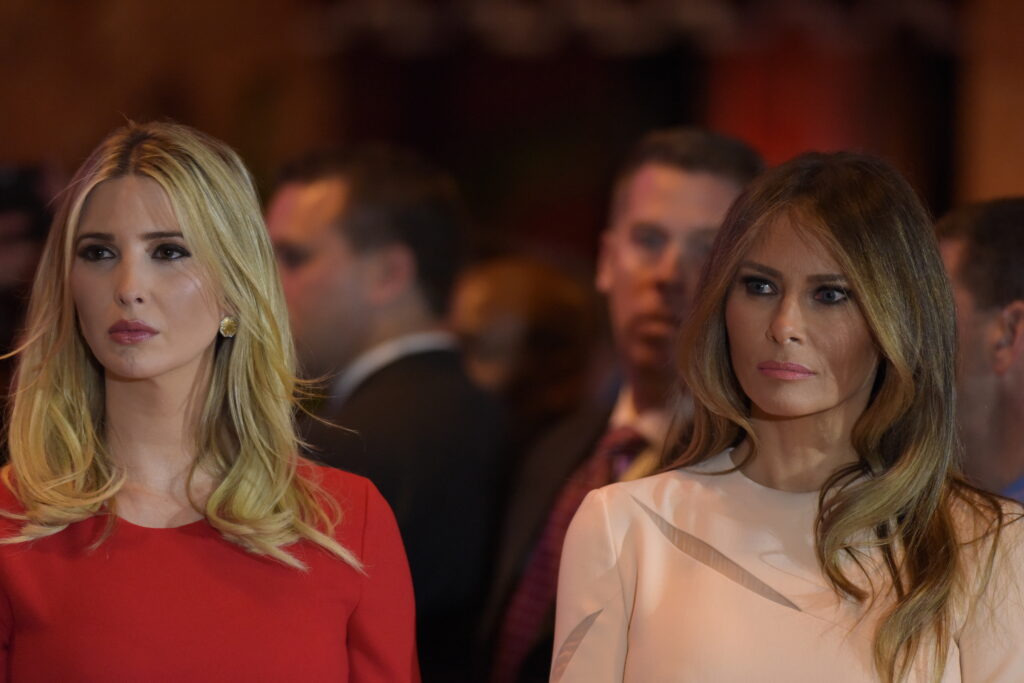 Donald Trump has always been an incredibly public figure, so both his relationships and the offspring of said relationships have been well documented in the news and other media. Ivanka Trump is definitely the daughter of Ivana, despite her apparent similarities to Melania.
A Closer Look At The Trump Family
The Trump dynasty experienced some seriously intense time under the spotlight during family commander-in-chief Donald's run as President of the United States. Standing right next to him, seemingly unfalteringly faithful to the cause, have been his children and his wife Melania.
The picture that they wish to portray as their public image is a mixture of family values and successful entrepreneurialism. For as many people that might argue on behalf of that image, there's an equal amount that will rail against it.
Regardless of all the opinions entwined with politics that there are on Trump and his family, it's undeniable that both in public and behind the scenes they seem to hold pretty tightly together as a one family unit. Trump has actually had three wives, however, who are not part of the portrayed picture.
The only child from Donald's marriage to Melania is the youngest of the siblings, Barron Trump. Born on March 20th of 2006, Barron became the newest addition to the Trump family just a year after Donald married Melania.
The Brothers And Sisters
Next up is the second youngest, Tiffany, who was born during Donald's six-year marriage to American actress Marla Maples.
As for the other children in the Trump household, they were born many years prior to Donald's previous two marriages. The three eldest siblings, Ivanka, Donald Jr., and Eric are all children of Donald's first marriage to Ivana Trump.
Both Donald's daughter Ivanka and his wife Melania have very youthful appearances, so it's hard to pinpoint their exact age. Without foreknowledge of the fact that they aren't related, you'd probably be taking a 50/50 gamble if you had to answer whether or not they were mother and daughter.
Despite the way they look, however, there's actually only an 11-year difference between them.
Ivana and Ivanka
You'll no doubt be able to see the similarities between the three eldest siblings, especially if you look at two side-by-side pictures of Eric and Donald Jr, who have both taken after their father in their looks. Ivanka on the other hand leans far more towards her mother in regards to her appearance.
You might be thinking "that doesn't really help distinguish her from Donald's other wives," due to his propensity for blonde women, and you might be right. If you compare the way that Ivanka looks compared to her other sister Tiffany, however, you can clearly see the differences.
Ivanka was born on October 30th of 1981, four years after eldest brother Donald Jr and three years before her younger brother Eric. Ivanka was the middle child of Donald's marriage to Ivana and was the only daughter that the pair had together before divorcing in 1992.
Though Ivanka goes by that name in almost every article or publication, her real name is actually Ivana, named after her mother. The reason that she calls herself Ivanka is because of the fact that it became a childhood nickname.
The extra "k" is slipped in there as a nod to her mother's Czech roots, where turning the Ivana into Ivanka signifies that it is a baby name. Since then, it has just stuck.
Despite having their fair share of differences over the years, including one particularly obscure mention of Ivana threatening to put her daughter up for adoption, the two actually maintain a healthy relationship with each other.
Blood is thicker than water, as they say, and their relationship surviving something like that proves the idiom to be true.