Patrick Dempsey stole the hearts of many people after starring as Dr. Derek Christopher Shepherd, M.D., F.A.C.S., more popularly known as Dr. McDreamy, on Grey's Anatomy. In fact, some of the actor's fans have been wishing to marry him. So the question, "Is Patrick Dempsey married?" continues to surface.
Patrick Dempsey is married to celebrity hairstylist and makeup artist Jillian Fink, and they have been together since 1994.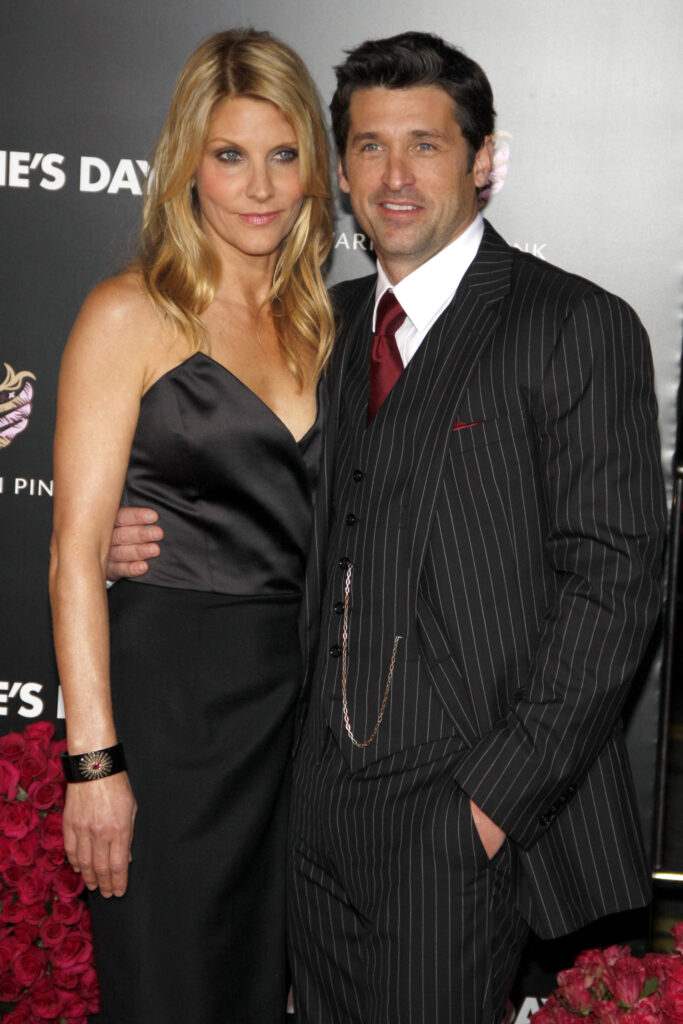 The actor has always been confident in showing off his beautiful wife and children. Here's a timeline of his marriage.
Is Patrick Dempsey divorced?
Before Patrick Dempsey met Jillian Fink, he was married to Rochelle Natalie Parker, known popularly as Rocky Parker. She was an actress and model whose relationship with Patrick Dempsey had many people talking.
They married in 1987 when Patrick Dempsey was 21 and the actress was 48. Although age is just a number, fans of both celebrities felt like they were too far apart age-wise.
In 1994, the couple got divorced, which was Patrick Dempsey's first. They cited irreconcilable differences as the reason for their separation. Moreover, Rocky Parker accused Patrick Dempsey of domestic violence, claiming that he beat her up on the set of Can't Buy Me Love.
Over a decade later, in 2006, Rocky Parker retracted the statement and court order, saying the claims were false. After further investigation, Rocky Parker said the primary reason for their divorce was that Dempsey left her for another woman.
She died of lung cancer in 2014.
Who is Patrick Dempsey's wife?
In 1994, as Patrick Dempsey was preparing to divorce Rocky Parker, he met Jillian Fink. It turned out that she was the other woman Rocky mentioned.
Jillian and Patrick started dating while they were still in their previous relationships. Jillian was also preparing to leave her former boyfriend when she fell in love with Patrick Dempsey. The two got married in 1999.
What does Patrick Dempsey's wife do for a living?
Patrick Dempsey's wife, Jillian Fink, is a celebrity makeup artist. She once partnered with Avon Cosmetics to start her organic makeup line, Jillian, which was named after her. Celebrities like Kristen Stewart, Jennifer Aniston, and Emilia Clarke used her cosmetic products.
Jillian Fink is also a talented celebrity hairstylist who majorly works on movie sets.
How did Patrick Dempsey meet Jillian Fink?
Patrick Dempsey and Jillian Fink first met in 1994 when the actor went for a hair appointment at the salon she worked. The stylist said she felt an unexplainable, instant attraction to Patrick when she saw him.
The two became close friends, but they didn't start dating until 1997. Three months after their relationship started, they moved in together, and by 1999, they walked down the aisle and got married.
Why did Patrick Dempsey and Jillian Fink almost get divorced?
Patrick Dempsey and Jillian Fink had a beautiful relationship, which many fans looked up to, labeling them as "couple goals." From always wearing matching colors at red carpet events to posing together in their garage, the two seemed totally in love. But, tragedy nearly struck as Jillian Fink filed for divorce in January 2015.
The celebrity stylist said Patrick Dempsey was often unavailable because he was so invested in the Grey's Anatomy series and car racing. Fans were ready to accept the reality of the couple separating, but in November 2015, they were photographed holding hands in Paris.
Patrick Dempsey decided to take time away from professional racing to focus on his family. By spending more time with his wife and his kids, he was able to save his marriage to Jillian.
Does Patrick Dempsey have kids?
Patrick Dempsey had no children in his previous marriage with Rocky Parker, but he had three children with Jillian Fink.
They welcomed their first child in February 2002. She was named Talula Fyfe Dempsey and attended college in Washington DC. In February 2007, Jillian Fink and Patrick Dempsey became parents to twin boys – Sullivan Patrick and Darby Galen.
Who is Patrick Dempsey's ex-wife?
Patrick Dempsey first got married to actress and model Rocky Parker in 1987. Born Rochelle Natalie Parker, she was best known for her role in Can't Buy Me Love. She was his mom's best friend, and they met when she was getting over her second divorce from John Haas.
Patrick and Rocky had a significant age gap between them. When they became lovers, Patrick was just 21, while Rocky was 48.
The actress was a heavy smoker, leading to her developing lung cancer.
Unfortunately, Rocky Parker succumbed to cancer and died in 2014 at 74 years old. Her ashes were spread over the Pacific Ocean near her Santa Monica home, as per her last wishes.
Did Patrick Dempsey's wife star in Grey's Anatomy?
Jillian Fink is a celebrity makeup artist and hairstylist. She is not an actress and has never appeared nor worked on the set of Grey's Anatomy.