The Ant-Man actor, Paul Rudd, has mentioned in multiple interviews that he is from the Midwest. What area of the Midwest though?
Paul Rudd is from Kansas City, Kansas. He was born in Passaic, New Jersey but his family moved to Lenexa, Kansas, a suburb of Kansas City, Kansas (bordering Kansas City, Missouri) when he was 10-years-old. He attended Broadmoor Junior High and then graduated from Shawnee Mission West High School. After that, Rudd even attended the University of Kansas majoring in theatre.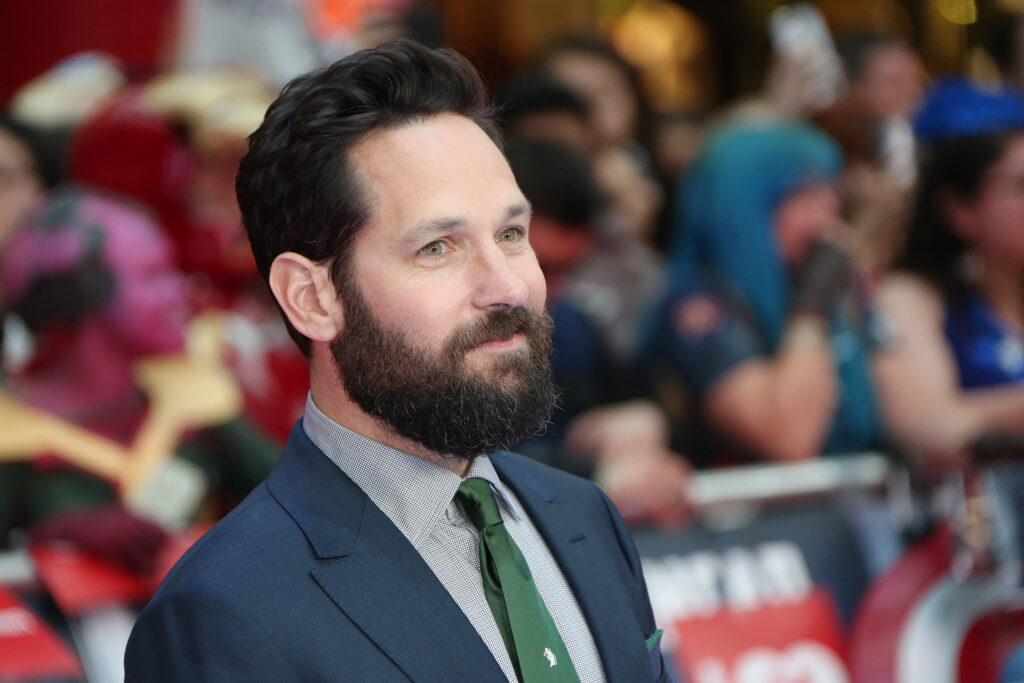 You can read more below about Paul Rudd's life growing up in Kansas, his British parents, and his University choice.
Paul Rudd's Parents Are British
You may not know this, but both of Paul Rudd's parents hail from the city of London, England. Both of his parents are Jewish, too.
His father was Michael Rudd who was from Edgeware, a town about 12 miles northwest of London. Rudd's father passed away in 2008.
His mother is Gloria Irene Granville and she comes from Surbiton which is a different town about 11 miles southwest of London. Growing up, Rudd has said that they would often visit his extended family in England.
Both families actually changed their last names from identifiably Jewish last names to more Westernized versions in order to avoid anti-Semitism. His mother's family surname was originally Goldstein and his father's family surname was originally Rudnitzky.
Paul Rudd found this and a lot of other things out about his family when he did an episode of the show Finding Your Roots. It was during his episode of the show that he also found out his parents were second cousins.
Unlike some other celebrities, Rudd didn't find out that some of his family were slave owners or involved in the holocaust. However, learning about the family name change did lead him to reveal he was often the subject of anti-Semitic bullying as a kid in Kansas.
You can watch Paul Rudd on Finding Your Roots in the below video.
Rudd's Kansas Childhood
While Paul Rudd was born in New Jersey and lived in Passaic, his parents moved the family to the Kansas City area when he was only 10-years-old. This was because his father worked for Trans World Airlines whose headquarters were located in Kansas City.
When his father became a vice-president of TWA, the family had to move to the Midwest. This also meant that they were a Jewish family who now lived in the Bible belt.
As a Jewish kid in a predominantly Catholic and Christian community, Rudd ended up being the kid that was just too easy to bully. Not only was he Jewish, but he had British parents and his family had lived all over the place.
Unfortunately, growing up in the late 70s and the 80s being different meant being bullied. In interviews, Paul Rudd has actually said that his self-deprecating humor comes from trying to avoid being beaten up as a kid.
In an interview with Hadley Freeman at The Guardian, Rudd said "I learned early on that I could be accepted if I made people laugh when I turned the joke on myself and, particularly in Kansas, if I made a joke about being Jewish, my friends would laugh really hard, harder than they perhaps should have."
Despite being bullied, the Clueless actor has also maintained that he had a very enjoyable childhood with his family. He would watch classic British TV shows like MontyPython with his dad on the couch and do goofy dances to get more attention.
He has even said that his desire to get more attention from his parents is probably what sparked his desire to be an actor in the first place.
Paul Rudd at the University of Kansas
It was that desire to become an actor that led him to enroll at the University of Kansas as a theatre major. It was at the University of Kansas that he also joined the Sigma Nu Fraternity.
In 2014, a photo of Paul Rudd in the 1988 Sigma Nu Fraternity yearbook surfaced on Reddit. The photo featured Rudd with long wavy hair and fans were inexplicably going nuts over it.
The media outlet Vulture called his hair a "bountiful mane" and referred to Rudd as an "ageless wizard."
Rudd did go on to graduate from the University of Kansas with a Bachelor of Fine Arts in Theatre. After that, he left Kansas behind for Los Angeles, Oxford, and New York.