Queen Latifah is an American TV show host, singer, rapper, and actress who has paved the way for female rappers in the music industry. She was the very first rapper to perform in the halftime show of Superbowl XXXII in 1998. With her mainstream success over the years, do we know anything about her personal life? We ask: is Queen Latifah married?
Queen Latifah is not married. But she has been in a stable relationship with her long-time partner, Eboni Nichols since 2013.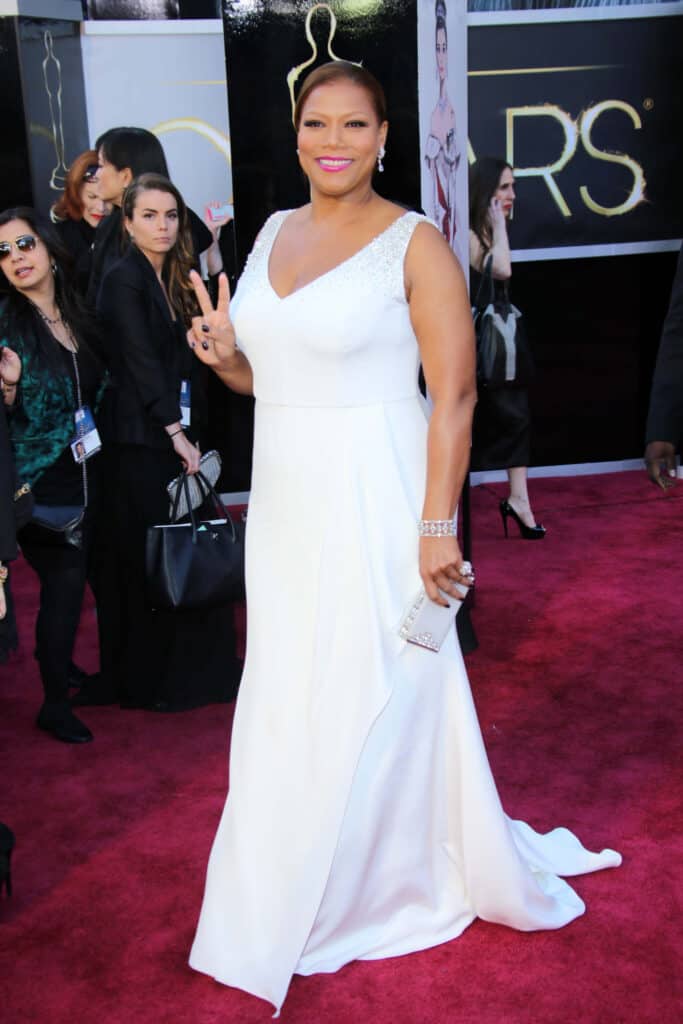 The two met on the set of Dancing with the Stars. Here's what we have on Queen Latifah's relationship and family life.
Queen as "Mom"
Back in 2017, the Queen announced that she was ready to start a family but gave no details about this. Two years later, Latifah and Nichols welcomed their baby boy, Rebel.
Sources said that her partner, Nichols, and their son, Rebel, give the Queen something special to live for.
Keeping things private
Finding love in Hollywood is a precious and rare occurrence so we totally understand why Queen Latifah has been tight-lipped about her relationships.
Previously, she was rumored to be engaged to her long-time girlfriend, personal trainer Jeannette Jenkins.
When asked about this, she said, "No comment on that at all. I'm done commenting on all that … It's ridiculous, I know me and that's all I need to know."
Latifah finds these questions generally invasive, a sentiment she shares with other celebrities who are protective of their privacy.
Celebs' paparazzi problems have steadily grown to nearly an unmanageable level, especially during the age of the internet and social media.
But conversely, social media has allowed celebrities to publish their own content as well. And with it they get to decide how much to share, especially about their personal lives. 
The Queen does exactly this on her Instagram page. Aside from the usual promotional posts of her past, current, and upcoming projects, she would share bits of her personal life here and there.
Coming out
In 2010, Latifah was spotted on a yacht hugging her then rumored partner Jenkins, to whom she was rumored to be engaged.
Since the two have never openly discussed their private lives and have successfully steered away from talking about it, the public still kept guessing and piecing together bits of information about their relationship.
Latifah has not discussed her sexual orientation openly with the press but she is vocal about her support for the LGBTQ community.
On June 28, 2021, Latifah received a Lifetime Achievement Award from Black Entertainment Television for her 35-year career in show business.
She ended her acceptance speech with "Eboni, my love. Rebel, my love. Peace — Happy Pride!" Her public expression got the industry buzzing once again but it's more of a confirmation of what we know thus far.
Fans can't help but feel happy for Queen Latifah and her growing family.
LGBTQ in America
In America, a study by Gallup, Inc.. concluded that about 7.1% of the population belongs to the LGBTQ community.
The cities with the highest numbers are: New York City with 272,493, Los Angeles with 154,270, and Chicago with 114,449.
By June 2015, the US Supreme Court struck down all all bans on same-sex marriages and legalized it in all 50 states. The mega hashtag  #lovewins emerged to commemorate the victory of marriage equality.
Many celebrities have been vocal about their sexual orientation in Hollywood, but many are still left in the closet for fear of backlash. A lot is on the line for celebs with their endorsement deals, contracts, and public image.
Stars who have publicly come out include Cara Delevingne, Anderson Cooper, Taylor Schilling (of Orange Is The New Black), Sara Ramirez (from Grey's Anatomy), and Elliot Page, among others.
A-listers like Lady Gaga, Oprah Winfrey, and Miley Cyrus have been vocal in expressing support for the community and using their platform to champion equal rights for all.
Queen Latifah joins them in this, as well. In 2020, she published a post on her Instagram celebrating the US Supreme Court ruling that protects against discrimination for LGBTQ+ workers.
Queen with a cause
Aside from championing equality for the LGBTQ+ community, Queen Latifah also supports equality for women, and women of color.
She is also involved in awareness campaigns supporting health. She's a paid spokesperson for Novo Nordisk Inc. in their "It's Bigger Than Me Live" campaign, which is focused on obesity, another major health issue faced by many Americans.
Scleroderma is one other health issue that the Queen is actively speaking about, having lost her mom to "scleroderma-associated interstitial lung disease (ILD)."