Richard Tiffany Gere is many things. The loving husband and doting father is an iconic award-winning American actor, producer, musician, restaurant owner, human rights advocate, and an outspoken activist on many subjects close to this heart. The one thing he is not? Vegan.
For many years it has been erroneously reported that Richard Gere is vegan. This assumption is easy to believe given his status as a longtime Buddist and his idealogy. Though he is not vegan, he is a vegetarian who has been meat-free for more than three decades.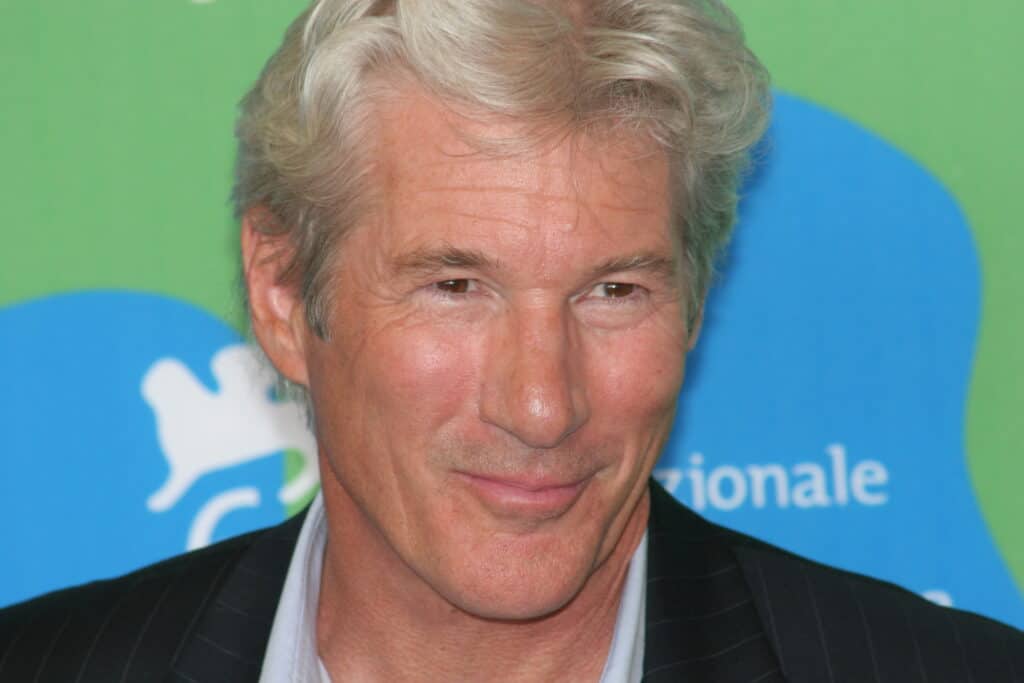 The former sex symbol has interesting views on the consumer habits of the residents of today but does not force his vegetarian beliefs down the throats of his fans and followers. In fact, he hardly comments publicly on his meat-free status, but you're about to discover the rare times he has.
Richard Gere's Veganism — or Lack Thereof!
Contrary to popular belief and the hundreds of pro-vegan articles that have been written over the years, Richard Gere is not vegan. However, Richard is vegetarian in the simplest sense meaning that he abstains from meat.
Back in 2017, the silver fox spoke to The Sunday Post about his vegetarianism "I don't like to preach at people and tell them what they should do with their lives, but I am a vegetarian and I feel better for it."
He believes vegetarianism is simply a healthier way of living and goes on to explain his preferences "I am comfortable about eating anything but meat. I'm not comfortable about eating something that was walking around, and I believe it is a healthier choice to have a diet of non-meats. That is just my take."
Though he does not force his views on others, he does consider himself to be something of an activist for vegetarianism. Richard is a firm believer in moderation and, aside from his vegetarian lifestyle, feels that being physically active and finding relaxation is an important part of living a balanced life.
Richard Gere's Ideology
The celebrated actor has been a household name for many years now and despite his older age is still regarded as one of the most handsome men of Hollywood. While he is not shy to proclaim his position on social and political issues, he isn't as forthcoming when it comes to his overall lifestyle and eating habits.
Richard's idealogy is a little murky, but he has tried to explain it in the past. He believes that all actions have reactions and that all things in life are connected in some way or another. He has been quoted saying "You start with an insect and it ends up being Afganistan. I'm reaching with this, but there is a connection."
Together with another Westchester resident, Richard owns The Bedford Post Inn. The neighborly pair restored the historic landmark from the 1700s in 2007 and turned it into a luxury inn, yoga ground, and restaurant site. The restaurants include a casual bistro called The Barn, a conceptual seasonal outdoor lounge called The Terrace, and a fine dining restaurant called The Farmhouse.
Surprisingly, each of the three restaurants features meat items on their menu. In saying that, all restaurants offer vegetarian-friendly dishes and gluten-free options as well.
Richard Gere's Activism and Philanthropy
Richard has a net worth of around $120 million and shows no signs of retiring from the acting world saying "I have new scripts arriving all the time, so I think I'm going to stay busy for a while yet…I'm still a young man!"
But it's not just acting that keeps the guy busy. He has been known to voice his opinions on numerous issues and has participated in countless humanitarian causes — even going as far as to create the Gere Foundation in 1991.
The Gere Foundation aims to support as many global causes as possible. Through the organization, he worked with the Tibetans for a Vegetarian Society group and campaigned to turn Bodhgaya into a vegetarian zone.
Thanks to his Buddist ties, Richard is also the co-founder of the and Chairman of Tibet House US, sits as a Chairman on the International Campaign for Tibet's Board of Directors,
In his role as a philanthropist, Richard has supported many humanitarian organizations such as AMFAR, Doctors Without Borders, Red Crescent Movement, International Red Cross, and Amnesty International. He donated $50,000 to Survival International, an organization that is dedicated to protecting the rights of tribal people and the land on which they live.