Stephen "Steph" Curry is a three-time National Basketball Association champion. He is also a two-time NBA Most Valuable Player. The Golden State Warrior is regarded as the best shooter to ever play. And he has the ability to pull up from great distances that defenses need to defend him as soon as he crosses the halfcourt line. He was named into the NBA 75th Anniversary Team, solidifying his place as one of the best to ever play the sport.
Steph is officially signed with Under Armour. He wore UA when he won NBA MVP and was crowned a champion in 2015. He signed with Under Armour in 2013 after playing with Nike shoes during the first four years of his career.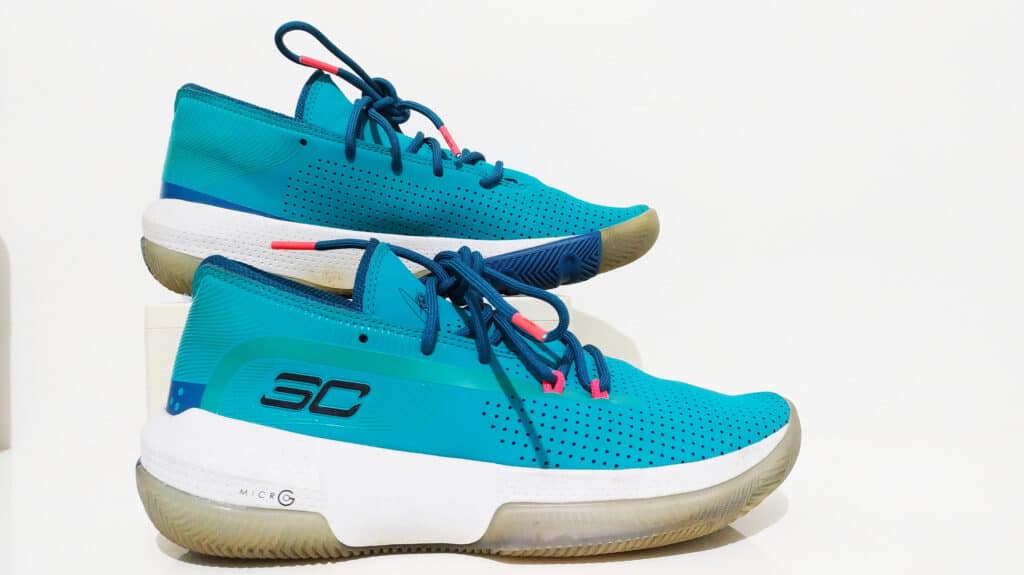 The NBA has produced a lot of superstars throughout its history and each star has their own shoe line for fans to snatch up. Let us check out what the biggest names of the NBA are wearing when they hit the court.
Michael Jordan
Some people are still debating on who is the NBA's true Greatest Of All Time (GOAT) but when it comes to shoes, there is no doubt that MJ is the one who revolutionized the game.
Michael signed with Nike in 1984 and came out with Air Jordan I in 1985. The shoe was a hit, with Nike earning $100 million at the end of the year.
MJ's brand partnership with Nike was proven successful with more shoe releases each season. It has also been reported that Michael has earned more than $1 billion from the partnership.
Even after his retirement, Jordan's earlier shoes still had great demand, which led Nike to re-release them as "retro" with different themes and colorways.
With each release being limited, this made the resale value of the shoes skyrocket as collectors try to get their hands on a pair.
Kobe Bryant
With the success of Jordan's shoes, shoe companies have since tried to secure the next big star even as early as high school. Enter Kobe Bryant.
Coming right out of high school, Kobe signed with Adidas and had his first signature shoe, KB8 aka Crazy 8 in 1997. He wore the "The Kobe" shoe when he won his first championship in 2000.
Adidas came out with Kobe 2 in 2001 but he still chose to wear the first Kobe because he disliked the new shoe so much. Kobe ended his partnership with Adidas with the failure of the Kobe 2.
Kobe signed with Nike after, but because of some legal problems, he was prevented from having a signature shoe. Only in 2006 was he finally able to release the Nike Zoom Kobe I. What made this shoe more memorable is that he scored the NBA's second-highest scoring total in a game – 81 points against the Toronto Raptors. 
In 2020, Kobe and his daughter, Gigi, tragically died in a helicopter crash. The estate of Kobe Bryant, led by his wife Vanessa, made a long-term partnership with Nike.
Kobe and Gigi's legacies will be kept alive with each release and all profits made will go to the Mamba and Mambacita Sports Foundation.
Other brands in play
Nike controls the athletic shoe market by signing most of the NBA's biggest stars. There are others like Steph, though, who went in another direction to forge their own brands.
Shaquille O'Neal
Shaquille O'Neal started his relationship with Reebok in 1992. The Big Diesel came out with Shaq Attaq in 1992 and Shaqnosis in 1995, and both were big hits.
In an interview with Complex, he detailed an encounter with a woman getting mad at him for selling expensive shoes. This was when he got the idea of selling cheaper but good-quality shoes. He approached Walmart and created his Shaq brand of shoes. 
Dwyane Wade
Retired NBA star guard for the Miami Heat, Dwyane Wade went East with his sub-brand, Way of the Wade, under the Chinese company Li-Ning.
He left the Jordan brand in 2012 and signed with Li-Ning to build his own legacy, and getting equity in the company does not hurt either. With their deal lasting this long, as well as the brand and company steadily growing, Flash's move East has proven to be a fruitful one.
Joel Embiid
Another big signing for Under Armour is the NBA's most dominant big man, Joel Embiid. The 7-foot superstar of the 76ers signed with UA in 2018 with his signature shoe, the Embiid One, released in 2020.
The partnership with Under Armour also comes with charitable commitments to Joel's home country of Cameroon and the city he plays for, Philadelphia.