With her repertoire of songs about breakups and makeups, it's no secret that Taylor Swift is one of the most relatable musicians on the planet. There are just a few things that set her apart from you and me… success, fame, and fortune!
Pop and country music sensation Taylor Swift is NOT a billionaire, however, she's well on her way to becoming one. According to Forbes, Taylor was worth $360 in March 2019. We can expect that this has since grown tremendously, as Swift went on to release a multi-platinum album, Lover,and was later crowned the highest-paid celebrity of 2019.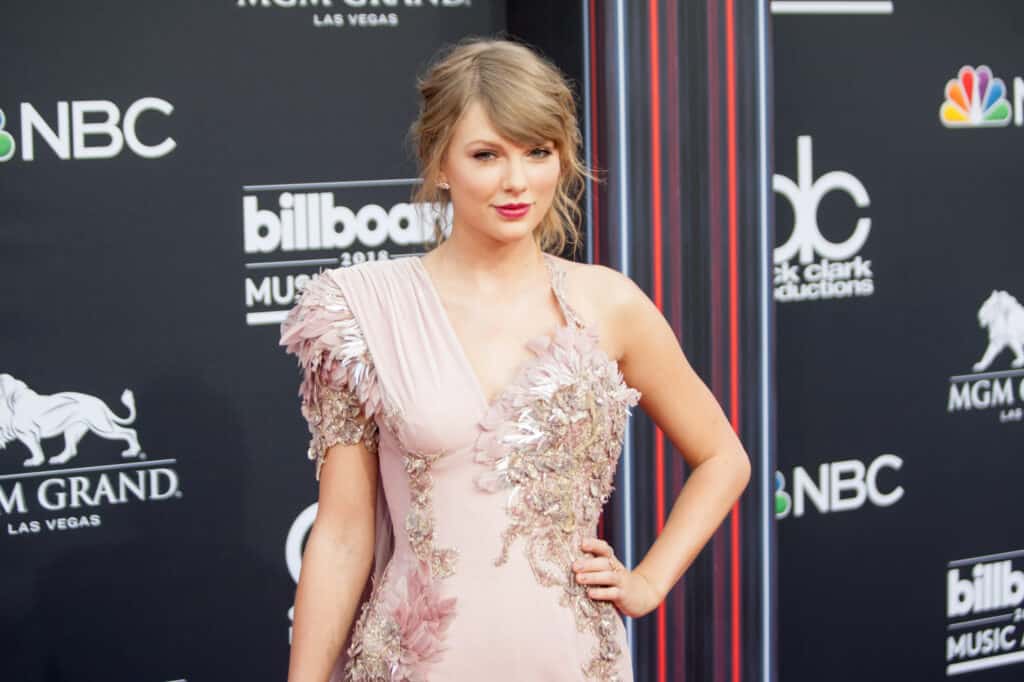 Taylor's career has gone from strength-to-strength over the past 15 years, and with her growing empire, the Love Story songstress is expected to become a billionaire by the time she reaches the age of 40.
Keep reading to find out how Taylor made her fortune, and what she spends it on!
How Did Taylor Make Her Millions?
Taylor Swift first sprung onto our radar as a fresh-faced, curly-haired teenager from Nashville. She spent the following 15 years relentlessly making music, touring the world and starring in movies.
Music
Taylor's self-titled debut album was released in 2006 when she was just 16. Since then she's released six more albums, most recently in August 2019 with the LP, Lover. Within 4 weeks Lover went platinum and broke records as all 18 tracks simultaneously charted on Billboard's Top 100. The LP and it's two preceding singles also received 3 Grammy nominations.
According to Evening Standard, Taylor made around $8.4 million in 2018 through her music. This can be broken down into $5 million in record sales, $2.4 million through streaming, and $2 million in royalties.
Touring
Swift's income primarily comes from her sold-out shows. After grossing $250 million in 2015 with her 1989 tour, Taylor's 2018 Reputation stadium tour went on to become the highest-grossing tour in U.S history. Between May 8thand October 6thTaylor played 38 dates across the country, selling over 2 million tickets and grossing $266.1 million. What's more, Billboard estimates that for every ticket sold Taylor sells 17 dollars of merchandise.
Films and TV
Throughout her career, Taylor has also starred in various films and TV shows. Most recently she featured in the movie adaption of Andrew Lloyd Webber's musical, Cats. Initially, Taylor had tested for the role of Éponine in Director Tom Hooper's rendition of Les Misérables, but instead, he offered her the part of Bombalurina in Cats. With an overall budget of $100 million, it's unclear how much Taylor was paid to appear in the film, but with 10 Grammys under her belt, it can't have been a cheap gig.
Aside from this Taylor also features in The Giver (2014), New Girl (2013), The Lorax (2012), Valentine's Day (2010), and CSI (2009).
In January 2020, Taylor collaborated with Netflix to release a documentary-film, Miss Americana. It originally premiered at 2020's Sundance Film Festival but later became the highest-rated Netflix original biographical documentary film.
Endorsement Deals
As an avid businesswoman, Swift has signed several high-profile endorsement deals over the years. Most notably, she has a long term partnership with Diet Coke, which she first announced on her YouTube channel in 2013. In the announcement Taylor says: "I've said for years that Diet Coke just 'gets me' and my lifestyle […] I'm so excited about our new partnership" She's reportedly made $26 million from this relationship, which includes a mixture of video commercials and print ads.
On top of this, Taylor has collaborated with Apple Music, Capital One, Target,CoverGirl, and Sony, amongst others.
Final Words
Despite having a song titled 'This Is Why We Can't Have Nice Things" it seems that Taylor Swift certainly has the money to afford what she wants. She may not be a billionaire just yet, but she's far from poor.