Due to Tom's dedication to his acting career, the public tends to wonder whether he has time to be in a relationship.
Tom Selleck married his wife – Jillie Mack in August 1987 and is to this day with her. The two met in 1983, during his stay in London for a movie in which he played the main lead, and have been together ever since.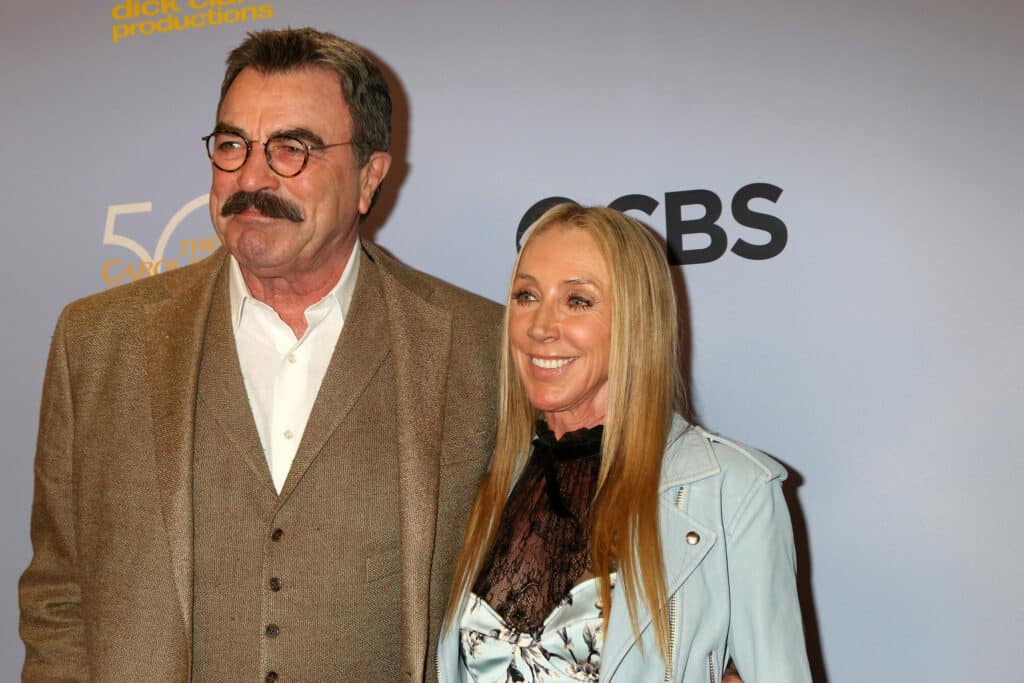 Learn more regarding Tom Selleck's' relationship with his wife and family and read about his ex-wife below.
Tom and Jillie's Relationship
Jillie Mack is an actress which at the time was in the musical Cats. Tom watched the show about 12 times as he was "very enthusiastic about the musical" and later admitted that she was the only reason he kept going back.
After quickly falling in love, the two actors knew it was meant to be, so Jillie decided to move to Hawaii and the couple began living together.
Tom and Jillie wanted to keep their relationship healthy and strong so they agreed on living the closest to a "normal life" and stay away from the press.
On the 7th of august of 1987, four years after they've met, the couple had an unannounced wedding in Lake Tahoe, Nevada; completely astonishing the media.
The ceremony was small and subtle; Tom was at the peak of his career at the moment and as he didn't want any images leaked, the whole wedding was captured by Polaroids.
After getting married, the couple remained undetected by paparazzi but this year they celebrate 33 strong years of marriage.
Did Tom and Jillie start a family together?
"I've quit Magnum to have a family", stated Tom in an interview. "It took a long time to get off the train but I try very hard to have balance".
In December 1988 the couple had their first and only child: Hannah Margaret Selleck; which is now 31 years old and an equestrian that owns a horse breeding stable.
(here is one of her recent Instagram posts, wishing her mother, Jillie Mack a happy birthday)
Tom and Jillie decided to put their careers aside and focus on raising their daughter, Hannah. The family was and still is notably wealthy; so it was quite easy for them to ensure their kid had everything she needed.
In 1999, Tom had an interview with New York Daily News in which he stated that Jillie and he were good at parenting: "We don't do anything or make any decisions without consulting each other," he said. "And if one of us makes a decision involving Hannah, the other parent completely supports that position, even if you disagree."
The couple is considered an icon and admiration in Hollywood due to how healthy and long-lasting their relationship is. "It's important to nurture your marriage," disclosed Selleck. "I think wanting time away from work has been good for that."
Selleck's Ex-wife
Before meeting Jillie, Tom had been married to Jacqueline Ray for 11 years and had adopted her son, Kevin. Jacqueline was a model/actress and her son, Kevin Shepard (which later became Kevin Selleck) is still to this day an actor.
When the two first got married, in 1978 – Selleck was an upcoming actor and had little spotlight in Hollywood, however throughout their 11-year marriage this changed and he quickly grew his fame.
Even though the ex-couple was very reserved about their private life, some sources outline that the female attention Tom got from his fans might have been the main cause of the breakup.
Even after the nasty divorce, Tom persisted on still being a part of Kevin's life and mentoring him on the acting industry.
Tom Selleck is extremely reticent towards the media and rumors believe that his drastic decision to step aside from the spotlight to enrich his marriage was based on the failure of his previous relationship, with Jacqueline Ray.