Tony Romo is an NFL quarterback turned sports analyst who has won the hearts of his fans and viewers because of his perpetually positive disposition, his extensive knowledge of playbooks and formations, and his evident love for the game. Has all of that landed him in the Hall of Fame?
Tony Romo has not yet been inducted into the Hall of Fame, but he has been inducted in the Eastern Illinois Hall of Fame as well as the College Football Hall of Fame. Given his stats and prominent position in the sports world, most suspect he will be inducted into the Hall of Fame in 2022.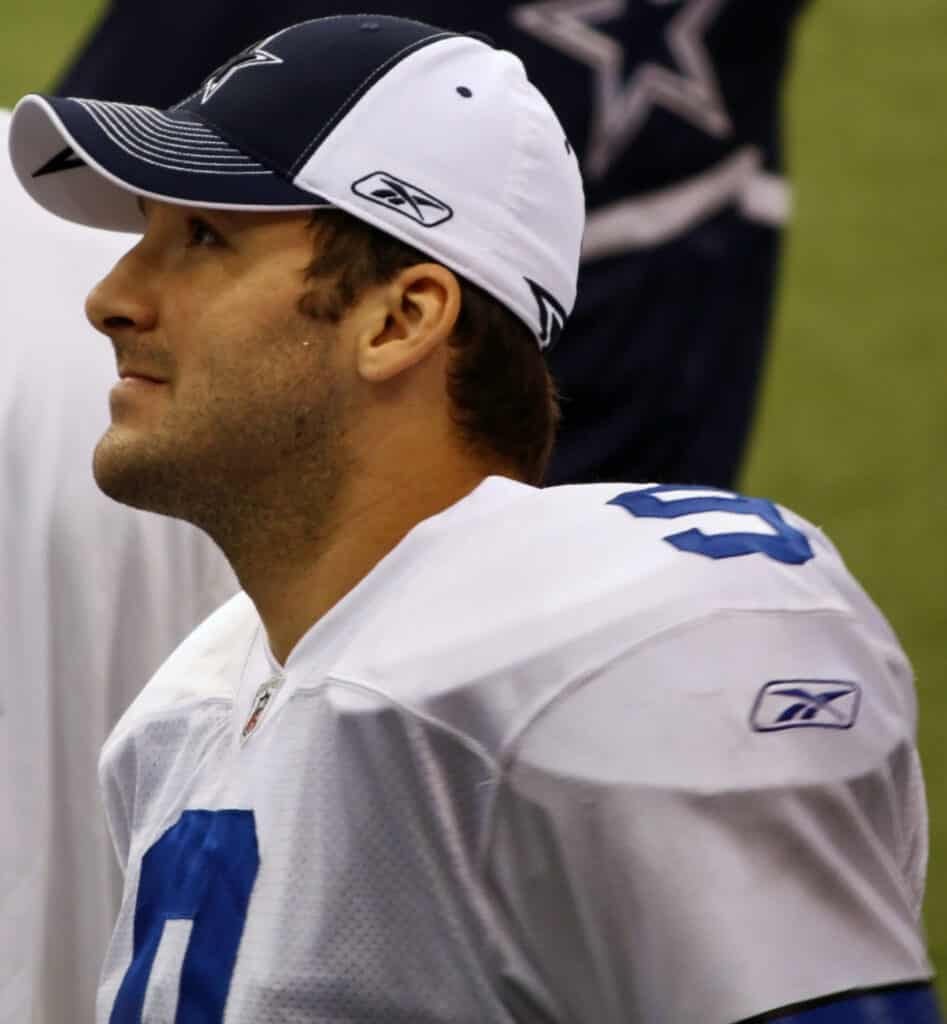 Being inducted into the Hall of Fame is a dream for retired football players, and word on the street is that Tony Romo's dream may come true in the year 2022. Let's take a closer look at who Tony Romo is and what the chances are of him adding 'Hall of Famer' to his already impressive resume.
Who is Tony Romo?
Tony, whose real name is Antonio Ramiro Romo, was born on 21 April 1980 in San Diego, California. His parents are Joan Jakubowski and Ramiro Romo Jr.
Growing up, Tony was an "army brat" and his father was stationed at the San Diego U.S. Naval Base for two years. Together with his family, Tony moved to Burlington, Wisconsin, where he would spend the rest of his formative years.
As a child, Tony was a sports fanatic and played football, golf, soccer, and baseball. As a teenager, he added tennis and varsity basketball to the list of sports he played.
While a student at the local Burlington High School, Tony found that his passion lay in football. After graduating in 1998 he headed to Eastern Illinois University and enjoyed a hugely successful college football career playing for the Eastern Illinois Panthers.
A few years after he graduated, Tony joined the Dallas Cowboys and achieved much success and recognition for his work as a quarterback. He remained with the Dallas Cowboys for 14 seasons.
Tony retired from the Dallas Cowboys, and from the NFL altogether, on 4 April 2017. Later that same year, he began his career in broadcasting.
The star is as popular as a sports analyst and commentator as he was as a quarterback. He has amassed hordes of fans while assuming both roles.
Tony Romo and The Hall of Fame
Tony has not yet been inducted into the Hall of Fame but many of his fans, colleagues, and former teammates believe it's just a matter of time before he is.
Along with many others, Tony's former teammate, DeMarcus Ware, believes his close friend will make it to the Hall of Fame. He told Yardbarker, "He'll make it for sure. Especially with his image now in the media, being a big-time guy on television. He's the perfect candidate for it."
Though he hasn't made it into the Hall of Fame just yet, on 11 January 2021 Tony was inducted into the College Football Hall of Fame.
In addition, his #17 jersey was retired by Eastern Illinois in 2009 and he was inducted into the university's prestigious Hall of Fame.
What Are Tony Romo's Chances of Getting in The Hall of Fame?
Even though the Dallas Cowboys are not often ranked amongst the greatest football teams in the country, Tony is a revered player whose individual performance will be considered for his potential addition to the Hall of Fame.
Since Hall of Famers need to have been retired for a minimum of five years before they can be considered by The Selection Committee, it's hardly surprising that Tony has not yet been inducted.
According to the Hall of Fame's own rules, Tony will only be eligible to be inducted in the year 2022. But does he have a real shot?
When you consider the fact that Tony's 97.1 passer rating is the ninth-best in the history of the league, coupled with his 7.9 yards-per-attempt average which is higher than almost every active quarterback, Tony has a fairly decent shot of being inducted into the Hall of Fame.
Of course, there are several considerations that The Selection Committee needs to keep in mind when inducting players into the Hall of Fame, and Tony will be up against some stiff competition.