Kanye West is an American rapper, songwriter, producer, and designer who is known for his acclaimed and often controversial rap songs. Taylor Swift is an American singer-songwriter who achieved fame through her catchy and narrative country-pop songs. Both are among the world's best-selling artists of all time. But who is more popular: Kanye West or Taylor Swift?
While both Kanye West and Taylor Swift are exceptionally acclaimed artists with wide-reaching popularity, they each occupy a different musical genre and audience. Yet, comparing their respective sales, Taylor Swift far exceeds those of Kanye West, making her more popular in this respect.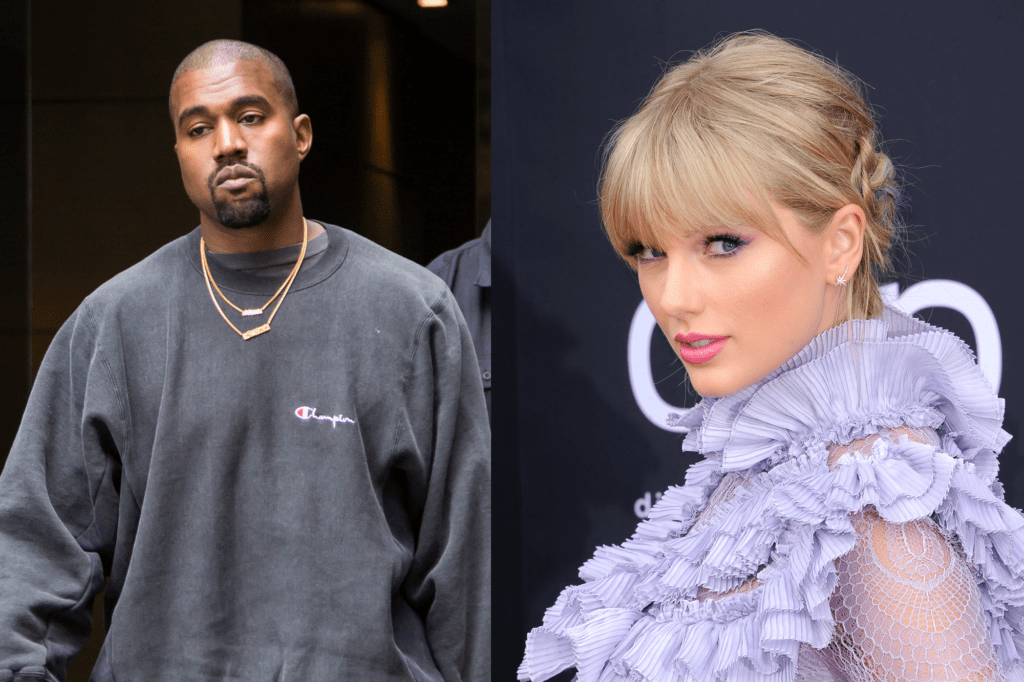 Read more about Kanye's and Taylor's impressive careers, their respective achievements, and who among the two is more popular.
Kanye West
Kanye Omari West, also known under his nicknames 'Yeezy' and 'Ye', is an American rapper, singer, songwriter, record producer and fashion designer.
Born and raised in Chicago, West's music has always made him stand out as it mixes genres such as hip hop, soul, electro, gospel and indie rock.
West released a number of acclaimed albums over the years, such as 'Late Registration' (2005), 'Graduation' (2007), '808s & Heartbreak' (2008), 'My Beautiful Dark Twisted Fantasy' (2010), 'Yeezus' (2013), ' The Life of Pablo' (2016), 'Ye' (2018), and, most recently 'Jesus is King' (2019).
His music has made West one of the world's best-selling music artists of all time, with over 140 million records sold worldwide; he has won a total of 21 Grammy Awards, the 'Billboard Artist Achievement Award' and three Brit Awards.
Rolling Stone called him one of the 100 Greatest Songwriters of All Time, while Time magazine named him one of the 100 most influential people in the world.
Beyond his career in music, West is also a famed fashion designer for his 'Yeezy' collaboration with German sportswear brand Adidas.
Publicly, West's outspoken comments on politics and faith on Twitter, where he boasts more than 30 million followers, have made him a frequent source of controversy and media attention.
Taylor Swift
Meanwhile, Taylor Swift is an American singer-songwriter who came to fame as a teenager when her eponymous studio album became the longest-charting album of the 2000s on the Billboard 200 list.
Swift began her career writing country-pop songs with albums like 'Fearless' (2008) and 'Speak Now' (2010). With her later albums like 'Red' (2012) and '1989' (2014), Swift then gradually transitioned into pop music, also to great critical acclaim.
Her hip hop-inspired album 'Reputation' (2017), made her the first and only act in music history to have four albums each sell one million copies in their first week in the US.
Her latest studio album 'Lover' (2019) became the global best-selling studio album of 2019.
This makes Swift is one of the world's best-selling music artists of all time.
Her accolades include 10 Grammy Awards, an Emmy Award, and seven Guinness World Records; she is the most-awarded person at the American Music Awards (29 wins) and Billboard Music Awards (23 wins).
Like West, she has been listed in the Time's annual list of the 100 most influential people in the world.
West vs. Swift
In comparing West and Swift, one has to bear in mind that both artists cater to two wholly different audiences and music genres, with West additionally boasting his own fashion label.
This gives little common ground to compare the two: one can however say that
while West has de facto won more Grammy Awards than Swift, Swift's record sales far surpass that of West, with more than 50 million albums and 150 million singles sold globally.
At least numerically, this makes Swift more popular than West. However, it remains that both are exceptionally talented, successful, and globally popular artists, regardless of their specific record sales.