In 2016, Donald J. Trump was sworn in as the 45th President of the United States of America. Was he in a fraternity when he was in college?
Donald Trump was not in a fraternity. He attended Wharton School in Pennsylvania from 1966, but never became a formal member of the fraternities present there.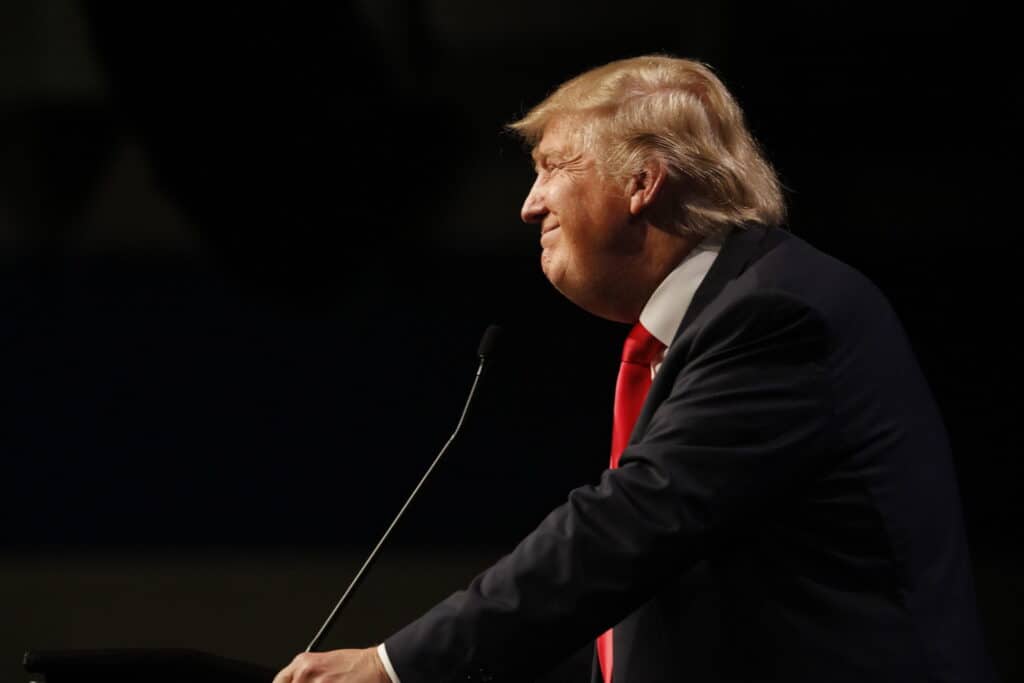 Read on to learn more about Donald Trump's history.
To Be President
It's well documented that Donald Trump was born into great wealth and opportunity. Whether he thought he'd be the United States President at a young age, however, is unknown. He was always destined for riches – his father was a dramatically wealthy real estate developer in New York City.
Donald Trump was born just after the closing of World War II. He experienced his earliest years in affluent locations, attending fine schools and wanting for nothing. When he was thirteen, he served a brief stint at a private boarding school, a military academy.
In the mid-sixties, Trump attended Fordham University. However, after just two years he had relocated, transferring to the Wharton School in the University of Pennsylvania. In 1968, Donald Trump would graduate, boasting a degree in economics.
While attending university, Donald Trump never joined a fraternity. It's a well known tradition for affluent, powerful or political students to gravitate toward fraternities, but Trump refrained. Many of the people he'd come to call his colleagues and peers in later life would have joined fraternities, however.
As an example, we can look at Mike Pence. This politician served as the Vice President of the United States under Donald Trump, from 2017. When he attended college in Indiana, he was a member of the Phi Gamma Delta fraternity.
Coincidentally, Donald Trump's son, Donald Trump, Jr. would also come to join this fraternity. This is allegedly where any confusion regarding Donald Trump's fraternity membership may arise. There is a 'legacy' system in place that often permits the son of a member to enter a fraternity.
Riches to Riches
Trump went on record explaining that his major start in life came with a "small loan of a million dollars" from his father. He alleges that from there, the only way was up. Throughout the eighties and nineties, Donald Trump was known as the man with the money.
In the below video on YouTube, you can see the moment Donald Trump utters this infamous line. He explains that although his father gave him this loan, he had to pay it back – with interest.
He's actually the richest president to ever serve in the United States. In 2015, it was reported that Trump was worth around ten billion dollars. However, this data was more or less debunked, and in 2020 he was valued at around two billion dollars.
How exactly did Donald Trump make the majority of his money? He's invested heavily in commercial and residential real estate, primarily. He also has many millions of dollars tied up in hospitality, and hotel licensing and management.
Donald Trump also makes an exorbitant amount of money from his golf courses, and a span of other properties. It's also estimated that he boasts an enormous cash cushion, some $160 million in value.
It cannot be doubted that Donald Trump has been a shrewd and lucrative businessman his entire life. His incredible fortune and massive legacy will undoubtedly last for generations, long after his departure from the White House – which may arrive in 2020.
While he's been at the epicenter of some dire controversies over the years, he's always seemed to come out on top. He has incredible representation, and an almighty, powerful family behind him. It's quite simple to say that you should never doubt the power of the American dollar.