Eric Clapton is an English singer, songwriter, and rock and blues guitarist who has achieved great success as a solo artist as well as as a member of a band. Was Eric Clapton in 'Cream'?
Eric Clapton was in the British rock band 'Cream' from 1966 until 1968 and reunited with his bandmates in both 1993 and 2005. Despite only being around for two years, 'Cream' is regarded as a band that redefined rock, blues, jazz, and psychedelic rock.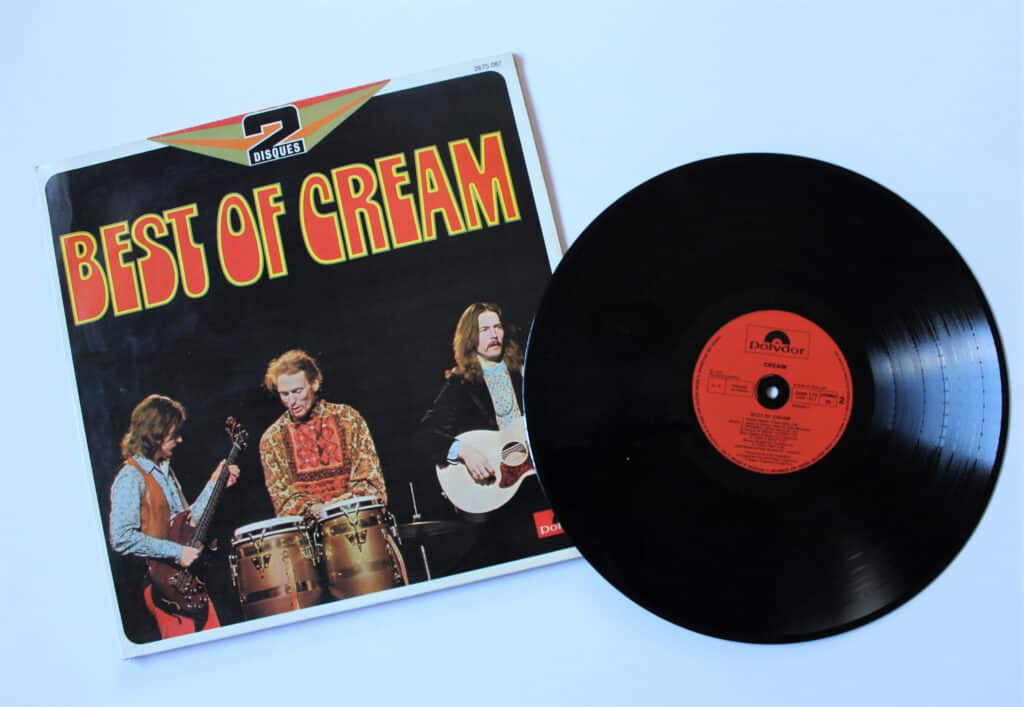 The legendary guitarist has been in many different bands, 10 to be exact, but none are remembered quite as fondly as 'Cream' is. For the inside scoop on what 'Cream' was and how it started, why Eric Clapton left the band, and more, keep reading.
What is 'Cream'?
'Cream' was a British rock band made up of Eric Clapton, Jack Bruce, and Ginger Baker that is largely regarded as the world's first supergroup.
A supergroup is defined as "a musical performing group whose members have successful solo careers, are members of other groups, or are well known in other musical professions".
While Eric was still the lead guitarist for 'John Mayall's Bluesbreakers', he was approached by Ginger who wanted him to help him create a band that focused on rock music with a blues-jazz sound. Eric accepted the invitation to join the then-unnamed band on the condition that Jack could join it too.
Because the trio was already so well known, there was massive hype around 'Cream' from the offset. The group made its official debut on 31 July 1966 at the 6th National Jazz & Blues Festival.
In January of 1993, 'Cream' was inducted into the Rock and Roll Hall of Fame. Since 'Cream' reunited for the event in 1993, the band reunited once more in 2005 for a total of seven concerts.
In 2006 'Cream' won a Grammy Award for Lifetime Achievement. Jack passed away in 2014, and Ginger died in 2019, making Eric the only living 'Cream' member.
Why Did Eric Clapton Leave 'Cream'?
Despite the band's success, and after discussing it since May, in November of 1968, the band members called it quits. There were several reasons for the split, but the fundamental cause was the growing antagonism between Jack and Ginger.
In addition, Eric felt as though he wasn't being heard. One example of this was how Eric stopped playing mid-concert, and neither Jack nor Ginger even noticed.
Eric also felt that the music they were creating at that time was dishonest and veering on aggressive, he was also fed up with the stagnant routine that the band had developed.
After watching 'Life in 12 Bars', the documentary that chronicled his life, old feelings began to resurface. He told Rolling Stone, "It was so good. We were playing so well together. And watching that, I thought if only they could have found a way to resolve their conflict."
Eric continued, "I was having the time of my life musically. But…The bickering was outrageous. I don't know if you could fairly say which one it was, or if it was my inability to take part. Maybe it wasn't the same guy all the time."
What Bands Has Eric Clapton Been Part Of?
Before 'Cream', Eric had been a part of four other bands. Those were 'The Roosters', 'Casey Jones and the Engineers', 'The Yardbirds', and 'John Mayall's Bluesbreakers'.
After 'Cream', Eric would go on to be a part of five other bands. Eric started a band named 'Blind Faith' and took Ginger along for the ride, but the band only lasted for one album, and a three-month summer tour before breaking up for no apparent reason.
Eric then joined 'Delaney & Bonnie & Friends' as a sideman and went on to start another band with three of the 'Friends' in 1970. This band was called 'Derek and the Dominos', but sadly it was not meant to be.
The members of 'Derek and the Dominos' were plagued with personal problems from the get-go. The band was dissolved in 1971, after just one year and one album.
Eric says of 'Derek and the Dominos', "We were a make-believe band. We were all hiding inside it. Derek and the Dominos – the whole thing. So it couldn't last. I had to come out and admit that I was being me. I mean, being Derek was a cover for the fact that I was trying to steal someone else's wife."
The dissolution of 'Derek and the Dominos' sent Eric into a downward spiral that took him three years to claw himself out of. Thereafter, Eric briefly toured with 'Legends' before focusing on his solo career.