Eric Clapton is an English singer, songwriter, and guitarist who is best known for his work as a solo artist producing songs like 'Tears in Heaven' and 'Wonderful Tonight'. Eric has also been a member of several bands — but which band came first?
Eric Clapton joined his first band, 'The Roosters', in January of 1963 when he was 17 years old but the group disbanded just seven months later in August. Since then, Eric has been part of nine other bands.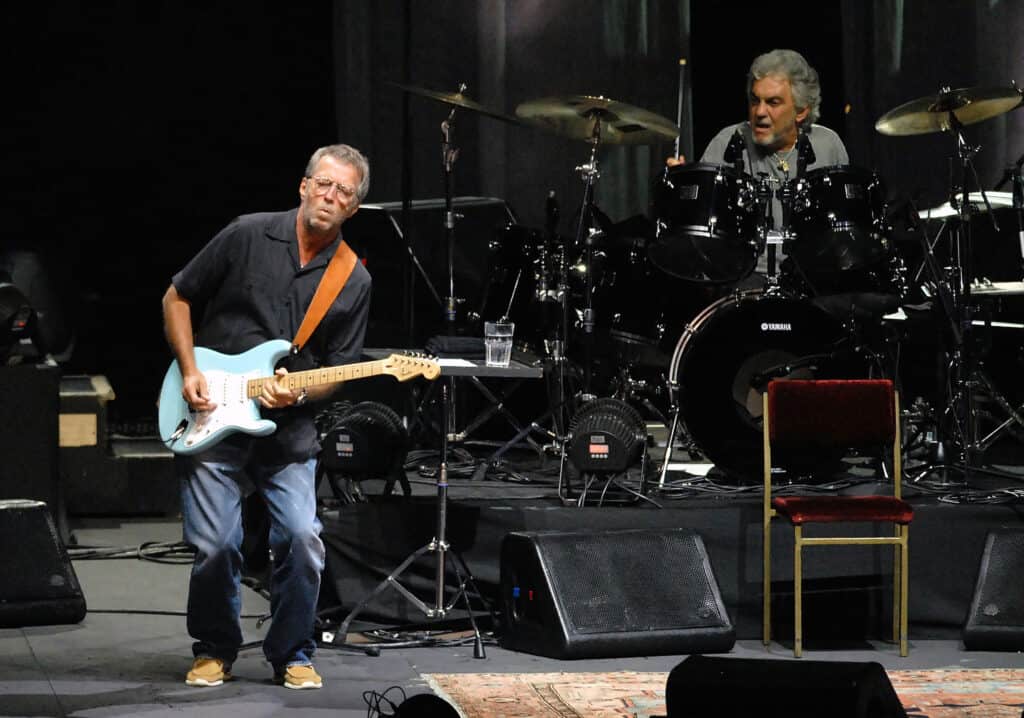 Let's find out more about Eric Clapton's musical upbringing, the first band he was in, and every band he's been in since.
Eric Clapton's Musical Upbringing
Eric Patrick Clapton was born on 30 March 1945 to teenage mother Patricia Molly Clapton and 34-year-old father Edward Fryer. He was born in his grandparent's home in Surrey and grew up believing that his grandparents were his biological parents.
His grandmother Rose Clapp played the piano and encouraged Eric to play an instrument by buying him a guitar for his thirteenth birthday and by enrolling him at the Kingston College of Art.
Years later, it would be discovered that Eric's biological father Edward — who had learned how to play the piano when he was 14 years old — made extra money by singing in bars, pubs, and nightclubs in Montreal and Surrey.
What Was The Name of Eric Clapton's First Band?
In January of 1963, at the age of 17, Eric joined a band called 'The Roosters'. This band was formed by Tom McGuiness, who met up with Eric at New Malden's Prince of Wales Pub.
Tom was searching for a guitarist to join his newly formed band, and Eric had been recommended by Tom's girlfriend who knew Eric from their time together at art school. Eric auditioned, and Tom was impressed and so he became the latest member of 'The Roosters'.
Other than Eric and Tom, the band was made up of a vocalist named Terry Brennan, a drummer named Robin Mason, and a pianist by the name of Ben Palmer.
According to Michael Schumacher, who penned 'Crossroads: The Life and Music of Eric Clapton', the band would rehearse at the Prince of Wales Pub or the Wooden Bridge Hotel.
Unfortunately, just seven months after the band formed, they split up in August of 1963. The group disbanded because they weren't booking enough gigs and only Robin had a car so they struggled to get to and from those rare gigs.
Given the fact that all of the band members had full-time jobs, with Eric being a laborer, this was not ideal. Eric said of the difficulty the band faced, "It was a nightmare but it was great fun."
When remembering his time in 'The Roosters', Eric says, "The Roosters rehearsed more than we played. Even though we did a gig every now and then, mostly in upstairs rooms in pubs, it was more about the excitement of meeting like-minded people."
How Many Bands has Eric Clapton Been in?
Immediately after 'The Roosters' disbanded, Tom joined a band called 'Casey Jones and the Engineers' and convinced Eric to join it too. It took Eric just one month and seven performances to realize that the pop-oriented band was not for him.
The following month, in October, Eric was recruited by Paul Samwell-Smith and Keith Relf to join a band called 'The Yardbirds'. He remained with the band for a year and a half and during this time he gained the nickname 'Slowhand', earned money from his performances, and had a taste of recording.
Eric left 'The Yardbirds' as they started to experiment with a more commercial, pop-oriented sound. He says, "I was fooled into joining the group, attracted by the pop thing, the big money, and traveling around and little chicks".
In 1965, Eric joined 'John Mayall's Bluesbreakers' and would stay with the band for a year and a half — quitting and rejoining once — before officially quitting in July of 1966. Eric formed 'Cream' later that same month and disbanded the group on 26 November 1968.
After 'Cream' disbanded, Eric founded 'Blind Faith' and ended the group after just one album release before joining 'Delaney & Bonnie & Friends' as a sideman. In 1970, Eric formed 'Derek and the Dominos' and was devastated when the band broke up after failing to record a second album.
After the breakup and a three-year-long battle with heroin addiction, Eric focused on his career as a solo artist. He briefly toured as a member of 'Legends' and, since 1974 he has worked with a continuously changing group of band members and has become known simply as 'Eric Clapton and his band'.