Eric Clapton is an English guitarist, singer, and songwriter, as well as a three-time inductee to the Rock and Roll Hall of Fame. He has been named one of the most influential and skilled guitarists of all time more than a few times and named number 5 in Time magazine's list of "The Top 10 Best Electic Guitar Players". Clapton started his career in the 1960s and founded the band trio, "Cream", as well as "Blind Faith" before starting a solo career.
Eric Clapton lives in Ewhurst, United Kingdom, in an Italian-style villa called "Hurtwood Edge".  He also owns real estate in California, Antigua, and previously, Ohio.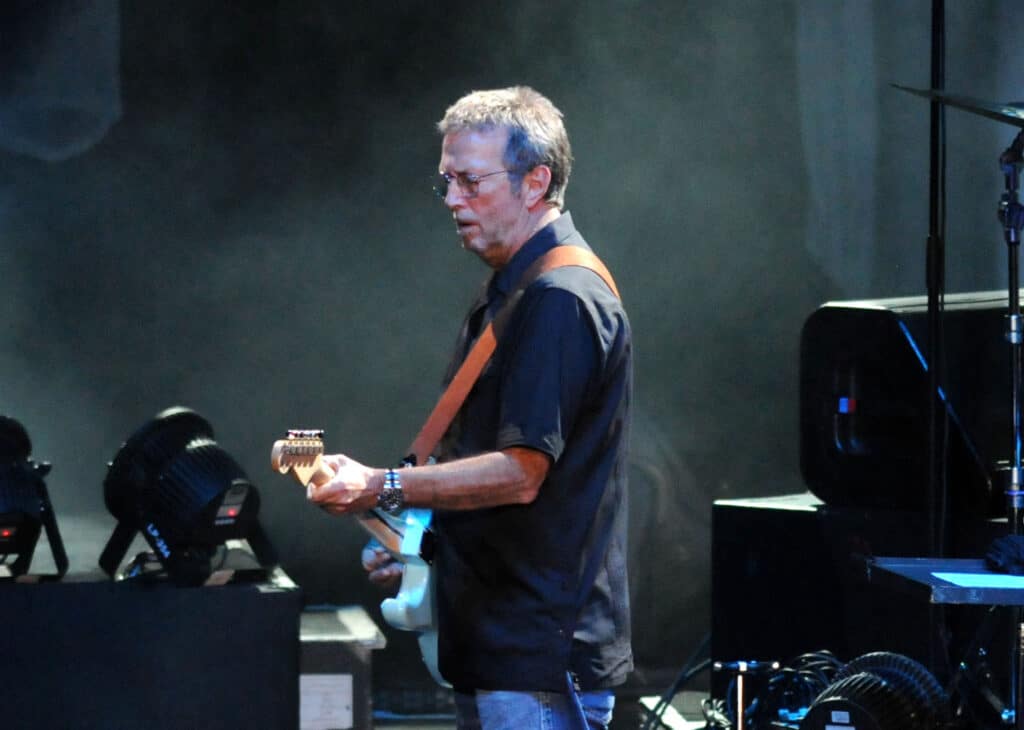 With a net worth of $250 million and a number of awards, Eric Clapton has reached success in both the US and the Uk, so it only makes sense for him to have homes in both places. He also owns a few vacation homes and enjoys luxurious goods from time to time, such as his obsession with Ferrari.
Eric Clapton's Music Career
Eric Clapton was born to young parents in Ripley, Surrey, England on March 30th, 1945. His dad returned to his wife in Canada before he was born, and his mother was only 16 years old when she had him.
His mom's parents, Rose and Jack, stepped in to take care of the young boy and raise Eric as their own, because of how hard it was for the 16-year-old to raise a child by herself in the 1940s. His grandparents never legally adopted him but remained his legal guardians.
Eric's real mother eventually moved to Canada and Germany after she got married to Frank MacDonald, who had to continue his career in the military.
Under his grandparents' care as a child, Eric was raised in a musical household, as his grandmother loved to play the piano and the rest of his family enjoyed listening to bands.
Eric was a good student in school, before learning the truth about his family which caused him to apply himself less in his education. As a teenager, Eric was expelled from school for not doing enough work and lack of progress, due to playing too much guitar.
At 17 years old, Eric Clapton joined his first band, The Roosters. The band eventually fell apart after a few months, but Eric continued to play music and practice his guitar skills.
He supported himself as a laborer working alongside his grandfather, before turning music into his full-time career.
In 1963, Eric was recruited to become a member of The Yardbirds as a guitar player, because people were starting to take notice of his great guitar skills on the R&B pub circuit. He received the nickname "Slowhand" and recorded his first few albums.
The band started to lean more towards a commercial sound, so Eric decided to quit due to his love for the American Blues genre.
Eric Clapton joined the Bluesbreakers in 1965 but ended up leaving in 1966. He then founded the band Cream with fellow bandmates, although the band did end up breaking up after two years due to member's egos and frequent arguments.
Eric then founded Blind Faith and the Dominos, which also ended up breaking up after some time. With so many failures and downfalls coming his way, Eric had a three-year addiction to heroin.
He eventually got over his addiction and started a solo career, reaching high success in the early 1990s.
Followed by more years of success, Eric won multiple awards in the 2000s, along with a number of live shows and more solo singles.
The Musician's Assets and Real Estate
Eric Clapton has a net worth of over $250 million, and with him continuously touring and doing live shows to this day, his wealth is definitely growing.
He owns a holding company called Marshbrooks Limited, which has supposedly made him over 138 million over the past two decades.
Along with his company, he also owns property assets that include his former residence in Venice Beach in California, his vacation villa in Antigua, and his primary residence in Surrey, England, known as the "Hurtwood Edge Estate".
Eric Claton's beachfront home in Venice Beach, California, features 2,920 square feet of space, 2 bedrooms, 2 bathrooms, a patio, and is just steps away from the beach. He put it on the market for $5.5 million in 2017.
Eric also owns a 14,000 square foot complex in Antigua known as "Standfast Point" that features four buildings, interconnecting terraces, two swimming pools, and many other glamorous amenities.
The musician's primary home, Hurtwood Edge Estate, is a two-story Italian-style villa in Ewhurst, England. It was built in 1910 and has many unique architectural features with many acres of land surrounding it.