Robin Williams was a beloved comedian and actor and, to many, he was a hero and the shining light of an honest heart. And while it is certain that Williams had won over the hearts of countless fans and admirers everywhere, few know about who Robin married, and if he had had children.
Though few might know it, Robin Williams had been married three times. He married his first wife, Valerie Velardi, in 1978. Following his separation from Velardi, Williams married Marsha Garces in 1989. Following separation from Garces in 2008, Robin married Susan Schneider, in California.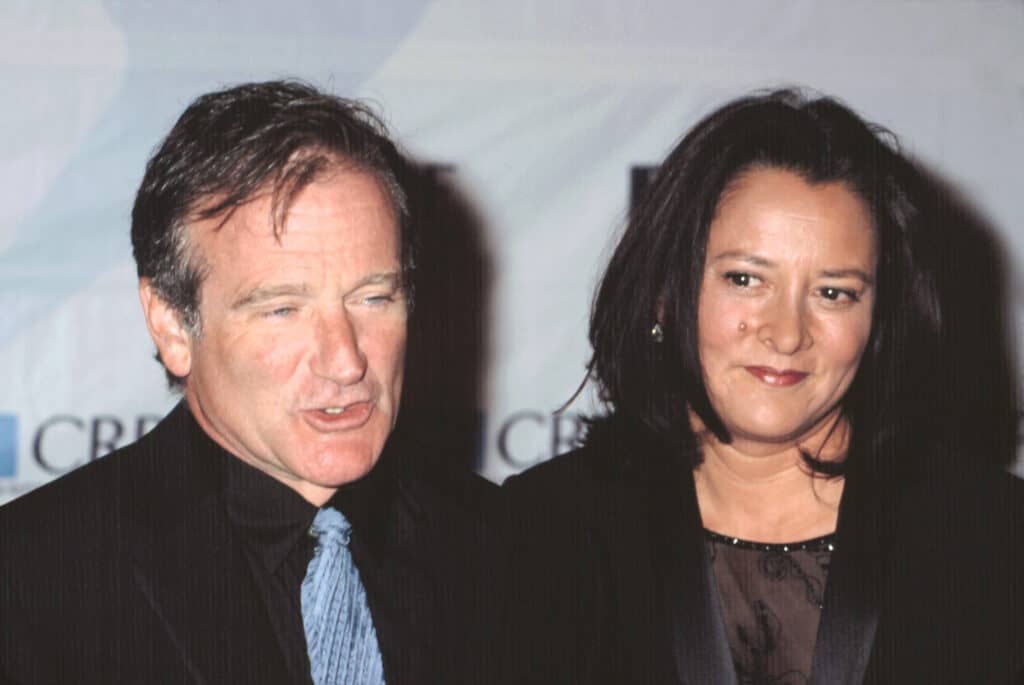 Robin Williams was the classic example of rags to riches. He quickly gained fame and fortune after his explosive performances and eccentric characters wooed the hearts and laughs of producers and fans alike. With so much fame, it makes sense that his personal life could only keep up so much in the public eye compared to his titanic film career.
Still, Robin did have a personal life and remarried twice. He had had three children, one boy with Valerie Velardi, and two children with Marsha Garces — a boy and a girl.
Robin's Wife, Valerie
Even before becoming famous, Robin Williams had already taken interest in one Valerie Velardi. Williams married his first wife, Valerie Velardi on June 4th, 1978.
The two had known each other much earlier when they shared time working together at a tavern, Valerie as a waitress, and Robin as a bartender.
As Robins forayed into the world of comedy, Velardi tagged along for the ride, helping him with his acts. Velardi even found herself donning a part in the Popeye movie Robin had featured in, which goes to show how close the two were during the couple's big debut into stardom.
The couple had one son together, Zachary Pym Williams, on April 11th, 1983. Shortened to Zak, Robin's love and care as a father abounded throughout Zak's life. Zak has not always been large in the public's view but had lots of love to show and speak about following his father's passing.
There are more videos about Zak and his mother reflecting on who Robin Williams was as a father and as an individual. While not perfect, it goes as Zak's own son will say: "He was the most successful person" in regards to making others smile.
Unfortunately, due to complications, Robin Williams and Valerie Velardi separated in 1988.
Robin and Marsha Garces
Robin Williams married Marsha Garces on April 30th, 1989. The two had two children together. First came daughter Zelda Rae Williams, born on July 31st, 1989. Cody Alan Williams followed shortly after, being born on November 25th, 1991.
The family was quirky but in the most beloved ways. The pair were known for being fruitful with their gifts to their children, enriching them with art and toys without end. The two had quite the extravagant collection of toys and art, as described in a Sotheby's interview.
Their children grew up with a strong image of their father, one of love, compassion, intrigue, exploration, but ultimately of appreciation. Having collected many exquisite and high-art pieces from renowned artists, Robin and Marsha found themselves simply admiring pieces of art and miscellaneous trinkets that made them smile.
In the videos of Robin and Marsha, it is apparent in full how the two spent their time together. They collected memories, physical keepsakes, and immutable appreciations and endearments. The couple seemed to love each other and their kids as much as they liked to spend time being passionate about the other wonders they kept that made them smile.
Susan Schneider Williams, Robin's Wife
Susan Schneider and Robin Williams met, strangely enough, at an Apple store of all places, according to The Independent. The two shared a laugh when meeting the first time as Susan remarked over Robin's camouflage attire.
Soon enough, the two would quickly become an inseparable pair. By October 22nd, 2011, Robin and Susan were formally man and wife. The two shared a dazzling wedding and kicked off a bustling joy of life they'd share together.
Having been a woman of art, it is no wonder that Robin fell in love with Susan. Susan was a graphic designer and painter, according to her biography, and had been well established by the time she met Robin.
Robin was a romantic in every expression of the word. He had three dearly loved children and left behind a wondrous legacy of joy and emotions that few could ever hope to accolade. He was married three times, and each marriage was characterized by the art that life itself reflected Robin.