Robin Williams committed suicide after battling Lewy body disease. He said his last words to his wife the night he took his own life, after gifting her with a fun weekend together.
Robin Williams's last words were "Good night, my love". He said this to his wife Susan Schneider Williams, before dying by suicide on August 11th, 2014.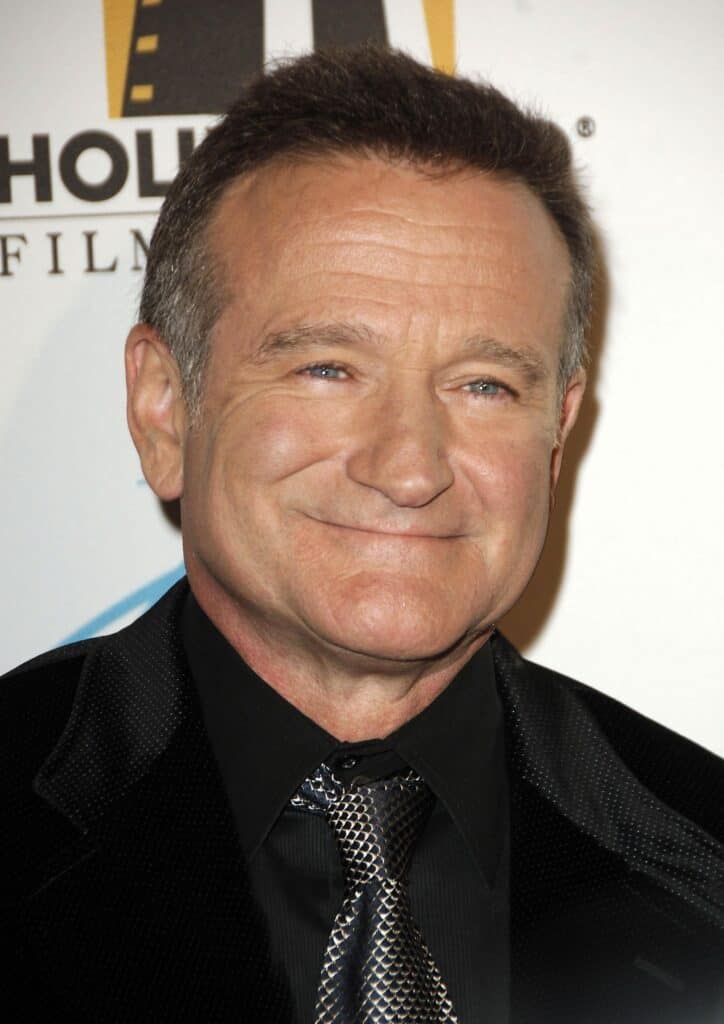 The American actor's career was all about laughter, taking this to his personal life as well. Unfortunately, he had a long history of substance abuse and an unpublished Parkison's diagnosis that led him to a sad ending.
Mental Health and Depression
He was notorious for making people laugh; however, Robin Williams had been struggling for years with substance abuse, including cocaine and alcohol. His consumption of cocaine only lasted a few years, learning an important lesson after the death of his friend, John Belushi, who died of a cocaine overdose.
On the other hand, his addiction to alcohol was harder to overcome, suffering several relapses over the course of three decades. The last time he checked himself in rehab for this issue was the same year he decided to take his own life.
Addictions were not his only problem. In the year 2009, he went in for an aortic valve replacement along with other heart ailments.
After his death, Williams' wife disclosed that he also had a Parkinson's diagnosis that he did not make public. Although the doctors caught it early, they think that it was a trigger for severe depression.
During the autopsy, the medical examiner found Lewy bodies in Robin Williams' brain. These cause symptoms such as dementia, anxiety, and panic. He suffered such symptoms throughout the course of his life, plus insomnia, stress, memory loss, and delusion.
The actor was aware that something was wrong in his brain, as shown in comments he made of needing to reset it.
Career and Legacy
Robin Williams was a prolific actor, comedian, and performer for more than 30 years. The start of his career dates back to 1978 when his improvising skills landed him a role in the TV show Happy Days.
The success of his portrayal of Mork, the alien, resulted in the creation of Mork & Mindy. This show lasted four years and made a superstar out of Williams.
Along with his TV career, he started putting on shows as a stand-up comedian. His first comedy special was HBO's Off the Wall, but he had been to improvisation events since the early '70s. In 2009, he went on his last stand-up comedy tour, called Weapons of Self-Destruction. His manic and intense style had audiences gripped and loved ones worried.
His acting skills took him to the big screen for many small roles in films that were not very successful. Already he was showing his own brand of comedy that became a coping mechanism for his inner battles.
Good Morning, Vietnam was the first film where he was the star. The director gave him free rein to improvise his own lines. He impressed every time, with voice impressions and witty lines.
His most famous films include Mrs. Doubtfire, where he portrayed a father pretending to be a nanny only to stay close to his kids. His voice impressions also got him roles like the genie in the animated film Aladdin, back in 1992.
Robin Williams also took on several serious and dramatic roles. He played a troubled professor in The Fisher King. He stood out for his skills in conveying the true personality and feelings on each role.
His performances were impeccable, regardless of the genre.
His depression and anxiety helped him connect with the disturbed and unhappy roles that he got to play. People that observed his style and his passion were able to tell something were off with his mental health.
After Williams' death, there were releases of four of his films. These are Merry Friggin' Christmas, Night at the Museum: Secret of the Tomb, Absolutely Anything, and Boulevard.
His legacy lives through his unique comedy style that relied on improvisation, energy, and quick wit. Many comedians have sought to learn and use these tools for captivating audiences.
His philanthropic effort with Whoopi Goldberg and Billy Crysta in HBO's Comic Relief USA has raised millions of dollars. This has left a mark on the homeless and other people in need, who are targets of this event.
His Love and Artistry Lives On
With a simple "Good night, My Love," Robin Williams left the world, leaving behind a rich legacy full of laughter and impeccable performances that will live in people's memories forever. From the quirky Mork to the endearing and empathic Dr. Patch Adams, Robin Williams' legacy will live on.