Steve Jobs is one of those guys who have undeniably changed the world we live in and has perhaps single-handedly been responsible for the direction the world is heading. He has revolutionized it, but where did it all begin? What was his childhood like? Was Steve Jobs adopted?
Steve Jobs was adopted. He was born to parents Joanne Schible and John Jandali, two graduates from the University of Wisconsin. Without naming their son, they gave him up for adoption, where he was later fostered, and his life onto fame and fortune began.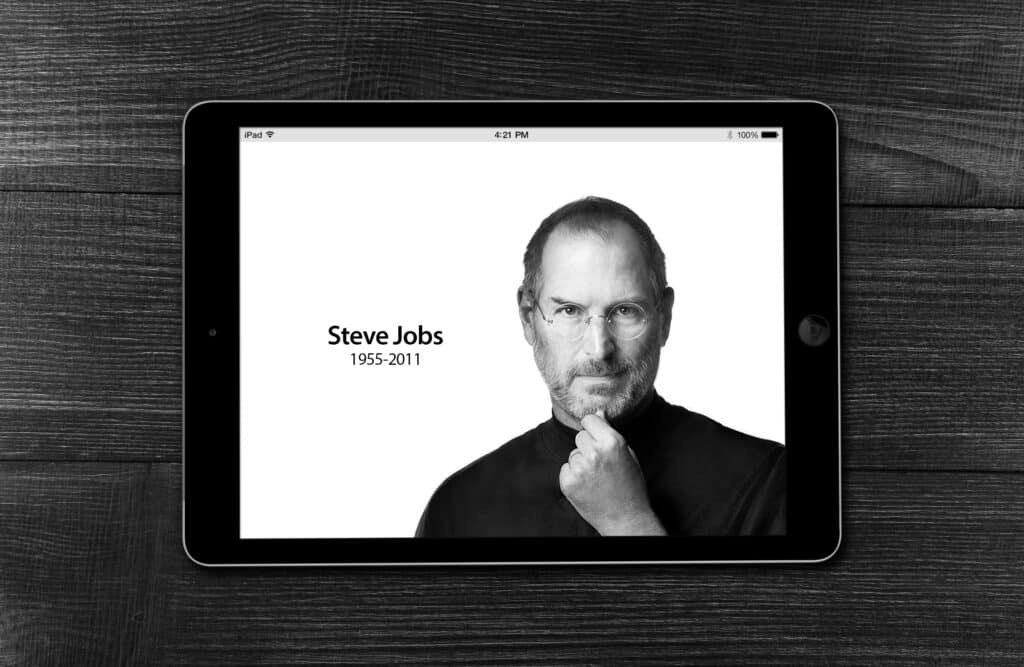 To find out more about what happened to Steve Jobs, where he came from, who his parents were, and how he managed to form the empire that is Apple today, scroll on and keep reading!
Steve Jobs and His Early Life
Steve Jobs was born in San Franciso, California, on February 24th, 1955. He was born to parents Joanne Schible, who would later be known as Joanne Simpson, who was a speech therapist, and Abdulfattah Jandali, a Syrian political science professor who would later be known as John.
In a later interview, Joanne explained how her father, a German Catholic, was very conservative when it came to being married and was incredibly upset that Joanne was having a child outside of wedlock. Her father was very ill and dying, and both Joanne and John were uncomfortable with making her father unhappy during his final years.
Being 22 years old at the time, she and John decided that they also were not able to financially support the child in the way they wanted to. These reasons combined lead to baby Steve being put up for adoption before he was even born.
In 1955, Joanne moved to San Francisco and was looked after by an obstetrician who would help look after Joanne and helped other unwed mothers with their children and also assisted in the process of helping to find suitable adoption parents.
At the time, adoptions were very closed, and doctors had the final say. In many cases, the child's parents and the adoptive parents would never even get a chance to meet. Nevertheless, Joanne had one requirement, and that was that the adoptive parents would be college-educated.
A couple was located and found but changed their mind about adopting Steve since they wanted a girl. This sent panic through Joanne as they needed to find another couple quickly.
Finally, a Family to Call Home
Their answer came in the form of Paul and Clara Jobs, and judging by their surname; we're sure you can guess what happened.
The couple had been together for over a decade, Paul serving as a Coast Guard during World War II, and Clara, who had been widowed by the war. Unfortunately, the couple had experienced an ectopic pregnancy and had tried for nine years to have children of their own, but without any luck.
This leads the couple to believe that children for them naturally was not an option, but instead, they chose to look into adoption.
In the beginning, it didn't look as though this was the right couple. Neither Paul nor Clara were college-educated, neither had much money to their name, and neither requirement was filled. However, since Steve had already been born, the doctor was quickly looking for an eligible couple, but time was running out.
The Start of a Beautiful Family
The doctor got in touch with the Jobs family, and they had never been more excited. They signed the papers and were ready to start their new life with their new family. However, when Joanne found out that neither were college-educated, she was so furious that she refused to sign the adoption papers and agreement.
This dispute lasted several days, and these several days turned into several weeks. Finally, as time was getting tight, and the doctor had assured Joanne that the family was a good family and Steve would be college-educated later in life, Joanne signed the papers, and so the family was born.
Steve and his family grew up in the area of San Francisco that would become Silicon Valley. His passion for tinkering with cars and devices with his adopted dad surely paved the way to create Apple and created the worldwide phenomena for which he is famous today.
Joanne and John married a few years later and had a child of their own in wedlock, Mona, in which Steve got in contact with when he was 26 and managed to find out all about his family and where he had come from. He was overjoyed that he had a biological sister, and the rest is history.