Most of the people that knew Steve Jobs in person can assure that he had a strong personality, but exactly which personality was that?
Steve Jobs was, according to experts, the epitome of the ENTJ personality. If we see all the things he achieved in his life and how he did it, we can assure that he was an ENTJ.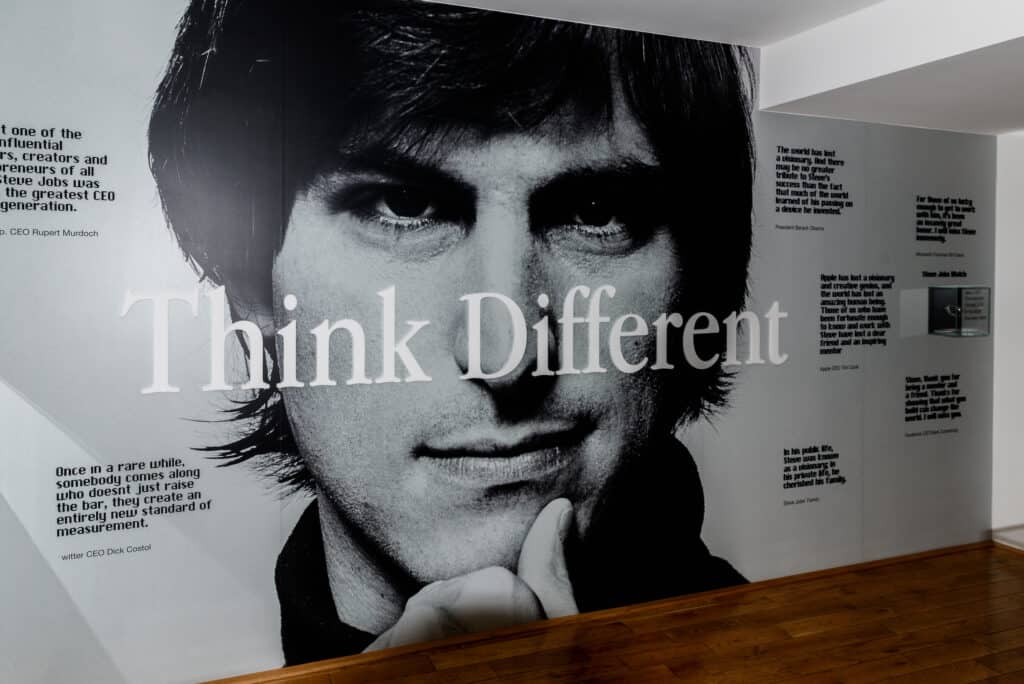 Ok great, Steve Jobs was the absolute example of the ENTJ personality, but what does that exactly mean? How can we assure that he would get this result?
What Being ENTJ Really Means?
Let's start from the beginning. To put it in simple terms, the ENTJ personality it's one of the 16 different results from the MBTI test.
According to this social study, ENTJ people think ahead and can solve problems with ease.
Some ENTJs admit that the secret for that is approaching the problems from different perspectives.
ENTJs are natural-born leaders and they have the power to convince people to buy any product they sell. Some will call them arrogant, but the truth is that ENTJs stick to their plans because they believe in them.
Of course, when this type of personality gets out of control, they become stubborn and even narcissists.
They don't hesitate when it comes to distributing tasks and leading their people. But not everyone can be a leader, people have to have a strong spirit to be a successful leader.
If you knew a thing about Steve Jobs' life, you could tell that he was naturally stubborn. He was also abrasive and sometimes too cold, but he never let failure stop him.
When an idea was in his head, he would take that idea to the end of the world if necessary to make it come true. Besides, he would often get very mad at the people who didn't meet his expectations.
He used to have a specific idea on how people should think and live, as he was a Zen follower and used to meditate a lot. Often he would use these meditation breaks to find answers through a rigorous series of thoughts and ideas.
How does Personality Tests Work?
The MBTI test is a questionnaire for people to discover things about their personality. The result will tell which one of the 16 types of personality they have.
Each question on this test helps to find out a little more about how the person's mind works. The way that someone sees the world and makes decisions marks their personality.
According to the developers of this test, people can be rational or irrational. That means that there are people that think and feel while others work using only their intuition.
ENTJ is an acronym for Extroverted, iNtuitive, Thinking, and Judging. Like this, there are another 15 possible combinations that allow us to roughly classify the personality of a human being.
The purpose of this test is to understand how we build our lifestyle taking into consideration our interests, motivations, and values. If a person is able to understand what type of personality they have, they are more likely to try projects that best fit their strengths.
Vocational course providers, job interviewers, and self-improvement therapists use this kind of test all the time.
Other Celebrities Like Him
It is common to find many ENTJs in the business and entertainment world, as these people tend to fulfill their plans in one way or another. Many CEOs, politicians, and even artists tend to be ENTJ, which explains how they get to where they are.
Being a rational person is something needed to make money and to achieve dreams; it's important to be able to put logic over feelings if you want to make it big.
For example, one of the biggest business rivals in Jobs' last years was another ENTJ, the entrepreneur Bill Gates. Gene Simmons, Franklin D. Roosevelt, and even Arnold Schwarzenegger are ENTJs as well.
All of them idealists with strong beliefs and a lot of charisma.
A Sign of Success
The ability to create a plan based on innovative ideas and stick to it until the end is something that every leader needs. Besides if you are also charismatic, you can work under pressure, and have the power to be rational at all costs, great things will come your way.
Steve Jobs had all of these qualities and were those same qualities that helped him succeed the way he did. Of course, the co-founder of Apple faced many problems in his life because of his personality but it was a small price to pay for achieving what he did.