Jennifer Aniston is one of the most popular celebrities in the world and is known by literally billions of people, especially from her amazing, iconic start on the Friends television series. However, before she got her rise to fame, how did Jennifer Aniston spend her days?
Jennifer Aniston worked several jobs before finding her feet with Friends. She was a waitress (not unlike Rachel Green) and also spent time as a telemarketer and a bike messenger. All her jobs were part-time while she pursued her career in acting.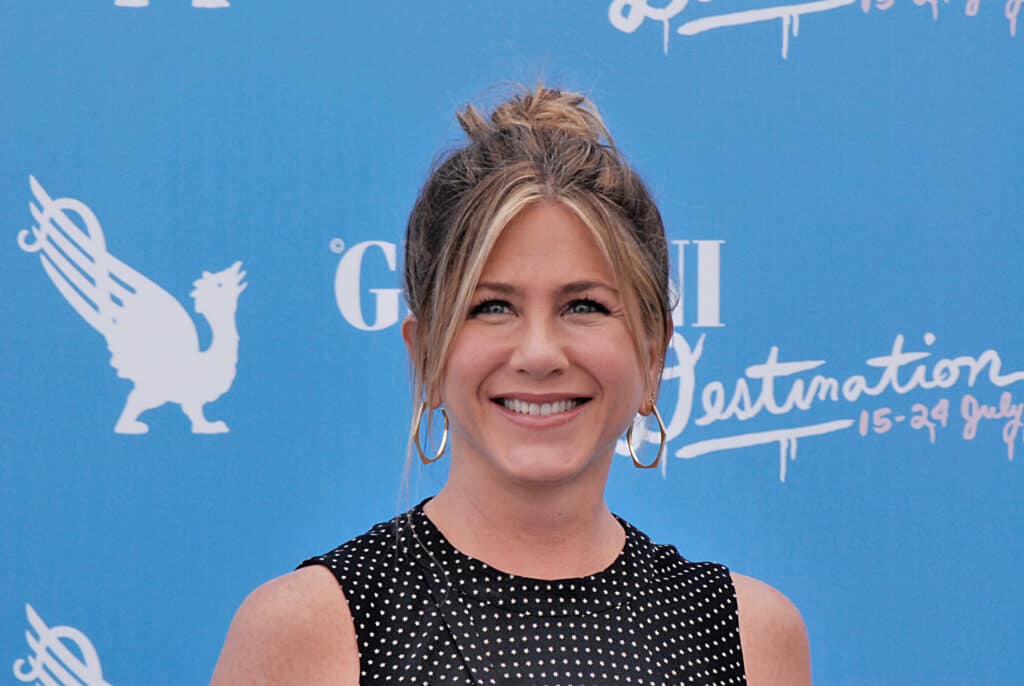 Today, we're going to take a look at where Jennifer Aniston got her start, what she did before she got her big break on Friends, and how she got there. This is an inspiring story, so strap in, and away we go!
The Early Days of Jennifer Aniston
Jennifer started life like most people in the US. She was born in Sherman Oaks, LA, on February 11th, 1969, but moved to New York City with her family while she was young. When she was nine years old, her parents got a divorce, and Jennifer stayed living with her father, John Aniston.
Her father was an actor, her mother was an actress, as was her godfather, Telly Savalas, so it's clear to see that acting had always been in Jennifer's blood. Her father appeared in dozens of television shows and movies throughout his lifetimes, between the years 1962 and 2014, including Mad Men, My Big Fat Greek Life, The West Wing, and Star Trek.
However, despite her father's success, he guided Jennifer away from watching too much television as a kid, but she always managed to sneak some TV time when he wasn't around.
Now, this is where Jennifer's story gets interesting, and a true tale of how determination and pure will is necessary if you want to make it in this world. You need to keep going and give your dream your all, no matter what.
Jennifer started working in what is known as 'off-Broadway' productions in 1988, where she appeared in shows like Dancing on the Checker's Grave and For Dear Life. However, the shows weren't really working out, and Jennifer had to support herself in the mean-time with jobs like telemarketing, bike messaging and waitressing.
In an interview with InStyle magazine back in 2019, Jennifer said;
"I was such a grown-up by then. I had moved away from home. I had been on six failed television shows. I waitressed for years in New York before I got anything. And I was a telemarketer selling time-shares in the Poconos. I didn't make one sale. I was terrible at it. I was like, 'Why do we have to call people at dinnertime?'"
Even while she was in junior high school, she said how she would cut other students' hair for ten bucks a go. In her quote, she talks about how she appeared in six failed television shows.
These included failed productions like The Edge and Muddling Through. She guest-starred in rather successful shows like Quantum Leap and Burke's Law but never had a big enough role to shine out and make a name for herself.
She did appear in other shows, like the Ferris Bueller's Day off show, and Molloy, in 1990, but both shows were canceled for not being good enough.
Getting Her Big Break
Now, of course, as anyone would be, Jennifer was not feeling great. It seemed as though every acting role she tried was falling through, and she was never going to get her big break. After so many attempts, we're sure anyone would feel the same way. Fortunately, Jennifer never gave up.
On a whim, Jennifer approached a man named Warren Littlefield at a gas station in Los Angeles, trying to get a bit of reassurance and inspire her to keep going. Warren, who was the former president of the NBC network, replied to Jennifer's question of 'is it ever going to happen?" with;
'We believe in you, I love you, I so believe in your talent, I'm sure it will.'
A few months passed, and Warren handed Jennifer the script for a new series called Friends. Now, things weren't as easy as they first appeared. At the time, Aniston was still contracted to work on the Muddling Through series, and if NBC decided to record friends with Aniston, and they couldn't get the contract changed, they might have to reshoot, which could have cost them millions, according to Warren.
However, the network believed in Jennifer and decided to take the risk. Finally, after recording some episodes, CBS pulled the failing Muddling Through show, and Jennifer was able to jump into Friends, and the rest is history.
The Legacy of Friends
Friends is one of the most popular television series of all time, and one that will stick with fans probably for a lifetime. For ten seasons, its beloved cast, Jennifer being the female lead, won our hearts, made us laugh, made us cry, and completely changed the way many of us see the world and those who are closest to us.
Commercially, the show was well-received while it was aired, and was nominated for 62 Primetime Emmy Awards, an Outstanding Comedy Award, and is listed on nearly every 'Greatest TV Show of All Time' list, including the TV Guide's, Empire, and the Writer's Guild of America.
Every single season of Friends was ranked at the top of television rating lists, reaching the number one spot on its eighth season. Throughout the nine years the show was aired, it never pulled in less than 30 million viewers, which is insane for the late 90s, early 2000s.
Known for plenty of cultural impacts, including haircuts that are known throughout the world as 'the Rachel,' due to Jennifer's haircut, Joey's catchphrase of 'How you doin'?' and its endless references in modern culture, as well as multiple Friend's themed cafes throughout New York, Friends is definitely here to stay.
Isn't it amazing how all of this was made possible by one actress not giving up her dream? Friends certainly would not have been the same without Jennifer Aniston playing her role, and it would have been so easy for her to think that acting was not for her. You're inspiring millions Jen, keep it up!