Oscar Wilde was an Irish poet and playwright who is more famous today than he was when he was alive. His life has been a source of great inspiration and entertainment to many, and his death even more so. What did Oscar Wilde die of?
Oscar Wilde died on 30 November 1900 from meningitis that was brought on by an acute ar infection. He was 46 years old at the time of his death and he died in his room at the Hôtel d'Alsace in Paris's Rue des BeauxArts.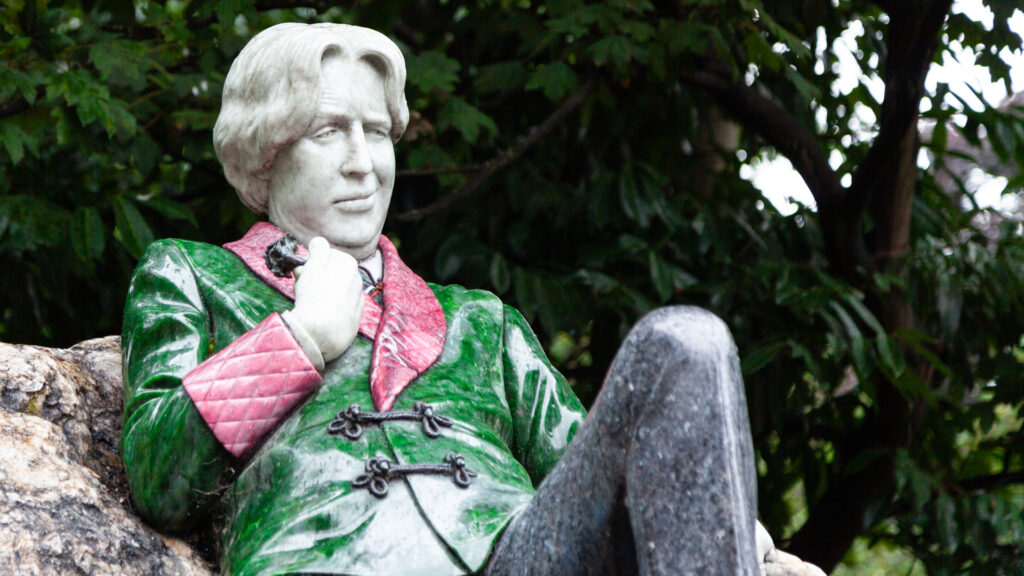 In the years since he has died, Oscar's death has been studied at length. Read on to find out how, where and why Oscar Wilde died as well as why people believed he died from syphilis as opposed to an acute ear infection.
How Did Oscar Wilde Die?
On 30 November 1900, Oscar Fingal O'Flahertie Wills Wilde died in a hotel room in Hôtel d'Alsace in Paris's Rue des BeauxArts. In order to fully understand his death, one must take into account what had happened five years earlier.

On 25 May 1895, Oscar – who was confirmed as a homosexual – was incarcerated for indecency and sodomy. He started out at London's Newgate Prison for processing before moving to Pentonville Prison and then Wandsworth Prison. While at Wandsworth, in November of 1895, Oscar collapsed due to illness and hunger. He ruptured his right eardrum in the fall and spent two months recovering in the infirmary.
When he was released from prison on 19 May 1897 he immediately left the United Kingdom, never to return. He headed straight to France where he lived in exile and a state of poverty. By 1900, Oscar had "lost the joy of writing" and spent the little money he had on alcohol.
On 12 October 1900, Oscar's health took a turn for the worse. He telegrammed Robert Ross "Terribly weak. Please come" and his moods were described as fluctuating. By 25 November 1900, Oscar had developed cerebral meningitis as a result of an untreated ear infection caused by the rupturing of his eardrum while in prison. He died five days later on 30 November 1900.
Why Do People Think Oscar Wilde Died Of Syphilis?
For hundreds of years, Oscar was thought to have died as a result of contracting syphilis. More specifically, he was thought to have contracted syphilis from an Oxford prostitute known as Old Jess with whom he had spent a short amount of time.
It's believed that this rumor originated from Oscar himself. When he was arrested, Oscar told his closest inmate friends that he feared he had contracted the STD in 1878. However, it was this fear that led him to undergo a full medical examination before marrying Constance Mary Lloyd in 1884. The medical examination came back clear. Neither Constance nor the two children she had with Oscar had syphilis.
In addition, after Oscar's fall while in prison, he spent two months in the prison's infirmary and – according to his prison medical records – was seen by a medical professional on seven separate occasions. None of the records from those consultations mention any symptoms of syphilis.
Oscar's medical records and first-hand accounts that were written around the time of his death have been the subject of rigorous study. The fact of the matter is that there is no definitive proof that Oscar had syphilis, and plenty of proof to contradict this theory.
Oscar Wilde's Thoughts on Death
Though Oscar was only 46 years old when he died, which is considered a young age to die by today's standards, he lived a full life. And when you consider that the average life expectancy for males in the 1900s was 47 years old, he lived a long life for that time.
Death had been a topic that Oscar often explored in his work. Because of this, there are plenty of Oscar Wilde quotes about death floating around the internet. These quotes provide us with an insight into Oscar's thoughts on death, and by all accounts, he seemed to hold death in positive regard. His last words are also proof of this.
In 'The Canterville Ghost,' Oscar wrote, "Death must be so beautiful. To lie in the soft brown earth, with the grasses waving above one's head, and listen to silence. To have no yesterday, and no tomorrow. To forget time, to forgive life, to be at peace."
He's also known for saying, "We quaff the cup of life with eager haste without draining it, instead of which it only overflows the brim – objects press around us, filling the mind with the throng of desires that wait upon them so that we have no room for the thoughts of death."
And finally, his most popular quote about death reads, "Most people die of a sort of creeping common sense, and discover when it is too late that the only things one never regrets are one's mistakes."