Taylor Hill is an American model who has been in the spotlight since her teenage years. A US size 2, she has a slim, curvy, and unique physique that has had people wondering about her diet. Many fans ask, do you need a special diet to be as slim and curvy as Taylor Hill? If so, what's the model's daily eating pattern?
Taylor Hill eats mostly whole grains like oats and proteins daily.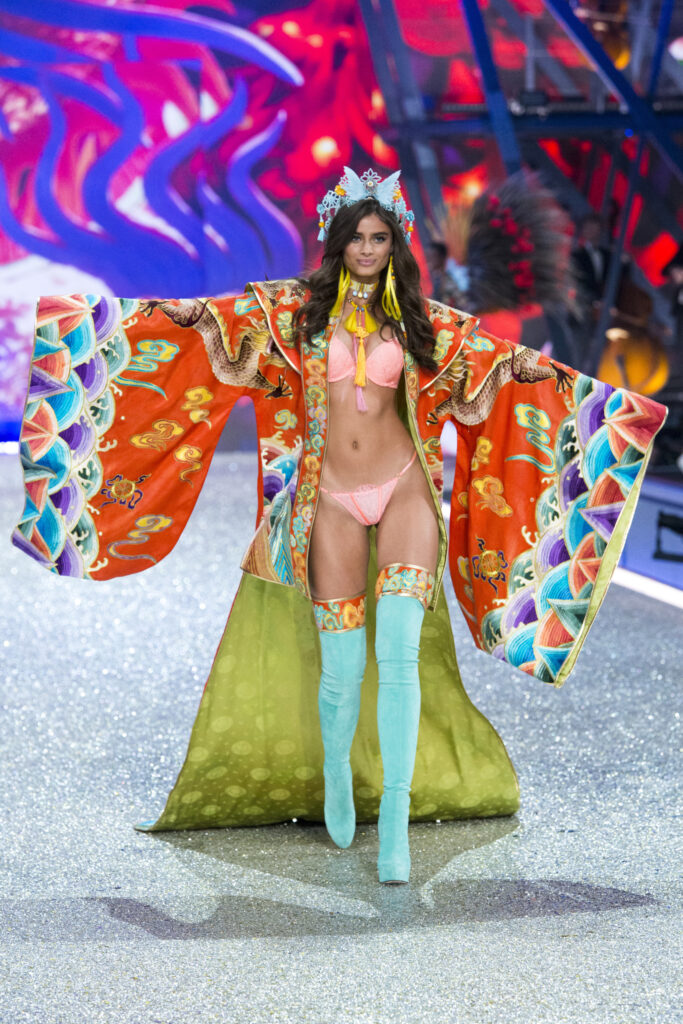 The model is not too strict with her diet but ensures she stays in shape. So, here's a rundown of her daily feeding routine and general diet.
Is Taylor Hill a vegetarian?
Taylor Hill is not a complete vegetarian, as she eats chicken and other types of meat occasionally. She doesn't follow a strict diet plan but tries to include lots of vegetables in her meals to keep her body healthy. The model's favorite "vegetarian" food is green beans and cauliflower fried rice.
In a 2017 interview with The Sunday Times, the former Victoria's Secret Angel shared how she maintains a healthy physique while working as one of the top models in the industry. She said, "I eat 3,000 calories a day before the VS show. Three thousand! There's no way you look like that and don't eat. You would die. Victoria's Secret girls are like athletes. We're like Olympians. We're strong."
What does Taylor Hill eat for breakfast?
Taylor Hill's ideal morning breakfast is a yogurt parfait. This simple breakfast has many health benefits, including high levels of Vitamins A, C, D, and B-12. It is also low in cholesterol and helps in weight loss.
Scientific research also shows that the human body can easily absorb calcium in yogurts, which makes bones stronger and healthier.
What does Taylor Hill eat for lunch?
Taylor Hill loves including meat in her diet, and it's evident in her go-to lunch, which is a ham sandwich.
According to experts, ham is healthier than beef and most meat sources because it has less saturated fats. It is also a good source of lean protein, which is easy to digest.
What does Taylor Hill eat for dinner?
Taylor Hill's ideal dinner is chicken and vegetables. The model knows her stuff because the health benefit of chicken is endless.
Chicken has a high amount of protein. It also aids in weight loss because it doesn't have saturated fat. Chicken can also be an anti-depressant because of its high amino acid level.
What is Taylor Hill's go-to snack?
Taylor Hill loves to snack on Cheetos or almonds. She likes Flaming Hot Cheetos and has even said she's obsessed with them.
What is Taylor Hill's workout routine?
Taylor Hill's body is fit and healthy, thanks to her regular workout routine. While she didn't like working out before, she committed to her routine to make sure she maintained her physique. The model even had to employ a personal trainer because she used to "cheat in classes."
She said in an interview, "I cheat workouts, I eat whatever I want! So, I just needed someone to watch me and make sure I'm doing it correctly. When I have an hour, I want to give everything I have to that hour, like, really work out."
Some of the programs she follows include a lot of weight training, lifting, and floor exercises like mat-based Pilates.
Did Taylor Hill do liposuction to be slim?
Taylor Hill has always had a lean frame since she was a child. That was one of the reasons she got scouted. She religiously follows a healthy diet and workout routine to maintain her body stature and weight. The former Victoria's Secret model has never gotten liposuction to appear skinny.
What does Taylor Hill not eat?
Taylor Hill is not a picky eater, but she would never eat onions. Although they have many health benefits, the model would instead avoid them, mainly because of their smell.
What is in Taylor Hill's smoothie?
Taylor Hill's diet includes protein shakes and fruit smoothies. She makes her smoothies from bananas, strawberries, peanut butter, yogurt, and ice. This organic smoothie provides some of the best vitamins, alongside being delicious and easy to digest.
What is Taylor Hill's weight?
As of 2022, Taylor Hill weighs 55kg and is a US size 2 (UK size 6).
What's Taylor HIll's skincare routine?
Taylor Hill has a simple skincare routine to always keep her camera-ready for the runway and photoshoots. She uses a scrubby sponge to bathe thrice weekly as they exfoliate her skin to eliminate dead cells.
The model also uses facial foaming cleansers from Cetaphil and CeraVe to prevent breakouts. She likes these products, particularly because they are dermatologically recommended for sensitive skin like hers. Taylor Hill says that she uses them in the shower so that the steam can open her pores, absorbing the product.
Taylor Hill has almost perfect brows, which isn't the work of makeup artists. The model inherited it from her lineage and asks assigned makeup artists not to manipulate them. She also doesn't have any particular brow care routine. Her brows grow out rapidly even when she doesn't touch them, so she doesn't need extra hands on them.