American sweetheart Taylor Swift has a killer combo for that pep in her step, and it includes a generous helping of caffeine. After all, with record deals and photoshoots, she may be 'Fearless,' but she's also incredibly busy.
Taylor Swift has two signature Starbucks orders; her favorite Iced Caramel Latte with two Sweet'N Lows, and an Iced Americano with Two Sweet'N Lows with soy milk. She must really like Sweet'N Low.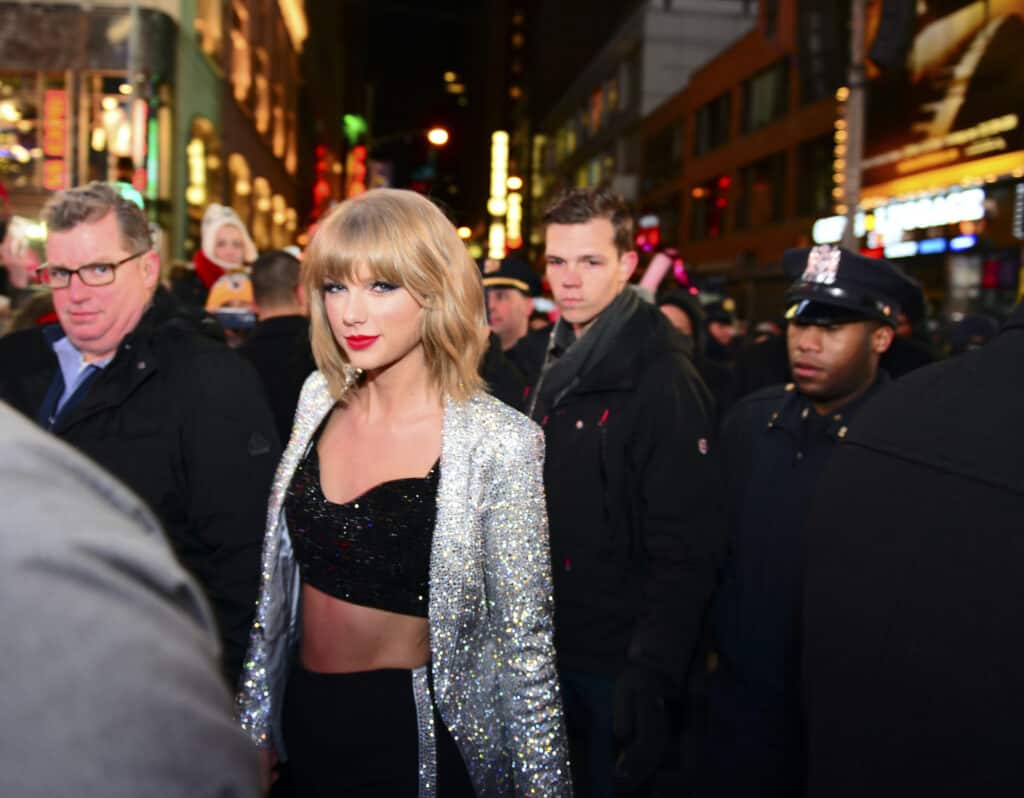 The kindhearted celebrity singer has a few other favorite foods in addition to loving Starbucks coffee. Read on to see what the singer eats in a day and how her coffee order measures up to some other celebrity orders.
Taylor Swift's Favorite Foods
She doesn't only drink Starbucks. Taylor Swift said in an interview with Bon Appétit that she drinks, "like, ten bottles of water a day."
Taylor Swift also loves Diet Coke, and her favorite cocktail is a vodka Diet Coke.
She's said that on extra-busy days she likes to start with a substantial diner-style breakfast of eggs, sausage, and "anything else I can get my hands on." However, on regular days Taylor Swift likes to make a breakfast consisting of buckwheat pancakes, ham, parmesan cheese, and a fried egg washed down with a glass of orange juice.
Taylor Swift has a love of comfort food and has said she keeps cookie dough and cinnamon rolls on hand just for days when she needs something extra. We all have days where we need something delicious and sweet.
Taylor Swift is a stellar chef in addition to being a foodie. She posted a delicious-looking photo of a bunch of frosted cinnamon buns that she made on her Twitter page.
In fact, Taylor Swift posts tons of the results of her baking, which always look delicious. She's made everything from classic chocolate chip cookies to traditional apple pie.
She often bakes with friends, including actress Hailee Steinfeld and baked a birthday cake for her friend and model, Lily Aldridge.
She's said that her go-to meal to prepare for friends is chicken and dumplings. However, in the winter, Taylor Swift likes to bake dishes with lots of nutmeg and cinnamon, like a loaf of delicious pumpkin bread.
Taylor Swift is open to trying new things, as evidenced by her love for Del Frisco's sweet potato casserole. She never liked casserole before trying the steakhouse's take on the dish, but now it is one of her favorites, according to InStyle.
She also occasionally enjoys a glass of white wine, as she did in this Instagram post during COVID-19 self-isolation;
Other Celebrity Starbucks Orders
Taylor Swift is not the only celebrity who loves Starbucks.
Singer and songwriter Ariana Grande has her signature drink with the coffee chain, the Cloud Macchiato. The drink includes Starbucks trademark cold foam, but Ariana Grande recommended that vegan fans try the soy version as cold foam has egg whites for the delicious whip.
The pint-sized singer is also known to enjoy vanilla bean frappucinos. We wonder if she gets a grande size.
Influencer and businesswoman Kim Kardashian also loves her Starbucks, as she orders a soy chai latte or a white chocolate mocha with whipped cream.
Her sister, Khloé Kardashian, has an interesting drink order; venti, seven pumps, no water, chai latte. Clearly, the socialite loves chai syrup as much as Taylor Swift loves Sweet'N Low.
Musician Lady Gaga is also a huge Starbucks fan and teamed up with the brand to develop the dairy-free matcha lemonade, pink drink, ombré pink drink, and violet drink. A portion of the proceeds from each drink goes to her charitable foundation, the Born This Way Foundation, dedicated to helping LGBTQ+ youth.
Katy Perry, who appeared in Taylor Swift's 'You Need to Calm Down' music video, orders soy lattes from Starbucks. She even tweeted to thank her barista for helping her keep a low profile – hopefully, it nabbed Jason employee of the month or a raise!
Celebrities have a lot on the go, so it makes sense they'd need a caffeine fix.
Taylor Swift is exceptionally busy, as evidenced by her daily routine, which begins with waking up at 7 AM and going to sleep at 1:30 AM. She has meetings with studio executives, performances, and meet and greets with fans – luckily, she still makes time to play with her beloved cats, too.
If you want to emulate Taylor Swift, a packed schedule and a coffee in each hand seem like an excellent place to start.