Once upon a time, most rising stars were discovered in coffee shops, at auditions, or even while stepping off the bus but nowadays they're found in one place: TikTok. One such example is Addison Rae. If you've been wondering what size dress Addison Rae wears, as well as her other measurements, wonder no more.
Addison Rae is thought to wear a US size 4 dress. The TikTok star is known to use the body-shaming she regularly experiences as motivation to "become the healthiest version" of herself. When it comes to her figure, Addison has two settings: bare all in tiny bikinis or hide all in baggy clothes.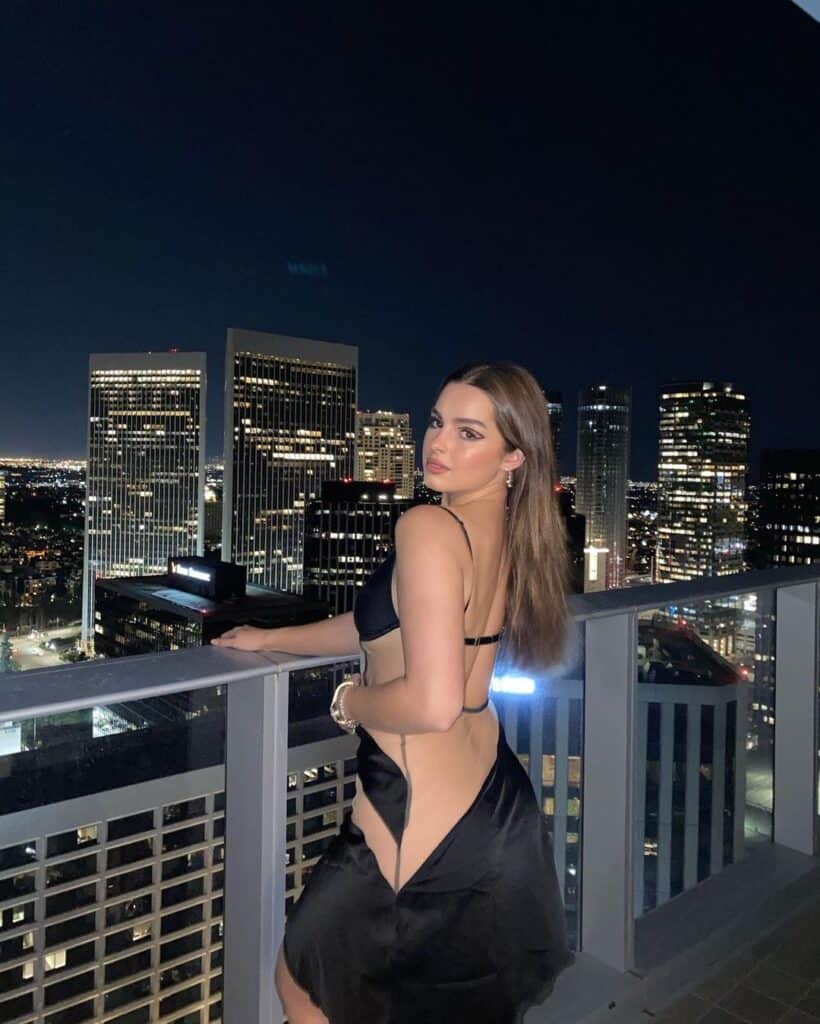 The Lafayette native has many things going for her: a budding career, millions of TikTok followers, numerous valuable partnerships, and a supportive base of family and friends. Addison is often praised for her bubbly personality, daring dance moves, saucy selfies, and fantastic physique. Here's what a look inside her closet and a step upon her scale reveal.
Addison Rae's Dress Size and Style
Despite her tiny size 4 frame, Addison has been body-shamed in the past. In response to people incredulously calling her 'fat' and 'a whale', Addison says "It makes me feel insecure, but luckily I'm looking at it in a different light. I've been very motivated to start eating better and working out every day to become the healthiest version of myself."
Addison also uses her platform to spread awareness on body shaming and body positivity. She uses her negative experiences to inspire her fans by saying "I just want to encourage everyone who hears these things about themselves to love yourself!! If you are healthy and happy, do NOT listen to these hurtful comments. You are perfect."
While Addison is undoubtedly slim by genetics, just look at her mom Sheri Easterling's physique, her body type is classed as curvy and fit. As it turns out it takes a lot of gym time and healthy eating to get a body like Addison's.
The TikTok star is known for her casual and comfy style of dressing. Her official merchandise largely consists of the clothes she wears herself: comfy crewnecks, baggy T-shirts, hoodies, shorts, and sweatpants. Addison is a big fan of low-rise jeans, crop tank tops, basic T-shirts, and leggings.
Addison may like to keep things comfortable, but when she hits the red carpet she looks far from casual. Her duo of stylists, Mara Roszak and Allen Avendaño, ensure she is Old Hollywood Glam all the way.
Addison Rae's Fitness Routine
There's no denying that Addison Rae has a naturally petite build, but her US size 4 figure is also a result of her impressive commitment to fitness. Addison's fitness routine may not be as rigorous as the routines of other celebrities', but that doesn't mean she isn't left sweating after a session.
Seeing as Addison is a former competitive dancer, it should come as no surprise to read that her fitness routine involves a fair bit of dancing. To start her exercise routine off, the social media superstar dances creatively for one hour every day.
She usually follows these fun dancing sessions with an exercise set consisting of planks, push-ups, leg raises, and sit-ups. It's also fair to assume that she works up quite a sweat filming her TikTok dance videos.
Addison's "booty routine", which she shared with bestie Kourtney Kardashian on a Zoom call, consists of 30 seconds of donkey kicks for each leg, 30 seconds of fire hydrants for each leg, and is followed by a 30-second extension of each fire hydrant.
Addison Rae's Other Measurements
With access to information only a few strokes of the keyboard away, it's relatively simple to find out everything there is to know about a celebrity. This includes everything from their star sign and relationship status to their home town and hobbies. It even extends to the inside information on their weight and measurements!
Addison weighs around 130 lbs and stands 5'6" tall — making her tower over her 5' best friend Kourtney Kardashian. On the other hand, her boyfriend Bryce Hall stands 5'9" tall. She wears a size 32D bra, a US size 6 shoe, and measures in at 36-25-36 inches.