Karla Camila Cabello Estrabao, or Camila Cabello as she's better known, is a Cuban-American singer and songwriter who rose to fame as one part of Fifth Harmony. After leaving the group in 2016, Camila's solo career soared and has left Camilizers wanting to know everything there is to know about the songbird — starting with her dress size.    
Camila Cabello wears a size 6 (US) dress. The starlet is smaller than the average Cuban and American woman alike but does not take kindly to body shaming in any way. Camila accentuates her physique in every outfit she wears.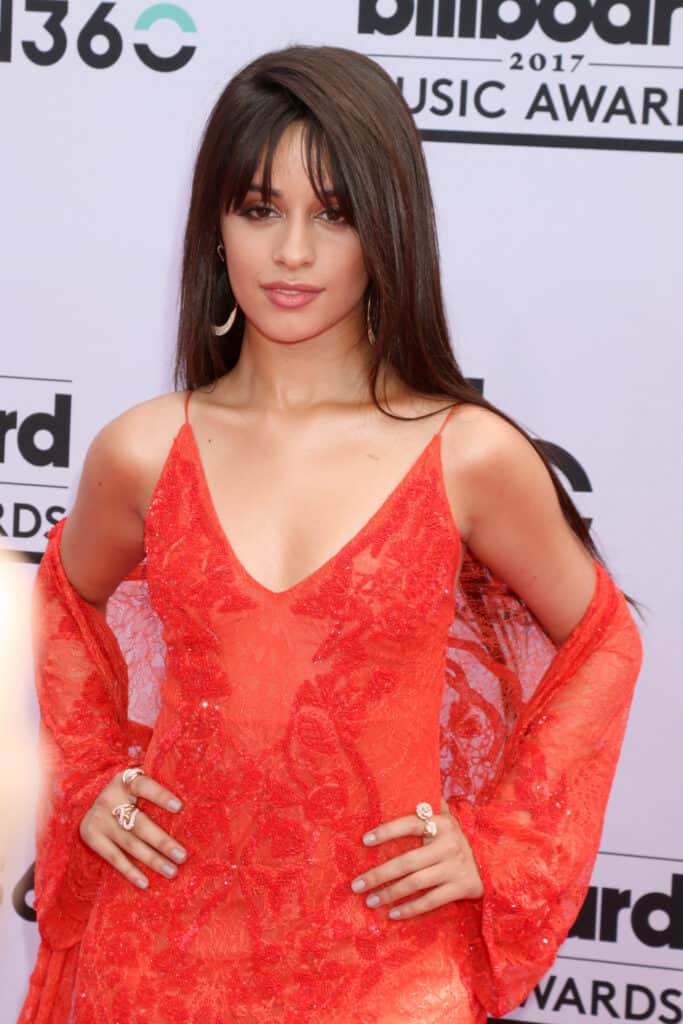 The Cuban crooner is often praised for her sense of style and she's always sure to show off her toned body. Whether she's wearing a dazzling dress on the red carpet or cruising the streets in her classic streetwear ensembles, Camila, who credits Audrey Hepburn as her style icon, always looks fabulous. Let's take a look inside her wardrobe!
Camila Cabello is Smaller Than The Average Woman
A recent study revealed that the average American woman no longer wears a size 14 but bounces between sizes 16 to 18 instead, with the average weight of such a woman being around 77.1kg or 170 lbs. But Camila Cabello is not average, nor is she American.
In Camila's birth country, Cuba, the average weight of a woman is 66.8kg or 147.3lbs. This means that Camila — with her size 6 dress size and 50kg weight — is significantly smaller than women of both countries.
Incredibly, Camila has been the victim of body shaming. But the songstress hit back at the haters with a powerful message to her followers, specifically the younger portion of her fan base.
After seeing a headline about her weight, she firstly felt insecure and plagued by worries of bad angles and not sucking in her stomach but then went on to say "We have a completely unrealistic view of a woman's body. Girls, cellulite is normal. Fat is normal. It's beautiful and natural."
A Look Inside Camila Cabello's Wardrobe
Though Camila's Instagram account mainly features snaps of the star wearing her comfy loungewear and street style clothes, she sure knows how to glam up when it's time to. According to her stylist, Jennifer Mazur, Camila prefers her dresses to be white because the color is elegant, feminine, sexy, and extremely complimentary to her skin tone and hair color.
When preparing for a big event, Camila enlists the help of Jennifer Mazur and is sure to have multiple dress options to wear. For example, for the VMAs Camila wore three different dresses: one for the award show itself, one for her performance in it, and one for the after party.
The dress she wore to the award show was a Balmain white Grecian cut-out with a long train, which she said she picked because it "looks romantic" and describes it as her "Favorite red carpet dress I've ever worn so far."
For her performance of Senorita, she opted to wear a luxuriously tropical custom mesh dress — in white, of course — featuring sheer balloon sleeves, a plunging neckline, flirty ruffles, and 3,000 crystals. The crystals were applied by A-Morir and it took the team 9 hours to bedazzle the dress.
At the after party, Camila wore a "baggy, loose, and chill" olive green mini dress.
Camila Cabello's Height, Weight, Shoe Size, and More
You now know that she wears a US size 6 dress, so you probably won't mind discovering what the rest of Camila's measurements are. The Cuban beauty stands 5'2" tall, weighing 50kg in 2020, and wears a US size 6.5 shoe.
Camila's chest measures in at 35 inches, her waist at 24 inches, and her hips at 35 inches. She wears a size 34 B bra, which is the average bra size of most Cuban women, while the average American woman wears a size 34 DD bra.
Though she may be smaller than the average woman, Camila is also smaller than most of the famous friends she associates with — with the exception of Ariana Grande and Sabrina Carpenter who both wear a US size 2 dress. Her close pals Billie Eilish and Hailee Steinfeld wear a size 8, Taylor Swift wears a US size 9, and Rihanna wears a US size 14.