One of the main reasons why the Kardashian family became famous is their willingness to share every aspect of their lives with a camera crew and then the world. No topic is off-limits, which means that their fans and followers know everything there is to know about them — including their measurements. On that note, let's find out what Kim Kardashian's dress size is. 
Kim Kardashian wears a US size 8 dress. She is proud of her hourglass body and wears clothing that clings to her curves, and shows off the shape she works hard to retain. With the average American woman wearing a size 14 or 16, Kim's considered to be on the petite side of the dress size spectrum.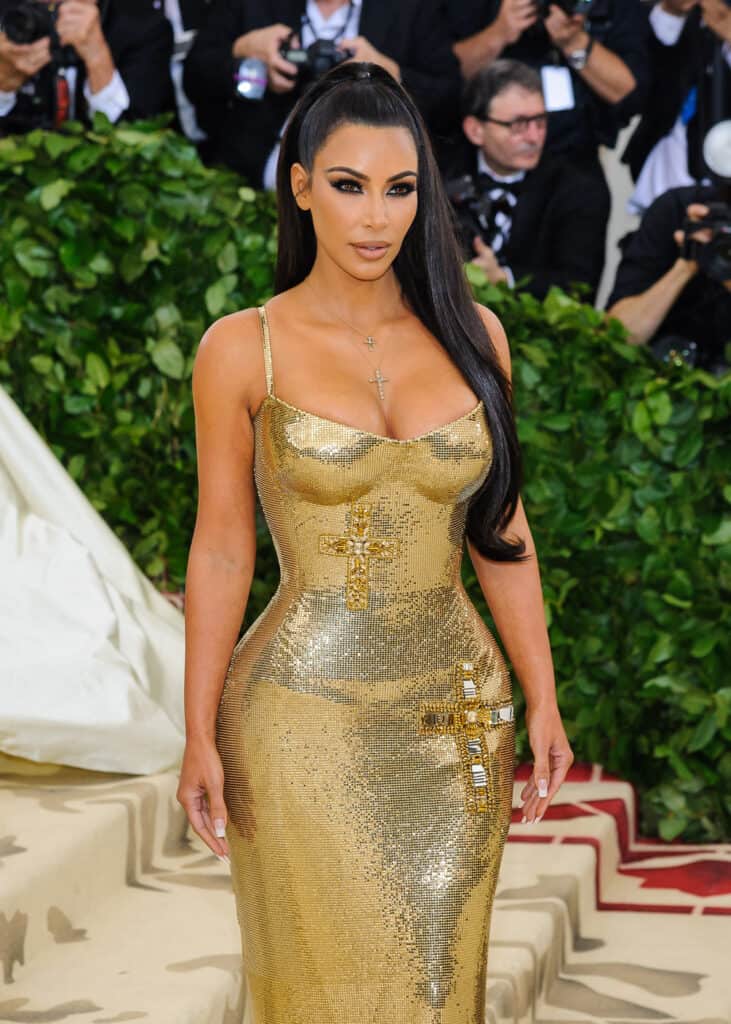 Naturally curvy to some extent, Kim has to work incredibly hard to keep her hourglass figure in shape. Throughout her life in the spotlight, fans have seen her weight fluctuate and she has spent years bouncing between dress sizes 12, 10, and 8. Let's take a closer look at Kim K's enviable physique.
Kim Kardashian and Her Famous Figure
Kim's body is arguably one of the largest contributing factors to her astounding wealth. SKIMS, Kim's line of waist trainers, bodysuits, and sculpting shapewear, is a testament to this. Many people want a body to rival Kim's, and they don't mind paying for it.
According to Kibbe's Body Types Theory, Kim has a Soft Natural Body but over time — and possible cosmetic alterations — her body has morphed into the Theatrical Romantic Type. The A-lister has rounded Rubenesque breasts, a tiny waist, voluptuous hips, and sizable buttocks that is commonly referred to as a "bubble butt".
Way back in 2008, and in response to people assuming she wears a bigger dress size because of her shapely hips and buttocks, Kim told The Today Show that her "measurements are 34, 26, 39. But remember I am 5ft2in and ½ and everyone carries their weight in different places."
To prove just how comfortable she is in her skin, Kim has bared all for the covers of famous publications on more than one occasion. Kim stripped down for Playboy magazine (2007), W magazine (2010), Paper Magazine (2014), and has treated her Instagram followers to numerous scantily clad and almost-naked photos over the years.
Inside Kim Kardashian's Kloset
It's tough to keep up with Kim Kardashian's wardrobe as she is an adventurous dresser, to say the least. Depending on the day and her mood, Kim's style can be described in many ways: daring, sexy, glamorous, chic, feminine, and — on the odd occasion — comfortably casual.
Because she loves to flaunt her curves, most of Kim's dresses are of the skin-tight variety. The successful businesswoman is a big fan of animal print, plunging necklines, color blocking, daring cut-outs, and seemingly has a soft spot for leather ensembles that fit her like a second skin.
Kim's stylist, Veneda Carter, lists "colors, proportions, tailoring" as the three magic ingredients to styling someone of the Kardashian's stature. Veneda is the brains behind some of Kim's most celebrated looks including her iconic python print coat and leather trousers outfit and her Mugler Wonder Woman red latex bodysuit.
When she's not wowing her followers on her social media or sizzling on the red carpet, Kim enjoys wearing the loungewear from her SKIMS collection. The influencer often wears SKIMS' velour hoodies, tank tops, knit wrap tops, joggers, and leggings.
Kim Kardashian's Weight, Height, Shoe Size, and More
It's fair to say that Kim is definitely not shy when it comes to her body. The socialite flaunts it at every opportunity whether she's posing on the cover of magazines or posting to her Instagram page.
Kim is known for her hourglass figure and her body measurements are the result of a rigorous fitness regime, strict diet plan, Armenian genetics, and — according to plastic surgeons — multiple Brazilian butt lifts, breast implants, and a little liposuction.
Though Kim has spent most of her career vehemently denying plastic surgery rumors, it has long been suspected that the star's body is not wholly natural.
Compared to her sizable behind, Kim has a tiny waist that measures in at just 27 inches. Her hips are 42 inches wide and she wears a size 34 D bra. The socialite wears a US size 7 shoe, stands 5'3" tall, and weighs approximately 123 lbs.