Selena Gomez is a singer and actress who has achieved major stardom on the small and big screen as well as with her music career. She is considered one of the most talented and beautiful stars in Hollywood.
Selena Gomez's dress size is somewhere between a 6 and 8, depending on which source you cite. Gomez has always been proud of her natural body and has defended herself against online trolls repeatedly.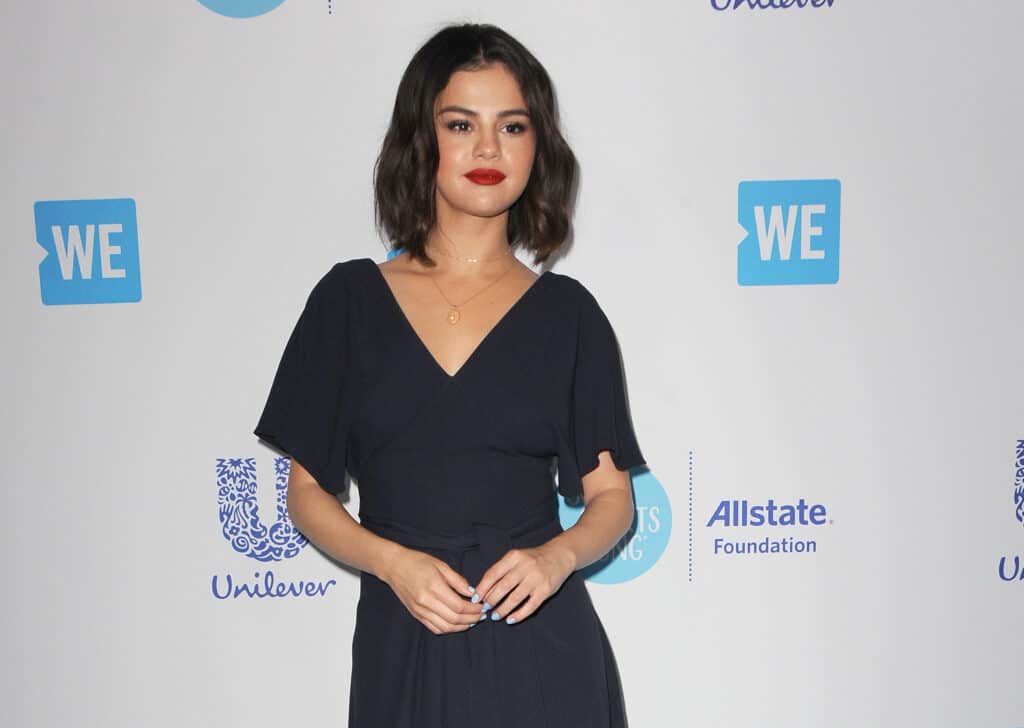 Gomez is one of the most talented and successful stars alive and with good reason. Her star continues to grow.
Early Life
Selena Marie Gomez was born on July 22, 1992, in Grand Prairie, Texas just outside of Dallas. Gomez was born to Ricardo Joel Gomez and Amanda Dawn "Mandy" Cornett.
Gomez was named after the late Tejano singer Selena Quintanilla, who passed away only three years after Gomez's birth.
Gomez has been open and proud of her Hispanic heritage.
Gomez's parents split up when she was only five years old and Selena lived with her mother. Gomez has publicly spoken about the struggles she encountered as a youth, with her and her mother having to search for quarters so they could fill the car with gas.
Although her early life was hard, Gomez has said that the support of her mother was absolute and helped keep her head up.
Career Beginnings
Selena Gomez had an interest in performing from a young age and started going on auditions when she was still a child. She was cast in Barney & Friends when she was just ten years old.
Gomez appeared in 13 episodes of the show before being let go in 2004 because she was getting too old.
During this time, Selena also appeared in the film Spy Kids 3-D and on the TV show Walker, Texas Ranger, and The Suite Life of Zack & Cody on the Disney Channel.
In 2007, Selena Gomez was cast in a recurring role on the Disney Channel series Hannah Montana, opposite Miley Cyrus. Her work on that show led to her being cast as the lead character on Wizards of Waverly Place, another Disney Channel hit.
Career Breakthrough
The Wizards of Waverly Place was a massive smash and turned Gomez into a star overnight.
When she turned 16, Gomez signed a record deal with Hollywood Records, the home of other Disney stars Miley Cyrus and Demi Lovato. Her band, Selena Gomez & The Scene recorded a song for the soundtrack of Another Cinderella Story.
Selena would appear in a few Disney Channel original movies at this time as well as on some animated shows. The made-for-TV movie Wizards of Waverly Place: The Movie was a huge smash for the network and garnered an audience of 11.4 million.
In August 2009, Selena Gomez & The Scene released their first album and it debuted at number nine on the Billboard 200. One year later, the actress appeared in multiple films such as Ramona and Beezus.
2012 saw the end of the Wizards of Waverly Place but Gomez's career continued to bloom. She appeared in the animated film Hotel Transylvania and took a surprising turn when she co-starred in the film Spring Breakers.
Spring Breakers was an R-rated drama about a group of young girls getting caught up in a life of violence and drugs in Florida. It was a critical success and Gomez's work in the film was praised as daring and genuine.
Gomez's first solo album, Stars Dance, was released on July 23, 2013. It debuted at number one and received mixed reviews from critics.
Since 2013, Gomez has released multiple albums, each receiving more critical praise than the one before it. She has also produced the hit Netflix series 13 Reasons Why and has appeared in every Hotel Transylvania sequel.
Her music career has become a major success and her album Rare was a critical and commercial hit.
Personal Life
Gomez's personal life has received much publicity, mostly because of the stars she has dated. She has been romantically linked with Justin Bieber, Nick Jonas, and The Weeknd.
Gomez has been open about some of her struggles with depression and mental health issues. She has undergone rehab treatment multiple times due to mental health battles.
She has also publicly spoken about body image issues and people feeling comfortable in the skin they're in. She also donates her time and energy to efforts such as UNICEF and various LGBTQ groups.
Gomez has become a well-respected public figure because of her talent and down-to-earth personality along with her beauty. She is now one of the most successful stars to come out of the Disney Channel and continues to work consistently in Hollywood.