How does Disney actress and pop singer Selena Gomez look stunning all of the time? Let's delve into her makeup collection to find out how she maintains her beautiful appearance, on stage and on a daily basis
For foundation, Gomez uses Laura Mercier Oil-Free Supreme Foundation, and MAC Mineralized Skinfinish for powder. She also uses Instant Brow Pencil for her eyebrows and Fresh Sugar Lip Serum for her lips. Continue reading to find out more about what makeup Gomez uses, as well as why.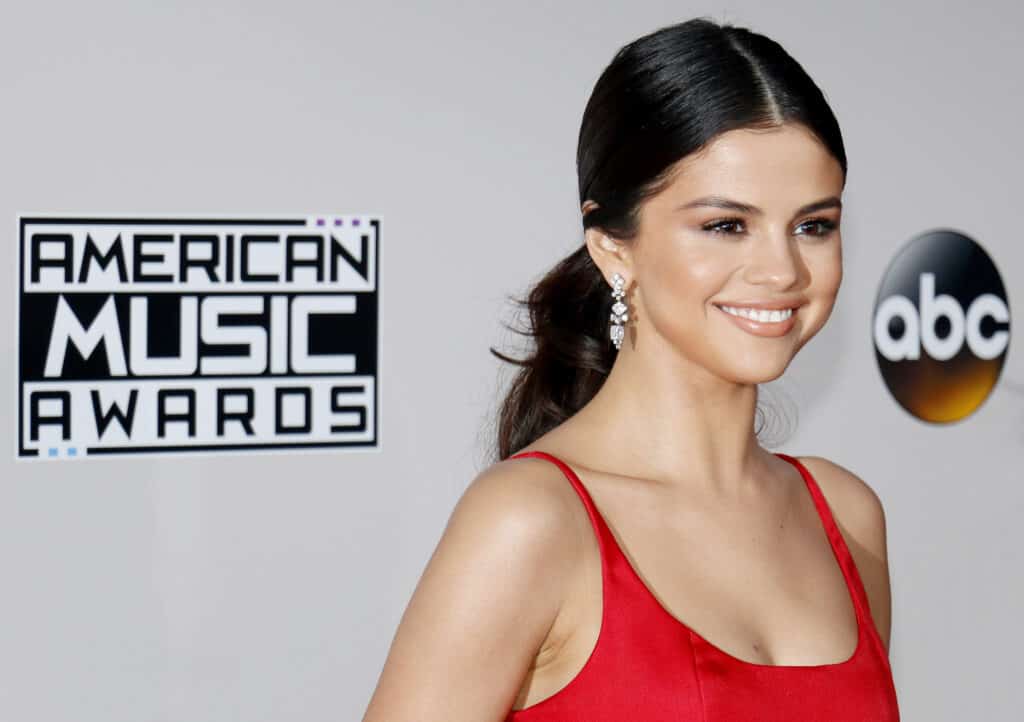 Selena Gomez's Makeup Bag Starts With a Clean Moisturized Face
Selena Gomez starts off her makeup selection with an emphasis on the importance of moisturizing, a lesson her grandma taught her when she was young.
"Even though my nanna is only in her late 50s now, she's taken care of her skin for as long as I can remember. She would always smell so good because she'd wash her face with Oil of Olay, and then she would moisturize, and she would just lie down and go to sleep."
She added, "So when my mom hit about 21, my nanna started giving her old Olay products, sort of like hand-me-downs—even when my mom tries new things, she always goes back to Olay. And it must work because my mom has the most incredible, beautiful skin."
Selena also makes it clear that a good cleanser is essential, as high-quality cleanser makes a huge difference
"When I don't get a chance to do the whole routine in the morning, it really bums me out. It kind of affects your mood when you don't take enough time to pamper yourself"
This is why Selena uses Clarisonic and Sonic Radiance Skin Renewing Peel Wash, "I use this maybe four or five times a week, so my skin has a chance to breathe before all the madness starts".
When it comes to dark circles, Selena likes to use First Aid Beauty's Eye Duty Triple Remedy, "If you get dark circles, it's the shit. I'll put it on, it feels all good and cold, go have a coffee, and that's the bomb."
Selena Gomez's Makeup Bag Essentials
For foundation, Selena usually goes for the Oil-Free Supreme Foundation by Laura Mercier. You can pick up this foundation for about $60. Selena says "most of the time I like to look matte", which is why she uses the Laura Mercier Supreme Foundation.
What about power? Selena likes to use MAC Mineralized Skinfinish, which gives off a matte finish. Costing around $48, this powder gives off a natural look, which is what Selena usually goes for unless she's on the red carpet
"Most of the time I like to look matte, unless I am on the red carpet"
When it comes to eyebrows, Selena goes for a medium to bold look. She likes to use Instant Brow Pencil by Benefit. Starting at around $24 online. She likes to "use the shade Medium to Dark".
Selena also likes to wear the Gimme Brow, also from Benefit. She finds that "This gel really sets the brows. I use the color medium/deep". You can pick one of these up for around $20.
As for lips, it really depends on the occasion. For daily use, Selena likes to use Fresh's Sugar Lip Serum, which costs around $60.
On the red carpet, Selena likes to wear Chanel Levres Scintillantes Glossimer, "I never wear lipstick or lip gloss in my normal everyday life but on the red carpet I like to use this pencil for a little pop."
If Selena has an important meeting, she uses Nars Lip Pencil. This is a moisturizing gloss that she uses as a top-coat. She likes to use the Subtil shade.
When it comes to her eyes, Selena adores Urban Decay Naked Palette and Victoria's Secret Deluxe Eye Palette. She likes to use the Urban Decay Naked Palette she goes out, "it adds a little bit of sheen".
Selena must also use a few of her own products in her makeup bag, right? Her brand is called Rare Beauty and has its roots in supporting children and adults with mental health difficulties. Her most recent mission includes mental health education at schools.
She has a collection of eye, face, and lip makeup on her website, including the Rare Beauty Discovery Pallet and the Liquid Touch Weightless Foundation.