In the late 2010s, Billie Eilish became one of the brightest young stars in music after topping the charts in her teens. What genre of music does Eilish perform in?
The music of Billie Eilish is generally categorized as pop, particularly electropop and dark pop, inspired by a diverse range of musical influences. Eilish feels that rigid music genres are outdated and has expressed this opinion in several interviews.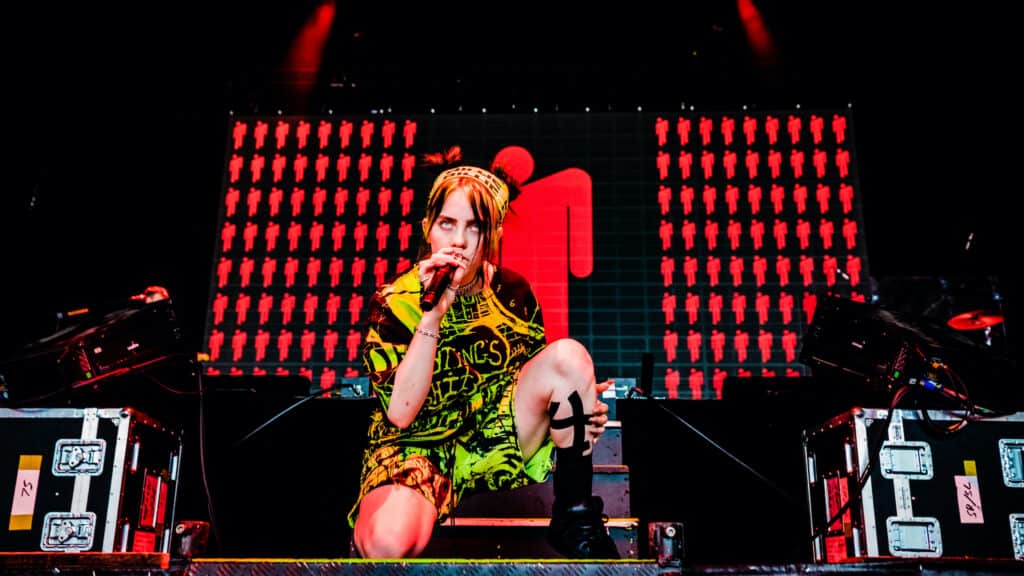 For more on Billie Eilish and her musical genre, read on.
Influences
Billie Eilish's musical genre is difficult to define, which is unsurprising when considering how diverse her musical influences are. She was raised in a musical family; her older brother, Finneas O'Connell, is a singer-songwriter and producer who has collaborated with Eilish on her projects.
In her youth, she has said that she listened to The Beatles, Green Day, Justin Bieber and Lana Del Rey. In her teens, she discovered a love of hip hop and has named Childish Gambino, Tyler the Creator, and Nicki Minaj as three of her biggest musical influences.
Eilish also listened to the Spice Girls, Amy Winehouse and Lorde and, like Winehouse, she is comfortable working in a variety of musical genres. The media has made comparisons between Eilish and Del Rey, Lorde and Avril Lavigne but Eilish's hip-hop inspired style choices set her apart from those singers.
Eilish was inspired to pursue a career as a singer after listening to Aurora's 2016 single "Runaway" on YouTube. During a period when she was questioning whether or not to keep making music, Eilish has said that listening to Ariana Grande's album "Thank U, Next", released in 2019, motivated her to continue.
Genre
Her music can be generally categorized as pop but pop itself has become so vaguely defined and vast that Eilish also fits into numerous subgenres. Among these are electropop, emo pop, indie pop, teen pop, dark pop, goth-pop, and experimental pop.
That people attempt to place Eilish into so many different genres is a compliment to the range that she exhibits in her music. It also suggests that trying to categorize modern musicians is largely futile, given the number of different influences that are accessible to them via the internet.
She has expressed this opinion herself; during an interview with Billboard, she outright stated "I hate the idea of genres", an attitude that is reflected in her music. Eilish has collaborated with her brother, Finneas, on her projects. The siblings write songs together, with Eilish performing and Finneas producing.
To cultivate Eilish's unique sound, the siblings listen to every genre of music they can, from numerous time periods. As a result, there are echoes of many different styles from different eras, with Finneas describing the process as synthesizing and boiling those influences down into a broth.
Eilish has been praised for her confidence while singing, especially considering her global profile from such an early age. She frequently sings in a whispered style, despite displaying her powerful soprano voice in other instances.
Style
Her initial rise to superstardom was marked by her ability to connect with a young audience, primarily teenagers. Though she is generally categorized as a pop musician, Eilish has always displayed a willingness to address the numerous anxieties that face young people of her generation, including topics such as teenage depression and climate change.
There is also a sense that Eilish, as an artist, is less "safe" and polished than many of her pop peers. Rather than shying away from difficult subjects and leaving her social media in the hands of a manager, she is open and impulsive online.
This sense of immediacy and honesty can be seen on her Instagram, which has more than 65 million followers, where she speaks to her fans directly. Her captions can often be nonsensical and flippant but she also takes time to talk about more serious topics such as racial inequality and other social issues.
This individuality extends to Eilish's fashion sense. Far from fitting the traditional mold of what a teenage pop star should look like in a stylistic sense, Eilish's hair frequently shifts between several brightly colored, artificial shades. She wears baggy clothes a range of colors as outlandish as her hair and accompanies them with heavy-duty, hip hop style jewelry.
She stated that she wears baggy clothing not because she has body issues but to prevent any kind of discussion of her body. By wearing baggy clothing, people remain focused on her music instead of her appearance.