Frank Ocean, born October 28th, 1987, is a famed American singer-songwriter known for his rather unique yet captivating style of music. Known for his lo-fi, chill style, coupled with hard-hitting lyrics, it's easy to see how Frank is so popular. The question is, what genre actually defines the music he creates?
Frank Ocean is predominately defined as an R&B artist by music service providers, and it's the category where you'll find most of his music listed. However, it's clear he draws from a ton of different places, including hip hop, electro-funk, psychedelic, jazz-funk, pop-soul, and many more.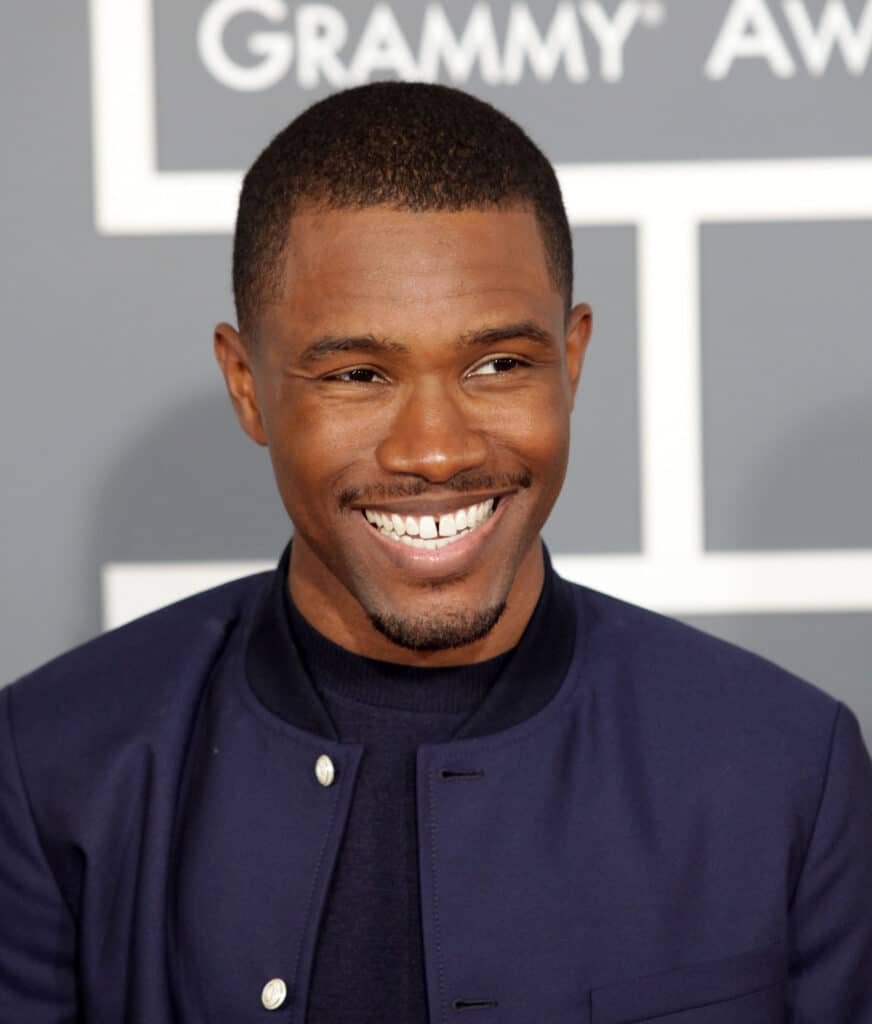 Today, we're going to take a moment to explore Frank Ocean, seeing who he is, where he came from, and how far his music is taking him. Let's go.
The Brief History of Frank Ocean
Let's start at the beginning.
Frank was born October 28th, 1987, in sunny Long Beach, California. When he was five years old, he moved with his family to New Orleans, where he was introduced to music, primarily by his mother. She was a jazz lover and would listen to all her favorite classics in their car, as well as pop favorites at the time, which included artists like Celion Dion and The Phantom of the Opera soundtrack.
As Frank grew up, he shared his mother's love for music and started visiting jazz bars within the city, which he loved, and found himself inspired enough to want to create his own career in music.
First, he needed to book some time in the recording studio, which he paid for by working throughout his local area. He recalls doing jobs like cutting his neighbor's lawns, washing cars, and dog walking.
He did attend the University of New Orleans until 2006 when Hurricane Katrina destroyed it. He was forced to move to the University of Louisana but dropped out shortly after arriving to focus on progressing his music career.
The Legend Begins
Frank started out his career by writing songs for other artists, a job known as ghostwriting. He worked with studios to write popular songs for artists like John Legend, Beyonce, Justin Bieber, and more.
While he enjoyed this work, and in his own words called it 'comfy,' he wanted to expand out and do his own thing. Fast forward to 2011, and this is what he did. While signed by the hip hop collective known as Odd Future, he felt the label wasn't really doing anything for him and decided to go his own way.
In February of the same year, he released his first mixtape, Nostalgia, Ultra, which was available online for free. Critics hailed the mixtape for being something different, bringing something new to the table, and for Frank 'setting himself apart from the pack.'
From here, Frank's career started to snowball. He released Channel Orange a year later, followed by Endless and Blonde in 2016. These albums pushed the boundaries of every genre Frank dabbled in and won the hearts of millions of fans in the US and worldwide. If you haven't already, sample him for yourself.
Sit back. Close your eyes. Forget the world. Listen. It's the best way to enjoy what he has to offer.
The Style We've Loved from the Start
There's no doubt that, as the critics claim, Frank's style is very different from the typical pop and chart music we're used to. It's filled with soul and harmony. It's hard-hitting but gentle at the same time. It's these feelings that perhaps bought you to this page in the first place.
Let's explore it.
What really sets Frank's music apart from the rest is the fact that he bends traditional music rules. Many of his tracks are set to a midtempo and pride themselves on their alternative and unusual melodies.
In this article by Jon Pareles of the New York Times, he talks about so much power is bought to Ocean's music because it's there's such a fine line between singing and talking. Sometimes, it sounds like Frank is just having a conversation with his listeners, making his tracks feel personal, rather than just a musician singing at us.
This is coupled with Frank's presence on stage when he performs live. Critics have described Frank as being 'low key' and relatively passive. He's not jumping around the stage and making sure everyone is looking at him, but instead being subtle and gentle with his listeners, but still creating such a powerful and impactful set.
So, when it actually comes to the genre Frank is defined as, while many music services will mainly list him under R&B or hip hop, it's clear to see that, in reality, he is a mix of so many genres he's adored throughout his life, and we and all the rest of his fans are thankful for the audio experiences he has gifted to the world.
We can't wait to see what he does next!