Having played superheroes like Batman and Daredevil, Ben Affleck's height seems to have contributed greatly to the variety of roles he's portrayed in his acting career. He obviously towers over his real-life BFF Matt Damon – so how tall is Ben Affleck exactly?
Ben Affleck stands 6 feet 2 ¼ (1.89 m or 189 cm) tall.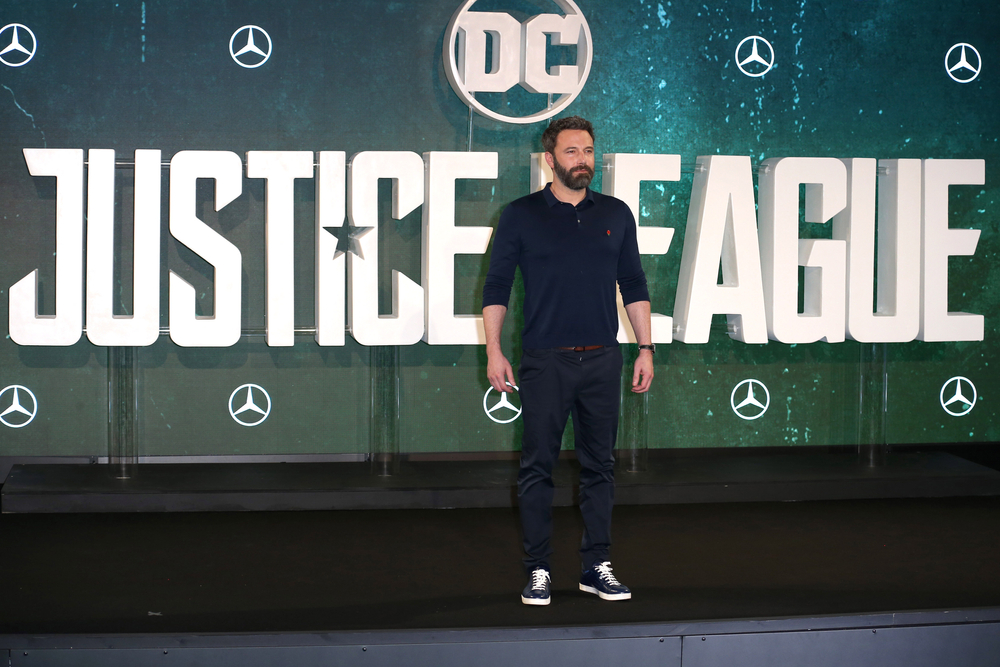 There's more to know about the recently-remarried leading man! Keep scrolling.
The Basics About Ben Affleck
The Gone Girl actor was born in California but grew up in Massachusetts where he met his lifetime best friend Matt Damon. Ben was 8 and Matt was 10 when they met and became friends.
Affleck was born on August 15, 1972, to parents Chris Anne and Timothy Byers. His little brother, Casey Affleck, who has become an accomplished actor himself, was born 3 years after Ben. Ben Affleck turned 50 years old in 2022. 
Ben is considered a big guy, and it shows when he's standing beside his co-actors and people from his personal life. He is taller than his brother Casey by a little over 5 inches, while Matt Damon, who is 5'10", is about 4 inches shorter than Ben.
Ben Affleck's Marriages
Ben Affleck has been married twice, to women who share the same first name: Jennifer.
Jennifer Garner and Ben Affleck were married from 2005 to 2018. They first met on the set of Pearl Harbor in 2000 but Jennifer was married to another actor at the time. They fell in love in 2002 while on the set of Daredevil where Ben played Matt Murdock/Daredevil and Jennifer played Elektra Natchios, but things were complicated because Ben was still engaged to Jennifer Lopez then. 
By 2005, Ben Affleck and Jennifer Garner got engaged, married, and had their first child, Violet. Their second child, Seraphina, was born in 2009, and their third, Samuel, in 2012.
The couple stayed together for a long time (by Hollywood standards) and went through many challenges together, particularly Ben's struggle with alcoholism. They announced their separation in 2015 amid rumors of Ben Affleck having an affair with the nanny, and in 2018 their divorce was finalized.
Jennifer Lopez and Ben Affleck were formerly engaged, from around 2002 to 2003. They met on the set of Gigli which the two stars headlined. The couple, famously dubbed "Bennifer," was all over the tabloids so their sudden breakup came as a shock to everyone. 
Both of them were able to move on after the breakup and had their own families. JLo married Latino singer Marc Anthony and had twins with him, Max and Emme. They eventually split after 10 years of marriage. She's had quite a few high-profile relationships after, and even got engaged to former NY Yankee Alex Rodriguez.
"Bennifer 2.0" started in 2021 when Ben Affleck and Jennifer Lopez were seen out on a date together in Los Angeles. By July of that year, they went "Instagram official" as JLo posted a photo of them kissing. The rekindled couple hid their affection for each other since then, appearing on red carpet events together as each other's date.
By April 2022, they announced their engagement which finally led to saying "I do" twice – at a Las Vegas wedding in July and in August with friends and family in Georgia.
Height Comparisons
Ben Affleck's first wife, Jennifer Garner, is on the taller side standing at 5′ 8″ (1.73 m), which has her shorter than her former husband by a little over 6 inches. Their height difference was not as obvious during red carpet events as Jennifer would be wearing high heels.
Jennifer Lopez, on the other hand, is a petite woman standing at 5′ 4½" (1.64 m) and even when she's wearing sky-high heels, Ben Affleck towers over her significantly.