Melania Trump is a Slovene-American mother, wife, and businesswoman who was once a model and the First Lady of the United States. She's perhaps the most mysterious and mystifying First Lady the United States has ever known, but once upon a time she was a regular high school student.
Melania attended the Ljubljana Secondary School for Design and Photography, a prestigious high school right in the city center of Ljubljana. As a high school student, she was intensely focused, always perfectly put together, and wore a full face of makeup every day.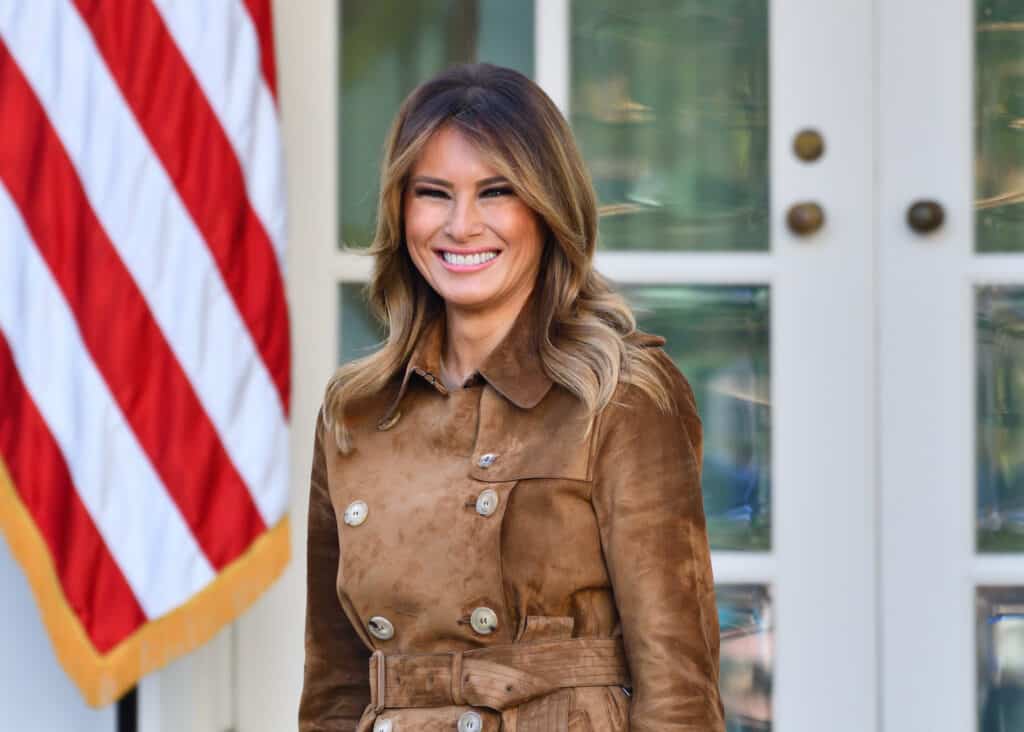 It's difficult to imagine the ever-poised Melania wearing anything other than a perfectly tailored fitted dress — never mind a school uniform! Let's take a look at Melania Trump's time in high school, her short stint in university, and how she supports her son's education today. 
Melania Trump's Time in High School
Melania was born in Novo Mesto, Slovenia, and was the second daughter of Amalija and Viktor Knavs. Growing up, Melania was incredibly close to her sister Ines and the pair spent most of their childhood in the railroad town of Sevnica.
However, when it was time for Melania to go to high school the family said goodbye to Sevnica and hello to Ljubljana. They resided in one of the first residential high-rises and lived a life of subtle luxury.
Instead of attending one of the 10 public schools that Ljubljana has to offer, Melania went to one of the three private high schools in the city: Ljubljana Secondary School for Design and Photography.
As a high school student, Melania is remembered by her classmates for being "perfect, every day". A schoolmate, Petra Sedej, says Melania would wear "Foundation, mascara, blush, lip gloss, all in just the right, subtle amount. Even in summertime!"
Did Melania Trump Go to University?
After graduating from high school Melania set her sights on attending university. The University of Ljubljana was her choice for secondary education.
Melania aced the notoriously difficult entrance exam and became a student at the university. She wanted to be a designer and was studying design and architecture.
While most people use being a university student as an excuse to party and let loose, the same cannot be said for Melania. She remained incredibly focused on school and refrained from drinking, smoking, and partying in general.
But just as Melania was finding her feet in university, her modeling career took off and she had a difficult decision to make. She walked away from books and toward the catwalk.
One of her former professors, Blaz Matija Vogelnik, says "her IQ was very high". He says of her decision "My personal opinion is that, because she was a very beautiful girl, I believe that she realized that she could gain more with that, than to have long studies."
According to her official bio, Melania "paused her studies to advance her modeling career" but it seems as though that pause was permanent. Claims that she graduated with a degree in design and architecture are false.
Melania and Her Focus on Barron's Schooling
Even though her life took her in the opposite direction of secondary education, Melania is not going to let the same be said for her son, Barron. Say what you want about Melania, but she's a dedicated parent.
Melania once said, "You judge a society but how it treats its citizens. We must do our best to ensure that every child can live in comfort and security, with the best possible education", and it's clear she means it.
Barron attends St. Andrews Episcopal School, an independent coeducational college preparatory school. Melania chose this school specifically because of "its diverse community and commitment to academic excellence."
Melania's decision to send Barron to St. Andrews shocked the nation and made headline news. This is because for the past 35 years every child of the President of the United States has attended Sidwell Friends.
Her approach to balanced parenting is admirable. She revealed, "I'm a full-time mom; that is my first job. The most important job ever. I started my business when he started school. When he is in school, I do my meetings, my sketches, and everything else. I cook him breakfast. Bring him to school. Pick him up."
Melania may do the school run, but she does it in style. She admitted, "I don't see myself going out in sweats, dropping Barron at school in sweats — it's just not my style — never was. I like to put myself together and go out."