Most people who went to high school remember 'track and field day' (some fondly, and others with disdain), but what would these typical high school experiences have been like for a superstar athlete like Usain Bolt?
Usain Bolt went to William Knibb Memorial High School in Jamaica. Usain Bolt played a variety of sports at the time, including cricket, and his coach encouraged him to try out track and field due to his impressive speed.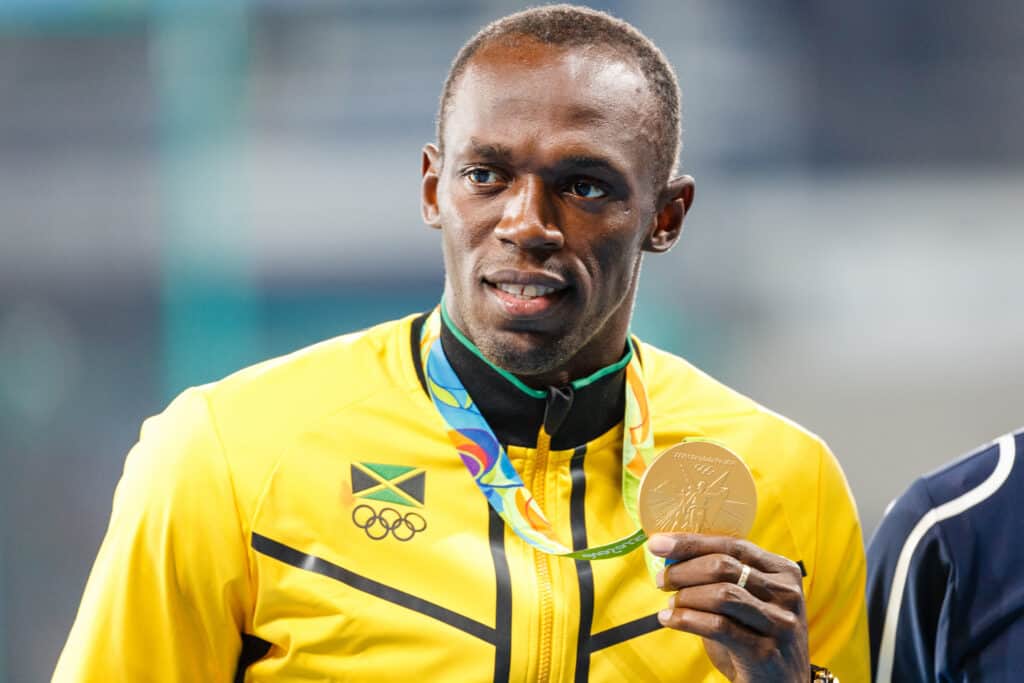 In addition to attending high school, Usain Bolt also studied briefly at the University of Technology in Jamaica but did not complete a degree program. Although schooling was not the main focus of his life as he has tremendous athletic talent that superseded this, Usain Bolt has made it clear that he values education.
High School and Early Life
Usain Bolt was born in 1986 in Sherwood Content, a small Jamaican town. He adored playing sports growing up, especially cricket, soccer, and bowling.
He impressed adults with his athletic abilities, entering local races that established him as a sprinter to watch, even at the young age of 12. Usain Bolt was one of the fastest sprinters around.
Usain Bolt enrolled in William Knibb Memorial High School, which was known for its athletic prep program and accomplished alumni such as Michael Green, a Jamaican sprinter whose specialty was the 100-meter sprint.
Still, his focus was not on track and field. Instead, Usain Bolt concerned himself with cricket, and he's called Waqar Younis, a Pakistani cricket player, one of his sporting inspirations.
His coach had other ideas. His cricket coach recognized Usain Bolt's speed for what it was – an athletic marvel – and encouraged Bolt to try out for track and field.
This decision led to immense athletic success and a couple of practical jokes.
Usain Bolt represented Jamaica in the 2001 and 2002 CARIFTA Games. In the 2001 games, he came in second place in the 200-meter sprint and the 400-meter sprint.
At the time, Usain Bolt was very young and didn't take himself too seriously, and he expressed this by playing a practical joke during the 2002 CARIFTA Games by hiding in a van instead of preparing for the finals. The police didn't share his sense of humor, and Usain Bolt was detained – however, thankfully, he was released soon after, and he went on to set championship records in both races.
He was not yet 15, and yet he was setting some of the most astonishing records in sports at the time. He was going to world championships when many his age would be going to their first-period class.
Higher Education and Honorary Degree
Usain Bolt attended the University of Technology in Jamaica, although he did this primarily for training purposes instead of academic ones. According to the Jamaica Observer, the University of Technology was the first in Jamaica to establish a University Sports Faculty, known as the Faculty of Science and Sport.
Usain Bolt did not complete a degree during his time at the University of Technology. However, he does have an honorary law degree from the University of West Indies Mona in Kingston, Jamaica.
He also holds an honorary doctorate from the Queen's University in Belfast, Northern Ireland.
In addition to his honorary degrees, the Jamaican government gave Usain Bolt a national honor, the Order of Jamaica, and the diplomatic title 'Ambassador-at-Large.' With his honorary degrees and diplomatic title, the 'Lightning Bolt' is also 'Dr. Ambassador-at-Large Usain Bolt.'
Scholarships
In addition to his honorary degrees, Usain Bolt has demonstrated his commitment to education through his charitable foundation, the Usain Bolt Foundation.
The Usain Bolt Foundation is "dedicated to the legacy for happy children; to enhance the character of children through educational and cultural development, as they live their dreams." The foundation offers sponsorships for young Jamaican athletes and donates supplies and funds to schools and hospitals.
His foundation showcases how much Usain Bolt cares about others and cares deeply for his home country of Jamaica. Fascinatingly, although Usain Bolt now offers scholarships to others, he turned down scholarships when he was a budding athlete.
There's a simple explanation for that: U.S. colleges offered the track scholarships, but Usain Bolt wanted to stay in Jamaica, as it is his home. "I can't live outside Jamaica," he said.
Usain Bolt has since retired from professional athletics to focus on his family life, which means he has time to snap up a couple more degrees if he feels inclined.
However, he has already accomplished so much that it's more likely he just wants to finally relax, as he did in this Instagram photo he posted with the caption, "Work hard for what u want always."
Usain Bolt has definitely done so.