Usain Bolt is most commonly known for his almost impossible to comprehend speeds on the racetrack as the fastest man in the world. How did this Olympian idol get to that point?
Usain Bolt's daily routine consists of healthy eating, physical training, and spending time with his loved ones. Although he does keep a healthy lifestyle, Usain Bolt has also expressed a fondness for sleeping in and eating chicken nuggets.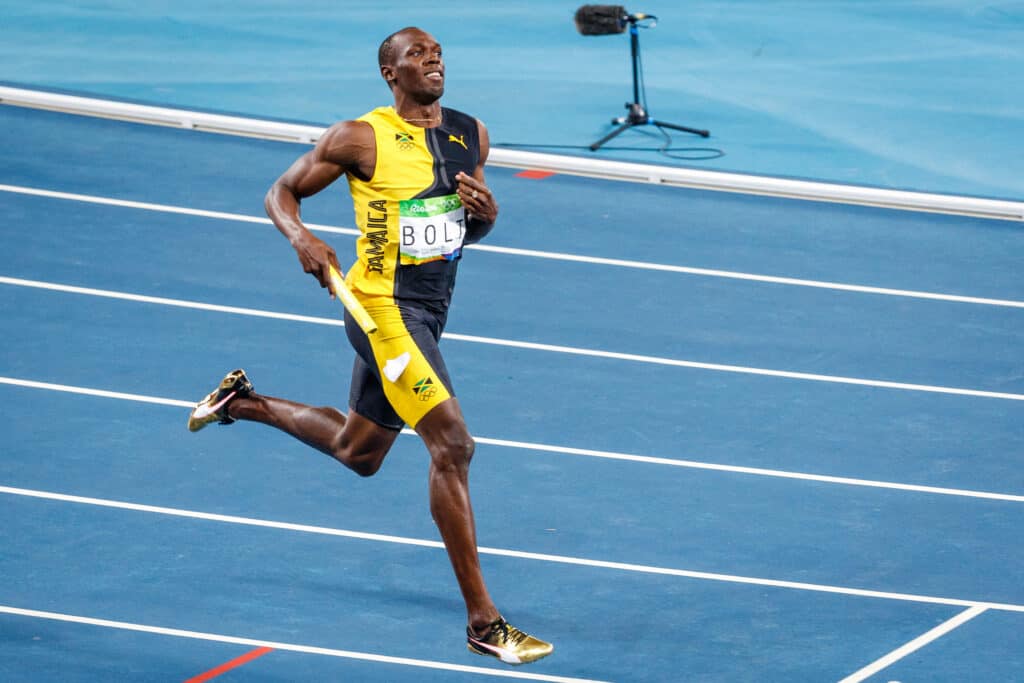 Famous Olympians — they're just like us! Who can't relate to loving sleeping in and chowing down on fast food?
Daily Routine, Diet, and Exercise
Although many people claim Usain Bolt is the fastest man alive, even that spectacular statement is an understatement.
There is no one in recorded history whose been recorded as faster, making Usain Bolt the fastest man, period. He's the fastest man ever.
One might expect an intense routine from such a man, someone who has repeatedly broken world records and set the ideal for Olympic athletes everywhere. Usain Bolt delivers.
In a GQ profile, Usain Bolt says that his days training in Jamaica often consist of efforts to stay hydrated in the heat, saying, "I try not to eat too much up to a workout, but I stay hydrated. I drink Gatorade throughout the day because it's so hot in Jamaica."
Otherwise, Usain Bolt is thankful to have his own cook, which helps with his morning routine. He wakes up, eats an egg sandwich, spends approximately 20 minutes weightlifting, then has a light lunch.
Then, he starts training for the day.
Usain Bolt says that he's committed to a healthy diet, but he doesn't enjoy every aspect, saying, "During the day I only eat just enough to have energy for training and to make sure I digest fast enough. But at night, before I go to sleep, I consume a lot of food. My coach wants me to eat a lot of vegetables, so I do eat more of that than anything else. I'll eat broccoli, but I'm not a big fan."
Although he isn't a big fan of broccoli, Usain Bolt says that he does have one particular food craving that he loves: hot wings. He says that he always craves them.
In another GQ profile, Usain Bolt says that one of his main training secrets is to simply give it his all every time. He says, "I don't want to come in second. When I'm at the gym, I think about chicks, going to the beach, and looking good. I do it for the girls."
Usain Bolt typically does 90-minute workouts geared towards maintaining a lean physique, which involves a lot of hamstring curls and leg extensions.
Usain Bolt says that building your body to perform better is always possible, saying, "If you're not the athletic type, it's going to take more to get your body in the shape that you want. But if you really want it, it's possible. It's all about consistency."
Chicken Nuggets and Sleeping In
Although Usain Bolt trains hard, he doesn't forget to appreciate the finer things in life, like snacks and sleep.
Sleep is especially important, as it allows one's body to rest and recover after intense workouts. Owaves reports that Usain Bolt typically wakes up at 10 AM and tries to get eight hours of sleep each night.
Usain Bolt says, "Sleep is extremely important to me — I need to rest and recover in order for the training I do to be absorbed by my body."
Additionally, Usain Bolt has a love for chicken nuggets. Although they are not part of his daily diet, Usain Bolt reportedly snacked on approximately 10,000 chicken nuggets during his ten days at the Beijing 2008 Olympics as he did not take well to the food there.
In his biography, Usain Bolt writes, "Man, I should have gotten a gold medal for all that chowing down." Despite those 10,000 chicken nuggets, Usain Bolt typically eats an incredibly healthy diet during his typical daily life.
However, if you want to see Usain Bolt chow down on some delicious snacks, you can watch this video he did with LADbible TV, where he enjoys some Jamaican snacks and dishes about his favorite dishes.
Overall, if you want to live like Usain Bolt, it seems to be a balance of pushing yourself to the limit and giving yourself time to recover and enjoy life.