Walt Disney is known for creating some of the most beloved animated characters around, but where did he learn how to create such art?
Walt Disney went to McKinley High School in Chicago, but he dropped out at 16 to join the U.S Army. At just 16, he was too young, so Disney joined the Red Cross instead.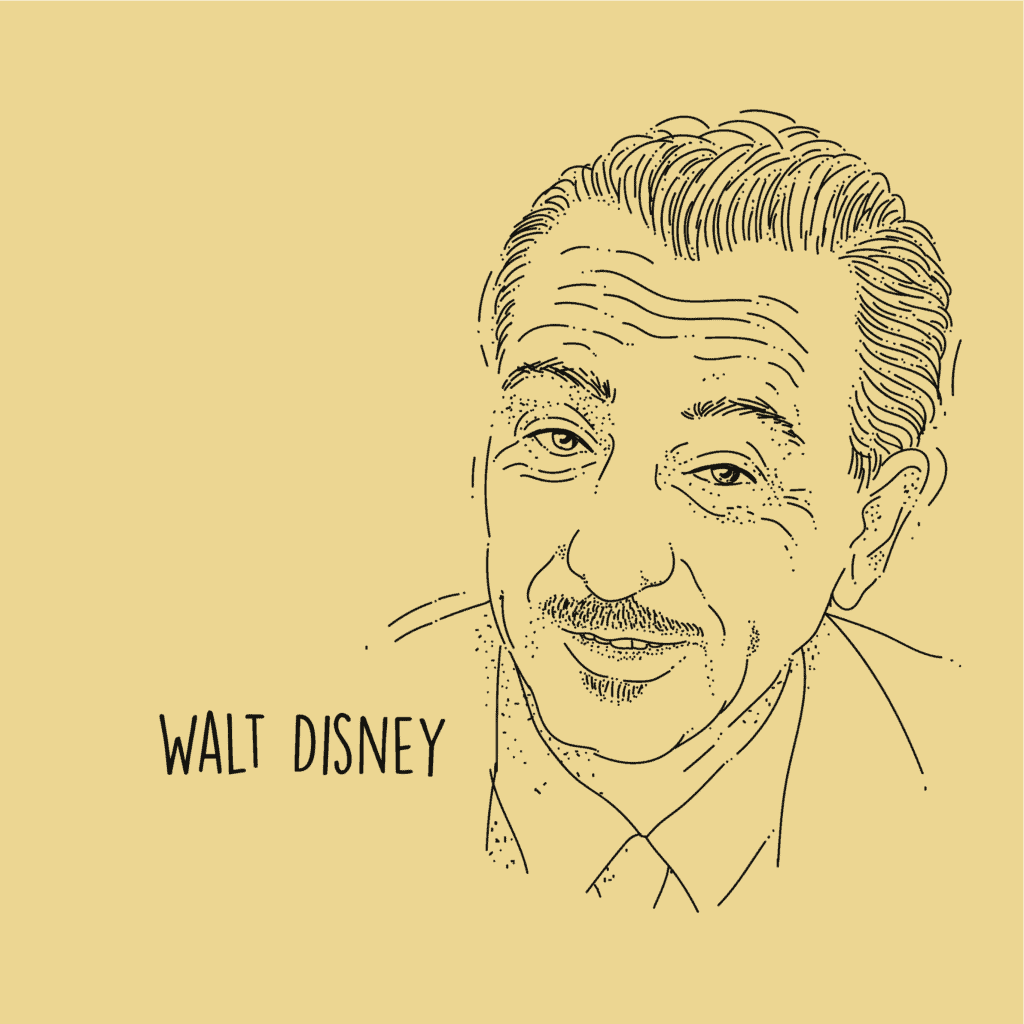 Walt Disney is proof that although education is important, it isn't always necessary if you have a specific passion and massive amounts of talent.
Walt Disney's Early Life
Walt Disney grew up in Chicago, Illinois, and showed a natural aptitude for cartoons from a young age. Initially, he shared his illustrations with friends and family, who were impressed by his talents. 
Walt Disney began to take drawing classes at McKinley High School in addition to taking photography classes and illustrating for the high school's student paper. He even took night classes at the Art Institute of Chicago.
In a fascinating turn of events that demonstrate how far life can take someone if they show dedication and perseverance, the Art Institute of Chicago later held art exhibitions of Walt Disney's work and his portrait by Yousuf Karsh is in their collection of photography. 
Although Walt Disney excelled in the arts, school was not his passion, and he dropped out of high school at 16 years old – his goal was to join the Army, but he was underage and they turned him away.
Instead, Walt Disney joined the Red Cross and drove an ambulance in France until 1919. Notably, his ambulance was utterly covered in cartoons and illustrations!
Early Career
Upon returning from France, Disney took his passion for art to Kansas City and worked as an advertising cartoonist for a newspaper. He later worked with the Kansas City Film Ad Company.
Each job gave him the necessary skills to blend drawings and film into animated cartoons, and Walt Disney left Kansas City for the bright lights of Hollywood.
According to the Walt Disney Archives, he had $40 to his name. 
Luckily, he also had a brother, Roy O. Disney, who contributed $250, and together they were able to borrow $500. They began film production with what would be approximately $12,000 in the modern era – that's impressive when compared to recent animated films like 'Frozen,' which cost around $150 million to produce.
Many people know that Walt Disney's famous Mickey Mouse character made his onscreen debut in 'Steamboat Willie,' but few know that Mickey Mouse was actually in a silent film called 'Plane Crazy,' first. Due to sound's explosion in popularity in film at the time, Mickey Mouse's originally-planned debut was rescheduled.
Successes and Accomplishments
Walt Disney went on from those early films to become one of the most successful cartoonists and filmmakers globally.
Walt Disney won 32 Academy Awards in his lifetime. The first Academy Award he won was for a film called 'Flowers and Trees,' part of his 'Silly Symphonies' series, which nabbed him the award in 1932.
His Disney movie studio is one of the most famous and successful studios ever because of Walt Disney's drive and motivation. Mickey Mouse, a fan-beloved creation of Disney's, celebrated his 90th birthday in 2019 in spectacular style.
Mickey Mouse even visited China during this extravaganza and was greeted with extreme enthusiasm by fans. The lovable cartoon mouse even visited some real-life adorable animals, namely a baby panda, which you can see in the video below.
Walt Disney's legacy has lived for decades. His legacy has endured so long because Walt Disney used his successes to reinvest in other people.
For example, Disney formed the California Institute of the Arts in 1961, an institution that aspired to create "a multidisciplinary 'community of the arts' built around the real-life experience of working artists." It eventually became one of the most elite institutions in the art world and now boasts famous alumni such as Tim Burton.
Walt Disney created and produced over 100 feature films throughout his life, including 'Dumbo,' 'Bambi,' 'Lady and the Tramp,' and 'Alice in Wonderland.' These films have inspired legions of tributes and remakes, all holding candles to the original masterpieces.
From his humble Chicago beginnings to the silver screen, Walt Disney always made his passion his priority. He was a man who cared deeply about his art, and in turn, his art inspired generations.