Alexa Chung isn't just a writer, model, and fashion designer, she's also hair goals for so many women. So what's her natural hair color?
Alexa Chung's natural hair color is brown. She likes to keep her hair looking natural so if she does color it, she does it using a variety of shades of brown. In 2018, she told Vogue India that she uses L'Oreal Professional's Parisian Chocolat line to highlight her hair.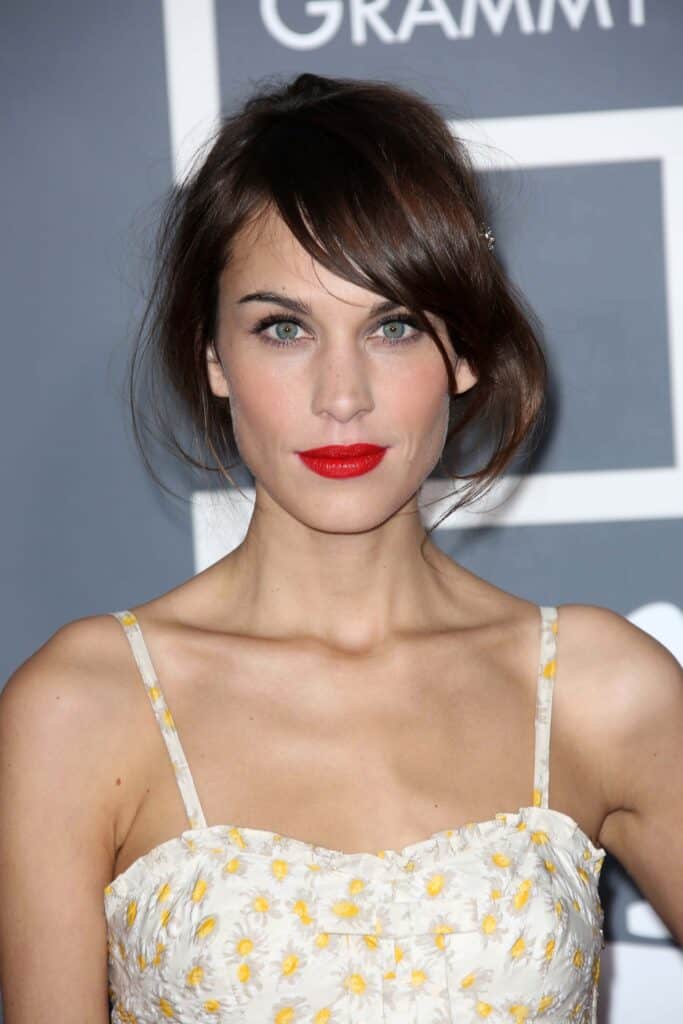 You can read more below about Alexa Chung's partnership with L'Oréal Professionnel and her different hair hacks.
Chung's Partnership with L'Oréal Professionnel
As we said above, Alexa Chung told Vogue India that she was using the L'Oréal Professionnel Parisian Chocolat hair color line in 2018. The reason she is using this hair color treatment is that she partnered with L'Oréal Professionnel to promote their Parisian Nudes line.
Who better to represent the brand than the woman who is known for her Parisian looks? (Even if she is not French)
In that same interview, Chung said that her partnership with L'Oréal had started in 2017. They were backstage at her very first fashion shows in London and New York and she has been using their products for a long time.
In 2018, when Alexa Chung was named as the face of the Parisian Nudes campaign L'Oréal was very excited to have her.
Marion Brunet, the International General Manager, said in a press statement "Alexa Chung truly embodies L'Oréal Professionnel's core values. She is a trendsetter, is passionate about fashion, and believes in the added value of professional hair artistry."
After the announcement, Chung joked that she was picked by L'Oréal because she "pretends to be French a lot." Either way, her chic style landed her a great campaign.
And, because she landed this campaign, it allowed a lot of media outlets to interview her about all of the different things she does to have such great hair.
You can watch Alexa Chung reacting to and discussing her past hairstyles with her hairstylist George Northwood in the below video that was posted on her YouTube channel. Interestingly, unlike many hairdressers, Northwood recommends bringing pictures with you of the look you want when getting your hair done.
Alexa Chung on Her Hair
Chung's hair is pretty much the envy of all. She seems to always have voluminous waves and perfected messiness to her hair. This begs the question, how does she do it?
Well, she dished on all of it in a few interviews. She talked to Byrdie contributor Amy Lawrenson all about her hair in an interview.
Alexa Chung was asked what her favorite hairstyle is that she's had. She responded that she hasn't actually done it yet but she loves the bobs that are super long in the front and short in the back.
In fact, in February 2021 she cut her hair on her own into a bob once again. She had to do it herself because of lockdown measures but her hairdresser George Northwood approved.
Northwood has been doing Chung's hair since she began her modeling career.
Alexa Chung's Hair Hacks
Chung's hair isn't as voluminous and as thick as many of the photos of her would lead you to believe. Her hair is naturally very fine and straight naturally.
She has to do a few things to get her hair to look so good. First of all, she washes her hair every single day. Chung says she does this because otherwise her hair gets greasy and stringy and loses its volume.
While her hair is still wet, she has said she will pin it up in tons of mini buns around her head and then does her makeup. When her makeup is done, the buns are usually dry enough for her to take them out, and then she has natural waves.
To give her hair volume, she uses dry shampoo and she massages her hair at the roots to give it that lift. A lot of professional hairdressers use this technique to give thin straight hair added volume.
If you're wondering whether Alexa Chung has ever had a bad haircut, she has said her dad gave her a bowl cut when she was a kid. She also apparently put yellow scotch tape in her hair to make it look blonde when she was a kid too.
However, as an adult, she seems to have come to terms with being a brunette and embraces her ultra-chic and French-girl looks.