Pop superstar Ariana Grande has a lot on her plate, balancing her lifestyle, work commitments, fitness routine, and other ventures. How does the pint-sized popstar keep up with everything?
Ariana Grande's daily routine fluctuates depending on her busy schedule, but she does keep to a strict diet and exercise routine. Additionally, she relies on her morning routine to keep herself on track and start each day on the right foot.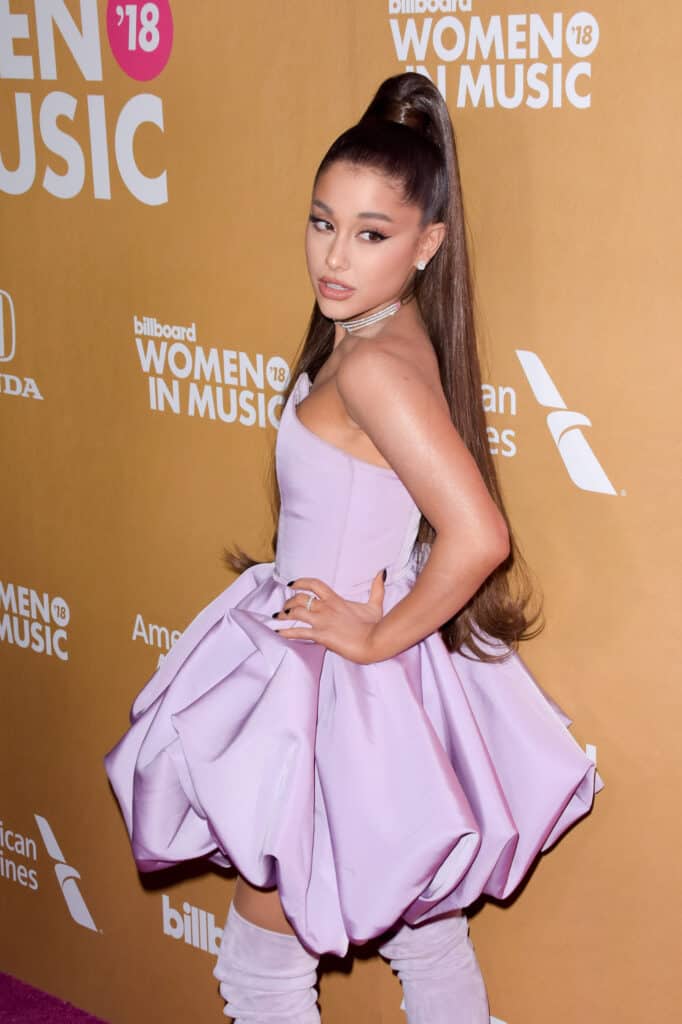 Ariana Grande's daily routine is intense and always changing to suit the demands of her industry, but if you want to be more like the pop star, her fitness routine is a great place to start — just put your hair into Grande's signature high ponytail and get ready to work!
Fitness and Diet Regimen
Ariana Grande's moves onstage may seem difficult to replicate, but her workout routine is not.
That's because the pop star's daily routine changes so much, as she is often on the road touring, and her workout routine has to stay as flexible as possible to fit Ariana Grande's rollercoaster schedule.
Still, despite her hectic daily routine, health and fitness are still incredibly important to Ariana Grande.
Insider quotes Grande from 2016, saying, "I try and live a healthy lifestyle; eating right, exercise and sleep are all so important. I try and stay really active all the time. I like to hike when I can, and being on stage is a great workout."
So, Insider spoke with Ariana Grande's personal trainer, Harley Pasternak, about how the musician stays in shape.
Harley Pasternak said that Ariana Grande's fitness secrets involve a lot of moves that can be done from home (or from hotel rooms while on tour), such as lunges and glute bridges. These moves may seem simple, but repetition is the key.
Another simple trick that Ariana Grande uses to stay healthy and active is to keep a high step count. Ariana Grande tries to reach a whopping 12,000-14,000 steps a day!
Ariana Grande has said that getting her daily steps in helps her to feel more balanced and invigorated to tackle each day's challenges. She's even said that she comes up with some of her ideas on the treadmill!
Additionally, Ariana Grande follows a strictly vegan diet, given her love for animals. Cheese and meat — thank you, next!
In 2014, Ariana Grande told The Mirror, "I love animals more than I love most people, not kidding. But I am a firm believer in eating a full plant-based, whole food diet that can expand your life length and make you an all-around happier person."
Although Ariana Grande thinks that fitness is important, she takes a holistic approach to health, saying that it isn't about how you look but about how it makes you feel.
In 2019, Ariana Grande shared an inspiring message with her Twitter followers, saying, "Everything is preparing you for something else or making you stronger or presenting you with opportunities for growth."
Morning Routine
Just as Ariana Grande likes to approach fitness holistically, she likes to start her days off in a relaxed and calm manner.
This video with British Vogue shows Ariana Grande as she gets ready to start her day.
First, she gets up out of bed with her pet dog and then takes a soothing bath. In the video, she talks about how much she enjoys keeping busy with her work, but her morning routine gives a chill perspective into one of the calm moments in Ariana Grande's day.
After her bath, she works on her computer, selects an outfit to wear, and does a subtle pink makeup look in the mirror.
Finally, she picks out a pair of shoes and leaves to start her workday.
Isolation Routine During the Pandemic
In 2020, everyone's daily routine was thrown into confusion as the coronavirus pandemic hit the world hard. Even pop stars like Ariana Grande had to reconsider their daily routines and slow things down.
Nylon reported that Ariana Grande posted a song (which has since been deleted) parody of Rodgers and Hammerstein's song, "My Favorite Things," about what her daily routine looked like while quarantining. Ariana Grande called it her "quaran(rou)tine."
Apparently, Ariana Grande's self-care routine while isolating included things like, "Hair masks and hot baths and exfoliation, zoom chats and board games, guided meditations."
The pop star then challenged her fans to share their own self-care routines.