Bono was born in 1960 and has enjoyed a career that most people can only dream of. Despite getting older, Bono leads an incredibly active lifestyle and shows no sign of letting up any time soon — but what exactly keeps the U2 frontman occupied nowadays?
Bono sure is a busy man these days. The iconic Irishman is U2's frontman, has stakes in numerous ventures, owns at least two businesses, runs two charitable foundations — and still manages to make time for his family and friends.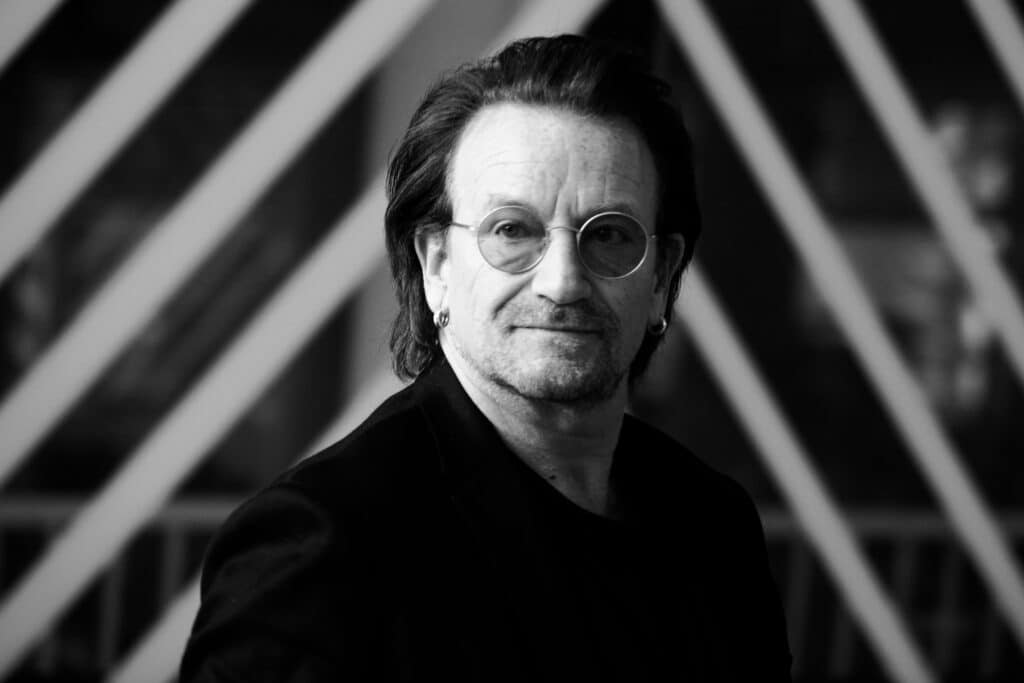 The legendary rockstar is certainly not letting his age get in the way of living a fulfilling life. He's long been known as the lead singer of one of the most successful bands of our time and is a mighty philanthropist, but what is Bono doing now?
Bono's Philanthropic Endeavors
He may be the famous frontman of U2, but Bono is also the frontman for activism, social justice, humanitarianism, and philanthropy as a whole. The iconic Irishman was first bitten by the do-gooder bug in 1979 after seeing 'The Secret Policeman's Ball'.
Throughout his lifetime, Bono has contributed to more than 40 charities and 30 causes. He has publicly supported several charities including Greenpeace, ALAFA, Every Mother Counts, Amnesty International, Millennium Promise, and UNICEF.
The singer also uses his voice as a tool in his well-stocked activism kit. He helped Sting organize Amnesty International's 'Conspiracy of Hope' tour, organized the Live 8 project in 2008, attended the 'Festival Against Racism', and penned a song called 'Silver and Gold' for 'Artists Against Apartheid'.
Though Bono is a champion for all charities, he is particularly focused on African issues. He is a vocal supporter in the fight against AIDS and extreme poverty and cofounded both ONE and (RED) to help solve these issues.
Bono's Business Ventures
Naturally, the bulk of Bono's impressive USD $700 million net worth comes from his music career. But to say that Bono doesn't keep all of his eggs in one basket would be a serious understatement.
He developed and acted as the executive producer for the film 'The Million Dollar Hotel' which won the Silver Bear award at the Berlin International Film Festival. A-list actors including Mel Gibson, Jeremy Davies, and Milla Jovovich all starred in the film.
Bono has also appeared in many TV shows such as The Simpsons, Entourage, American Idol, and Rewind. On top of appearing as himself in numerous documentaries, he stepped in front of the camera and fulfilled the role of Dr. Robert in 'Across the Universe'.
Bono is also quite a savvy businessman. He, together with bandmate the Edge, bought a budget 2-star Dublin hotel and transformed it into a luxury five-star 49-bedroom hotel — complete with a rooftop garden for U2 to perform on, of course.
He also co-founded a fashion label called EDUN, which is the word 'nude' spelled backward. This brand focuses on sustainable fashion and aims to bring about positive change in Africa by supporting fair trade.
In addition, Bono acted as a board member in the private equity firm Elevation Partners that owned a 1.5% stake in Facebook. The frontman also sits on the board of Paradise Papers and Zipline.
Bono: The Family Man and Friend
Bono has been married to his wife Ali Hewson since 21 August 1982 and the pair have four children together. He has two daughters and two sons named Jordan, Memphis 'Eve' Sunny Day, Elijah Bob Patricius Guggi Q, and John Abraham.
The superstar is incredibly close to all of his kids. Jordan is an activist and entrepreneur, Eve is an actress, Elijah is a member of a rock band called 'Inhaler', and John stays out of the spotlight — for now.
But Bono doesn't spend all of his free time with his family. Bono's closest friends include Oprah Winfrey, Paul McCartney, Bill Clinton, Beyoncé, Sean Penn, Barack Obama, and — of course — his bandmates.
Overall, Bono is leading a life he can be proud of. He told Irish Central "I'm still in a band that shares everything."
Bono says of his achievements "I'm not just shining a light on troublesome situations, but trying to do something about them. I still have my faith, I'm still in love, I'm still in a band."