Chris Hemsworth is an Australian actor who first gained popularity in Australia through his appearance in the television series "Home and Away" in 2004. His career in Hollywood started off later on, with his character of Thor in eight Marvel Cinematic Universe films beginning with "Thor'" and ending with "Avengers: Endgame". The role has catapulted the actor's career in Hollywood and has made him one of the world's highest-paid actors.
Chris Hemsworth has an iconic physique from the superhero character, Thor,  and maintains a healthy lifestyle even when he's not shooting. The actor's daily routine consists of intense bodybuilding and training, as well as eating up to six well-balanced meals throughout the day.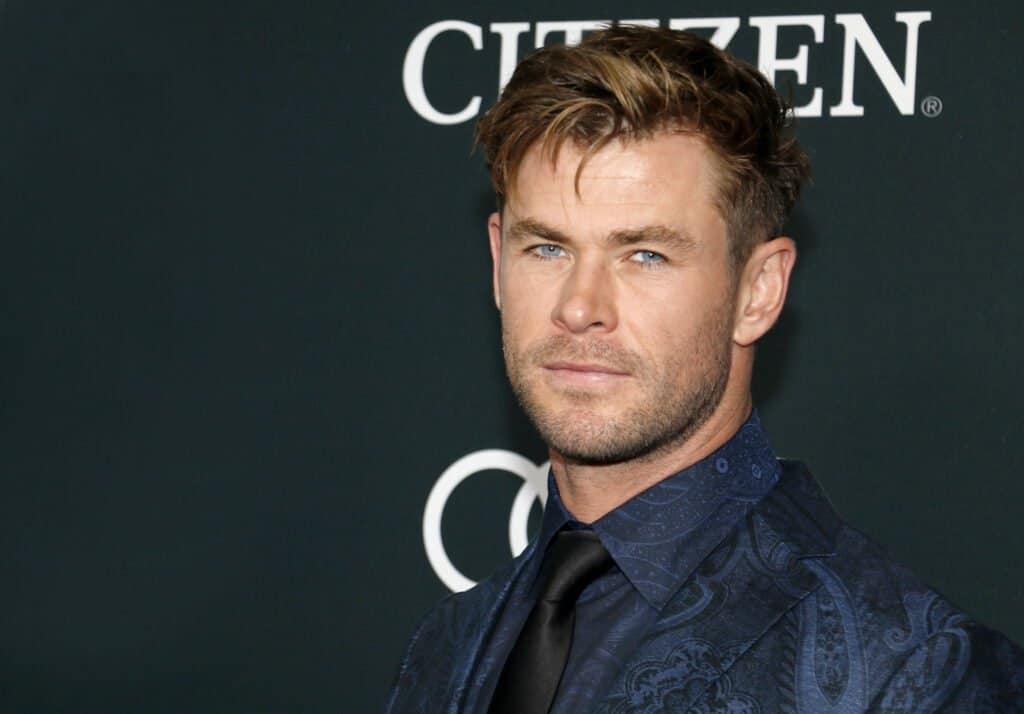 Chris Hemsworth is a member of the famous Hemsworth brother trio, all of which seem to have taken their chances in the acting world and have succeeded. Whether it's due to their good looks, acting skills, or a mixture of both, the Hemsworth brothers all have their own acting careers and Chris blew it out of the ballpark with his incredible performance as Thor.
Chris Hemsworth Beginnings in Acting
Chris Hemsworth was born in Melbourne, Australia and although surfing was always one of his passions, he knew of his interest in acting early on. All of his siblings also shared this passion, so they took on the world of acting together.
Chris attended Heathmont Secondary College where he would receive a few minor roles from time to time. His brothers, Luke and Liam, were all in the same boat but they all managed to get roles.
Hemsworth became a regular on the soap opera television show, "Home and Away", for three seasons. When the show ended, he decided to take his entertainment career to the next level and try to make it onto the American screen.
It didn't take too long for Chris to find roles in American television, and in 2009, he was featured in the remake of "Star Trek". He played the role of Captain James T. Kirk's dad, and although the part was on the smaller side, it was one of the leading opportunities for Chris in Hollywood.
Chris and his younger brother Liam ended up auditioning for the same role for the new superhero movie, "Thor", and the director, Kenneth Brannagh, did end up choosing Chris to take on the lead role. The movie ended up being a huge success when it first came out in 2011, and it helped Chris reach A-list celebrity status.
In 2012, Chris Hemsworth transformed into Thor for "The Avengers" and again the following year for "Thor: The Dark World". The character was more popular than ever, leading to him being featured in another four movies: "Avengers: Age of Ultron", "Thor Ragnarok", "Avengers: Infinity War" and finally, "Avengers: Endgame.
Fans absolutely adored Chris's performance, and he was able to score more leading roles in the following years including "Snow White and the Huntsman" in 2012, "Star Trek Into Darkness" in 2013, and "The Huntsman: Winter's War" in 2016. It's safe to say Chris Hemsworth was quite busy in the 2010s, transforming into a multitude of "dark and masculine" characters.
In 2018, Hemsworth starred in the war drama "12 Strong" as a US Army Captain, and the following year he co-starred in "Men In Black: International".
Many may have thought that there wouldn't be room for three Hemsworth brothers in Hollywood, but they were all proved wrong with Chris's immense success in superhero and darker films. His large build and extreme masculine energy were attractive for a number of roles during the age of sci-fi and action films.
The Actor's Intense Daily Routine and Training Regimen
Chris Hemsworth has a physique that can only be maintained through regular exercise and a healthy diet. Even when he isn't playing out the character of Thor, Chris still trains daily and cares a lot about his health.
Cosmetic muscle is frequently used for movies such as "Thor", but Chris has opted for purely natural muscle, which was definitely a commitment on his end.
Chris typically wakes up around 8 and has a protein shake and light healthy breakfast before starting his workout. His workout starts around 12 pm and includes battle ropes, kettlebells, throws with medicine balls, hanging raises, high-resistance bungee stuff, and timed bear crawls.
The Hemsworth workout plan is meant to be extremely intense while maintaining agility. He switches up his workout plan from weightlifting to bodyweight circuits, iron circuits to cardio.
After his workout, Chris eats a protein-filled lunch with vegetables, amino acids, and vitamins. Only three hours later, he eats another balanced meal, and for dinner, more protein and veggies.
Before bed, Chris tends to have some fruit and supplements. A guy his size definitely needs to keep up a strict diet in order to not only fuel his body but to maintain his muscle.