To say that Amal Clooney has a lot going for her would be a huge understatement. The tri-lingual Lebanese-born beauty is an international law and human rights barrister, philanthropist, mother to twins, and wife to George Clooney so it's no wonder so many aim to emulate her stunning looks.
Amal Clooney's makeup bag contains foundation, concealer, setting powder, blush, bronzer, highlighter, lipstick, eyeliner, eyeshadow, mascara, and a brow pencil. Believe it or not, but Amal's makeup and skincare routines are incredibly simple!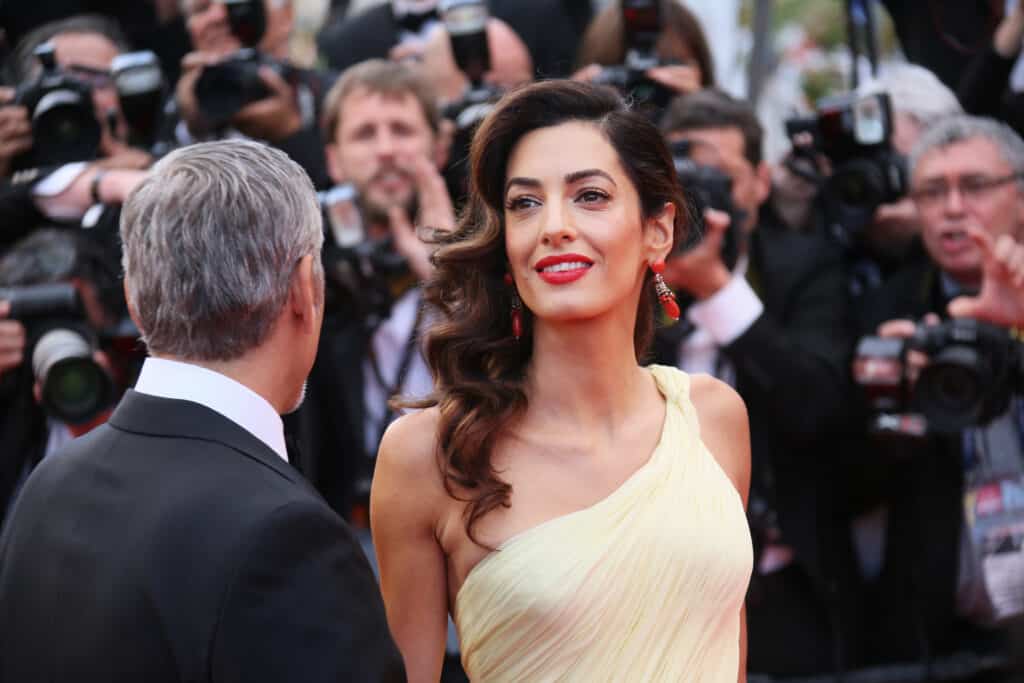 With the help of her exclusive makeup artist extraordinaire, Charlotte Tilbury, we're able to discover exactly what Amal uses to keep her looking radiant, elegant, and seemingly glowing from within. Here's what is needed to achieve Amal's flawless finish.
Her Face
Before using her favorite sheer Light Wonder Youth Boosting Perfect Skin Foundation SPF 15 in the shades 6 and 7 by Charlotte Tilbury, Amal moisturizes and primes her face using Magic Cream and Wonderglow.
Next, the shades 3 and 4 of Charlotte Tilbury's Retoucher Concealer is used underneath the eyes, around the nose and elsewhere on the face as needed. The Airbrush Flawless Finish Powder in the shade 2 Medium is then applied to Amal's face in its entirety.
Cheek to Chic Love Glow is applied to the cheeks, followed by a gentle dusting of Filmstar Bronze and Glow. Pretty Fresh from the Pretty Youth Glow Filter and the Hollywood Beauty Light Wand Highlighter are also firm favorites of the celebrity.
Her Eyes
Amal's go-to eye products include the shades Oyster Pearl, Marie Antoinette, and Champagne from the Eyes to Mesmerise Palette. Another Amal-favorite are the Bigger Brighter Eyes Exagger-Eyes Palette which she often uses for a bit of added sparkle and The Sophisticate Luxury Eye Palette for more sultry eye looks.
The Classic Shimmering Brown, Audrey, or The Classic Eye Powder Pencil eyeliner is then applied to the upper and lower lash lines. Amal chooses not to apply any eyeliner to the waterline itself.
To thicken and volumize her eyelashes, the Full Fat Lashes or Legendary Lashes Volume 2 Mascara is used. Going off-brand for just a second, Anastasia Beverly Hills' Lash Genius Waterproof Mascara Top Coat is then applied to keep the mascara in place.
Finally, Amal frames her eyes using the Cara Delevigne-inspired brow pencil Cara D Brow Lift Pencil from Charlotte Tilbury. She also uses the Brow Lift Fair Brow to define her eyebrows and ensure that they stay put.
Her Lips
Amal is such a strong supporter of Charlotte Tilbury's lipsticks that the celebrity makeup artist named a lip shade from the Hot Lips 2 Collection after her: The Amazing Amal Hue.
When sporting a bold lip, Amal uses Charlotte Tilbury's Matte Revolution Lipstick line in either Amazing Grace, Walk of Shame, or Red Carpet Red which is said to be her go-to lip shade. For a more toned down lip, Amal will use Charlotte Tilbury's K.I.S.S.I.N.G in the shade B*tch Perfect which is said to occupy a permanent spot in the beauty's makeup bag.
She has also been known to use the Hollywood Lips Liquid Lipstick, Lip Cheat in the shade Kiss 'N' Tell, and Bond Girl.
As much as she loves her CT products, Amal is also a big fan of Yves Saint Laurent's Rouge Volupte Shine Oil-In Lipstick in the shade 84 Red Cassandre, the Velvet Rope Lux Collection Lipstick in the shade Private Party, and Glossier's Generation Z in the shade Zip.
Her Skin
By this point, it should come as no surprise to read that Amal's skincare routine is littered with products from — you guessed it! — Charlotte Tilbury's range of skincare products. The makeup artist can count Amal as one of her biggest supporters alongside the likes of Kyle Richards, Kim Kardashian, Bailey Sarian, and Kelly Ripa.  
Her skincare routine starts off with the Multi Miracle Glow, the Instant Magic Face Dry Sheet Mask or the Goddess Skin Clay Mask followed by a generous application of Magic Cream.
Other than the above which was revealed by Charlotte, nothing else is known about what the beauty uses to keep her skin looking and feeling healthy. It would appear as though — unlike her close friend Meghan Markle — Amal prefers keeping her beauty secrets just that: a secret.