Ariana Grande is a force to be reckoned with. Whether she's singing her heart out in a chart-topping belter or chatting to her followers on Instagram, Ariana's signature cat-eye, perfect pout, and dewy skin are present.
Ariana Grande is known for her bold cat-eye winged eyeliner, sense of style, and sky-high ponytail. In her makeup bag — or those of her many makeup artists — you'll find foundation, concealer, highlighter, setting powder, eyeliner, false eyelashes, mascara, and an assortment of lip products.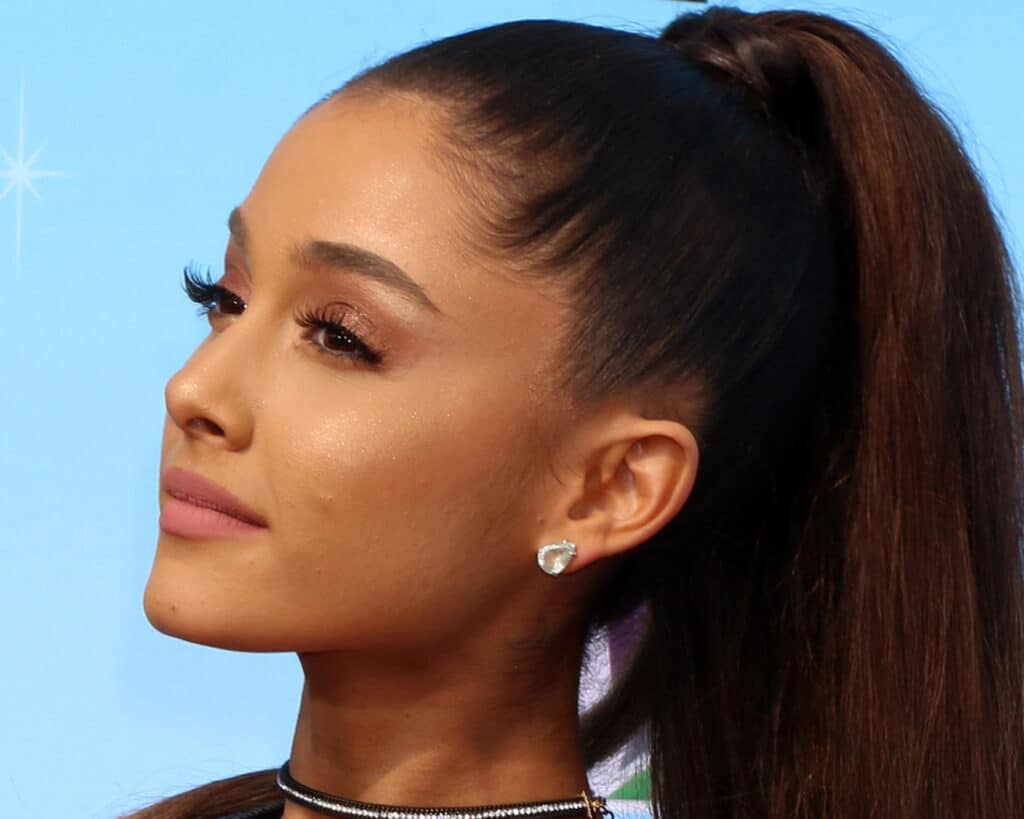 In a 2012 makeup tutorial titled "Makeup tutorial by Ariana Grande (I don't know how to do make up)" the songstress used mainly drugstore products and admitted that she applies makeup like a 5-year old doing an art project. Let's see how things have changed since then, if at all.
Her Face
One of Ariana's makeup artists, Ash K Holm, revealed which products she uses to create her perfect base. First, the TruBlend Base Business Moisturizing Primer is used followed by an application of the TruBlend Matte Made Foundation which is applied using a foundation brush.
A damp beautyblender is then used to stipple the product into the skin properly and eliminate the possibility of streaking. Next, TruBlend Undercover Concealer is applied under the eyes, to the center of her forehead, as well as down the bridge of her nose.
To ensure glowing golden skin, Iconic London's Prep Set Glow facial spray is used followed by a generous application of Iconic London's Illuminator in the shade Original Champagne Shimmer.
Opting once again for the Cover Girl brand, the TruBlend Minerals Loose Mineral Powder is used to finish the look off.
Her Eyes
Ariana cites her makeup inspiration as "a mix of my mom and Scary Spice" and her iconic eye look hasn't changed much since she first entered the spotlight.
Infused with cocoa, the Too Faced Chocolate Bar Eye Shadow Palette is one of Ariana's all-time favorite palettes. A glance at Ariana's Instagram photos will reveal the star looking perfectly made up yet favoring neutral shades on her lid.
Ariana is known for her signature winged cat eyeliner and bold lashes. To create her iconic look she most often uses Urban Decay's 24/7 Glide-On Eye Pencil in the shade Corrupt and a generous application of Mac Cosmetics' Haute and Naughty Lash Mascara. 
One of her other makeup artists and longtime friend, Daniel Chinchilla, told Women's Magazine that he likes to apply Too Faced's Better Than Sex mascara on her lashes as well.
Speaking on her lashes, she says "I love lashes. I feel like I could be completely naked but have lashes, and I'd be fine". In her Positions music video, Grande sported Velour's You Complete Me mink false lashes.
Her Lips
Ariana wears her lips in one way or another: either striking, bold, and bright or muted, nude, and neutral. When Ariana keeps her lips looking natural and nude, she reaches for her Kylie Cosmetics Lip Kit in Candy K while one of her makeup artists will opt to use the Smashbox Always On Matte Liquid Lipstick, Iconic London's Lip Plumping Gloss in the shade Nearly Nude, or Lise Watier Lip Crayon in the shade Ginger.
When hoping to achieve a more striking look, Shiseido Modern Matte Powder Lipstick in the shade Dark Fantasy is used. Mac Cosmetics and Ariana teamed up to create the Viva Glam Lipstick and Viva Glam Lipglass lip gloss, so it should come as no surprise that these lip products are amongst her favorites.
Back in the day, Ariana made use of Strawberry Chapstick, Inglot's Soft Precision Lip Liner in the shade /74, as well as Maybelline's 14 Hour Lipstick in the shade Fuschia Forever. It's not clear whether she continues to use any of those products but considering her look has not changed much there is the possibility.
Her Skin
Just like Victoria Beckham, Ariana is a loyal supporter and user of the Dr. Lancer range of skincare products. However, unlike other celebrities, she has a very minimalistic skincare routine and loves coconut oil, and uses it all over her body, face, and hair.
Ariana also cleanses, exfoliates, and uses La Mer masks to boost her complexion. In 2019 it was uncovered that the singer went to sleep without taking her makeup off and a hilarious Twitter thread ensued.
In this Twitter thread, Ariana revealed that she uses Neutrogena wipes as well as Burt's Bees wipes to remove makeup and stubborn eyelash glue, and toner.